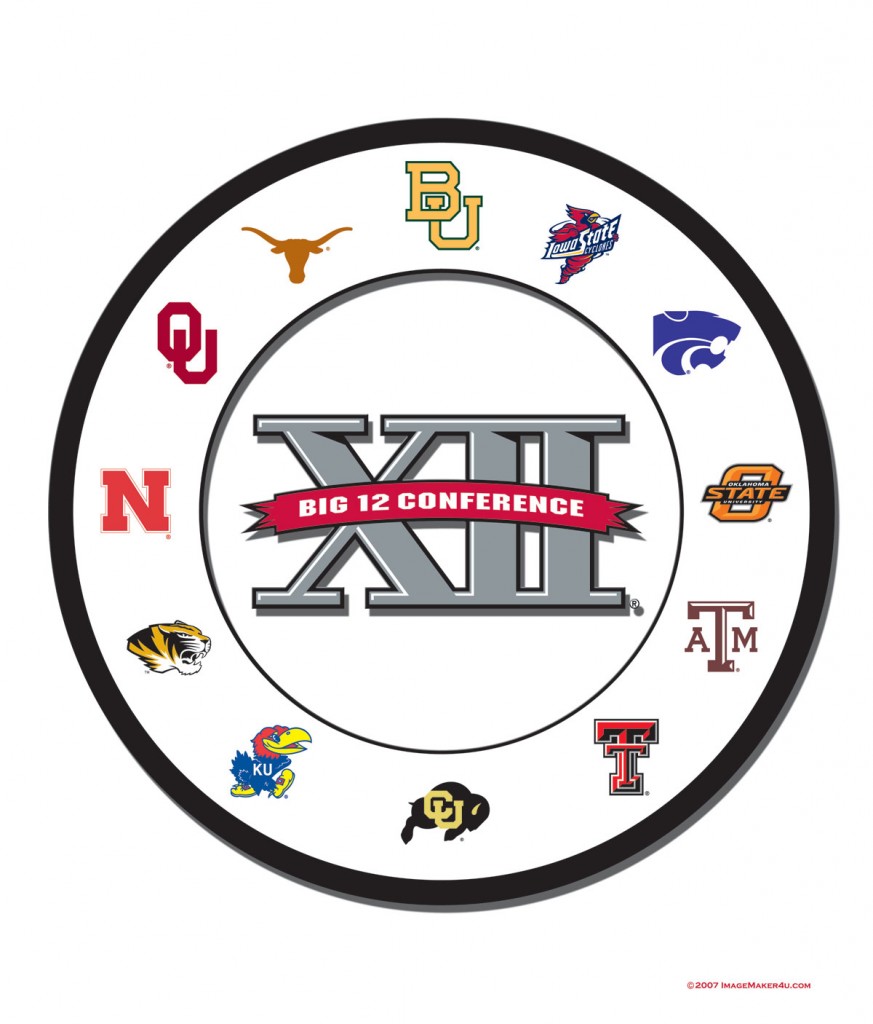 Man what a crazy roller coaster of an offseason for the Big 12. Who would've thought a year ago that the Big 12 would be rocked to its very knees and survive probably one of most weirdest advances in college football history.  It was like a whacked out game of Axis & Allies.  Welp Germany didn't win and neither did the Big 10.  So here we are going into what is the last season we will ever see for this 12 conference league.  Who will come out on top?  Roll dice to find out (er read below).
Let's start with the South.  It's down to Texas and Oklahoma.  Again.  But before we get to that, let's talk about the have nots in this part of the division.  Texas Tech has a new coach in Tommy Tubberville as the former head coach Mike Leach treated some hot-shot former football player's kid a little too human.  So we have an ex Auburn coach coming in with a run minded view trying to lead a pass happy team.  These guys are on the way down.  Don't look for anything but transition happiness in Lubbock.
Next up is Texas A&M.  Now this team ended last year on a strong run and they look to take that momentum into this year.  They have a returning gun, one of the few this year, in Jerrod Johnson.  The thing is, Sherman has never really made his work stick.  He's on the hot seat after another disappointing year.  The good thing is that the bidding war for the Aggies in the off-season will at least give them something to shop to recruits next year.
Baylor also has a returning gun in Robert Griffin.  He blew out his knee last year and the team blew out under him as well.  Everyone is pinning the hopes on Griffin again this year and I can see history repeat itself in Waco.  Not Koresh history, but if I was a defensive coordinator, I would focus my nastiest players on this guy.
Oklahoma State, well they kinda fell of the map.  They had a magical year two years ago and kind of stalled last year, thanks to losses to schools like Houston.  So this year they need to regroup.  They are still sporting Kendall Hunter, but I haven't heard of any other key player on that team.  Looks like a mediocre year at best, especially when all of the hype in the state is back in Oklahoma.  More on them in sec.
Texas comes out of the gate with having an almost miracle come back from the BCS National Championship Game last year, thanks to some bad coaching by Nick Saban.  After he puked up his nerves in the form of a bad pass at the end of the first half, Garrett Gilbert calmed down and looked good last year.  The freshman is now a sophomore and expectations are starting to billow for this guy.  It's a good think Mack Brown will have  svelt defense to help him out.  Too bad it won't be enough.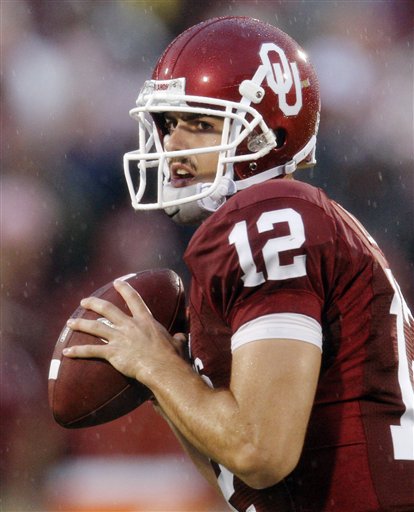 Oklahoma is my pick for the South.  As Phil Steele points out, the last time Oklahoma came off this many injuries, they won the national title.  Yes, losing Sam Bradford at the beginning of the year killed the Sooners hopes, but we found out alot about Landry Jones.  So he comes back with a somewhat shaky offensive line.  Experience counts in college and I will put my chip down on the school with the more experience quarterback between the two dominant forces in the South.
Which brings us to the North.  Ah yes, the North.  The most vulnerable division in conference expansion.  Thanks to Missouri, that's right I said it, Nebraska and then Colorado will leave the Big 12 after this year.  But, they still have to play one more season.  Let's start again at the bottom.
Believe it or not, I feel like Kansas will coast gently toward the bottom this year.  Last year's Mangino heart attack killed the team and now Turner Gill is back to pick up the pieces.  Unfortunately for the Jayhawks, whatever nutrition plan Mangino had affected the players big time as about 8 players ended up out for this coming year, whether it was injury or being too dumb.  For me, adding a new coach with losing players left and right means a tanked season.  Kansas fans I talked to are already anxious for basketball season.
Next up is Colorado.  So the HAWK Dan Hawkins woke up and realized that his kid Cody should not be the starter at quarterback.  Tyler Hansen is the boy in Boulder and that's about all I know who's on the team.  But with that one good coaching decision alone I'm putting Colorado about Kansas.  Pretty straightforward if I say so myself.
Iowa State is on the up and up.  Sure, their practiced facility ended up flooded in the off season and affected precious practice time, but Paul Rhoads is a tough sonnova bitch and he will have his kids ready.  Iowa State was one blocked kick away from beating Kansas State but they still went to a bowl last year.  I see things swing a little low for the Cyclones this year, but they most certainly won't fall off the league.
Kansas State is slowly getting better every time.  As I pointed out in my preview article, they are inching closer and closer to greatness, thanks to stands out like Daniel Thomas,  Bill Snyder 2.0 will have his kids ready to rock this year.  I'm thinking they upset Nebraska in Manhattan as well.  But because they have a much tougher schedule, they will most likely not win the North.  They will be a factor, however.
Nebraska, the red scourge of the Big 12 by now.  Okay, the hype machine is big on this crew so let me take some time to knock them down. Ndamukong Suh is gone, and there will be a hole in the middle.  The secondary will be great, but the defense won't reach the level of ego for Cornhusker fans.  Offensively, Bo Pelini has yet to name a starting quarterback which basically means he thinks they have none.  Offense will be in the crapper again this year.  I think the hype will bite them in butt as well as the fact the every conference team staying will be mega up for the match up.  We're talking Super Mario mushroom action here.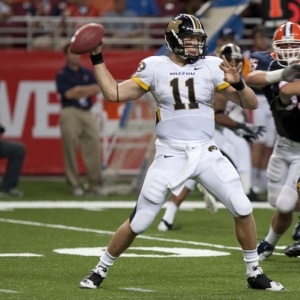 Finally, and somewhat strangely, I'm picking Missouri.  Yes, Derrick Washington will most likely go to jail, but Blaine Gabbert is the real star on the team.  Missouri is the only team in the North that screams offense and because of Nebraska's flight back down to earth, the Tigers will overtake Nebraska for the Big 12 North title.  Now that's what I call a prediction.
So we have Oklahoma against Missouri for the Big 12 Championship game.  Second verse same as the first.  Oklahoma will be too much for the Tigers again as I'm sure everyone in Columbia is already cooking up excuses as to why they lost and why they should still go to the Big 10.  The Sooners will head to a BCS bowl (I'm not sold on the title game yet) and the Tigers will go somewhere just low enough for the Tigers fans to bitch even louder.  Seriously, it's these guys that started the whole expansion blow of the Big 12.  Screw those guys, seriously.