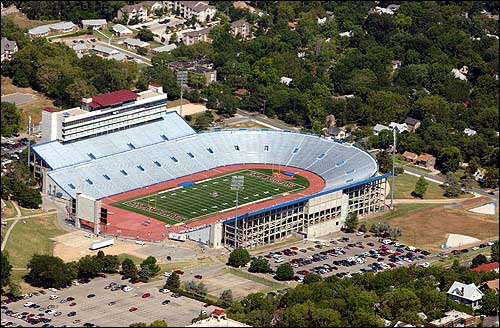 We said we had one more trip left in us and I was wrong.  We have at least two!  So tonight starts another familiar trip out west to Stadiumspot.  We're not going all the way to Manhattan, however.  We are heading to Lawrence to watch the Sunflower Showdown.  Kansas comes off a beating from the Baylor Bears of all teams while Kansas State said goodbye to Nebraska by getting their asses kicked.  Both teams need a win and there's nothing like notching a rivalry win to pick things up.  I don't know who's going to win this one but I hope that it will at least be competitive.
When: Thursday, October 14, 2010
Time: 6:30pm
Where: Memorial Stadium, Lawrence, Kansas
Games:
Notes:  There's not much in this list this week.  Last week seemed rivalry heavy and now we are sitting in college football's "Divas Match" in terms of wrestling Pay Per Views.  Whoah, that was a little to inside wrasslin' here.  Anywho, The Sunflower Showdown is where I will be tonight and the rest of the weekend is up for grabs.  I have a soft spot in my heart for the Keg of Nails, even though I may not watch the Cincinnati vs Louisville game.  Texas heads to Nebraska as the Cornhuskers look for revenge and they have their best shot in a long time for it.  At the same time, Arkansas takes on Auburn in a big SEC bout.  The night-cap sees newly #1 Ohio State heading to #18 Wisconsin.  If we know anything about Wisconsin, they'll play ball control and run the whole game.  Ohio State should have enough, but be on the watch for the upset alert.