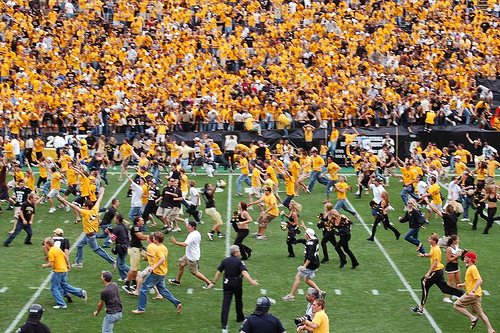 While I was chilling out at Memorial Stadium Thursday night, I couldn't help but think for a moment about the Colorado fans storming the field against Georgia a couple of weeks ago.  Kansas State was well on its way to a victory and not once did you see any fans for the Wildcats try to storm the field.  It seems nowadays, however, that storming the field is the easy thing to do after a victory.  I want to take this time to talk to every student, fan, or objective observer.  Stop storming the fields.  Just stop it.
I was part of a great game.  No, I didn't play it, but I watched Kansas State beat Nebraska in 1998 for the first time in 39 tries.  The frustration with the constant losses combined with the high water mark of beating Nebraska for a program culminated into fans jumping the fences and heading to the field.  I admit, I did it too.  It was a special moment.  Sometimes you lose control and it takes over you.  Storming the field should be reserved for special moments, not for victories over visiting opponents form a different conference.
Take a look at the Colorado victory over Georgia.  Sure, the SEC is the big boy in conferences, but the Bulldogs are going through an off year.  On the other side of the ball, coach Dan Hawkins keeps talking but fails to walk the Buffaloes to a winning season.  So when Colorado beat Georgia at home, what did the fans do?  They stormed the field.  For a program that's been so down to head into the field beating another down program just looks classless.  Victories are few and far between but you need to act like you've been there before, Colorado fans.
With everyone hitting the field after a weak victory, the importance of storming the field gets watered down.  It's like protesting.  Did you know that people protest still today?  Protestors show up at funerals, abortion clinics, oil headquarters, and even at the Plaza in Kansas City.  Every time I see them,  I think of gnats buzzing around.  Back in the day, protesting meant someting.  If you wanted to get a serious message out fast, you would protest.  It's been done so many times now it's not as effective.  Plus, there's better ways to protest, like starting movements online.  Protesting doesn't matter anymore.
Let's make sure that storming the filed still matters.  Don't head out there when your school has a mediocre record and you steal one from a marginally better team.  Do head out there if it's the number one team in the country.  We love our drama, but you can't create drama when it's not there.  I loved storming the field when it mattered and yoou should too.  Together we can make sure that when people turn on their televisions and see a stormed field that they don't think of buzzing gnats.