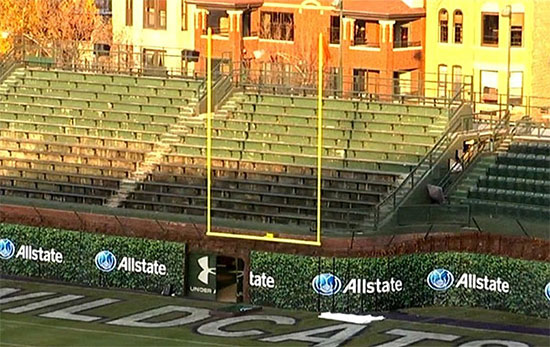 Once a niche thing, now it seems it's all back in fashion.  What am I talking about?  I'm talking about football games being played in baseball stadiums, of course!  Today we have a game at Wrigley Field and we also have a Bowl game with New Era fronting the money for two teams to play in Yankees Stadium.  For years I have longed to see a real sport played in these stadiums and now it lo0ks as though it finally will happen.  But is it a good thing?
First up, we have Northwestern taking on Illinois for the coveted Land of Lincoln Trophy.  What better place to play it in than none other than Wrigley Field.  Fittingly, two loser football programs will set foot on a loser baseball team.  Do you doubt me?  Well, look at how they set up the field.  Everyone eventually agreed to play offense going west because the goal post on the east side was built into the stands.  Some baseball fields don't quite fit the mold and this one is one of them.  Not worth it there.
Now let's take a look a Yankees Stadium.  Now I could talk about today's Notre Dame vs Army game, but I wan talk about the Pinstripe Bowl.  The New Era Pinstripe Bowl kicks off its inaugural game this bowl season and Yankees Stadium will play host.  Now we know that this one is newer so we don't need to worry about space issues.  What's better is that the new American past time, college football, will walk all over the old American past time and it's most famous place.  I'm seriously counting the days when the changing of the guard happens there.  It's even better that a Big 2 team will play in it.  Totally worth it there.
So from the looks of things, I'm about 50/50.  Certainly I love seeing a crappy sport like baseball kicked around, but will this trend become cliché?  There's talk of Missouri playing in Busch Stadium and I'm sure that same kind of talk goes on right now in MLB towns across the country.  Will Minnesota play in a stadium only to watch the beer guy slide down the slide to celebrate touchdowns?  We may see it one day, but it may be passed its cool.
What I say is this:  Let's enjoy this for now and go back to it only as a reminder that football, and especially college football, will always be better than baseball of any kind.  Including lingerie baseball, if that exists.  It sucks that Wrigley Field needs special rules but we are promised a winner out there finally.  The thought of real cleats tearing up a baseball Mecca in Yankees Stadium makes my heart skip a beat.  But I don't want to overkill it to the point that I lose that special feeling.