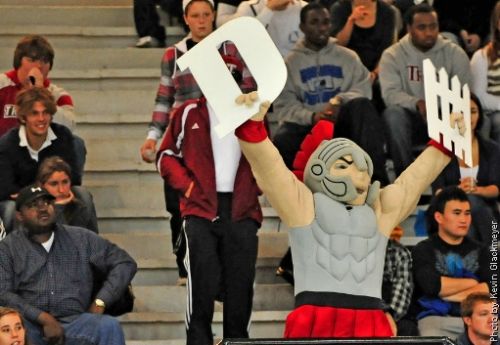 Phil Steele's 2011 College Football Preview is hot off the presses and it's that time of the year to go over mascots in Phil's Top 40 (or 52 in this case) that have yet to be covered.  The list is fairly thin this year but there are a few surprises left.  This week is no slouch.  I'm going to check out yet another Trojan but this time it's T-Roy from Troy.  With Troy being in Alabama, their football and their tradition is a big deal and T-Roy exemplifies that.  There's a strange wrinkle to this story, however.  The tradition of stealing mascots live on as T-Roy is currently missing!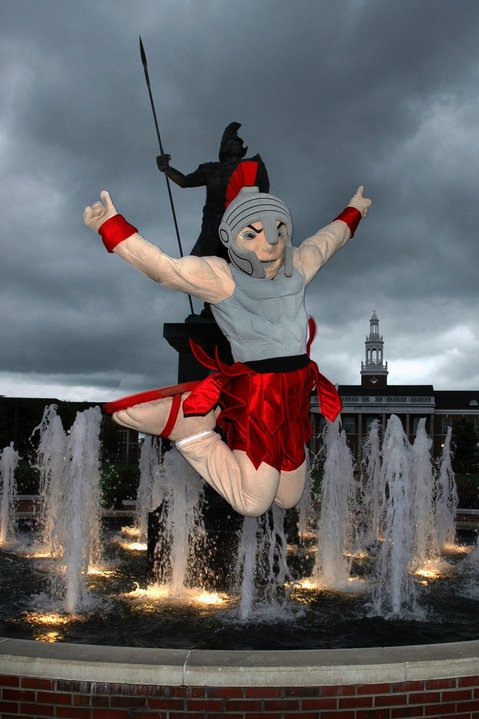 Troy established itself as a normal school in 1887, eventually moving to a state school.  They used to be called Troy State but changed it to Troy in 2004.  The football team started battle maneuvers on the field in 1909 and currently they enjoy membership in the Sun Belt Conference.  They haven't had that much success on the football field, with it's best time being from 2004 to their win over Ohio in the New Orleans Bowl last year.  Troy wasn't always the Trojans, as they were named Bulldogs, Teachers, and Red Wave at different times.  It took student vote to change it to Trojans from Red Wave in 1973.
Troy's creation of the  mascot T-Roy was also a result of a student vote, this time taking place in the mid 1980s.  Much like the football team, T-Roy's success is only recently blossoming.  Just a couple of months ago, he came in second for the National Cheerleading Association's Mascot of the Year.  It makes sense,  where USC has a live human as a mascot, this foamed version has just enough playfulness to appeal to all fans you and old.  He's got the the full on foam muscles, helmet, armor,  and anime looking face.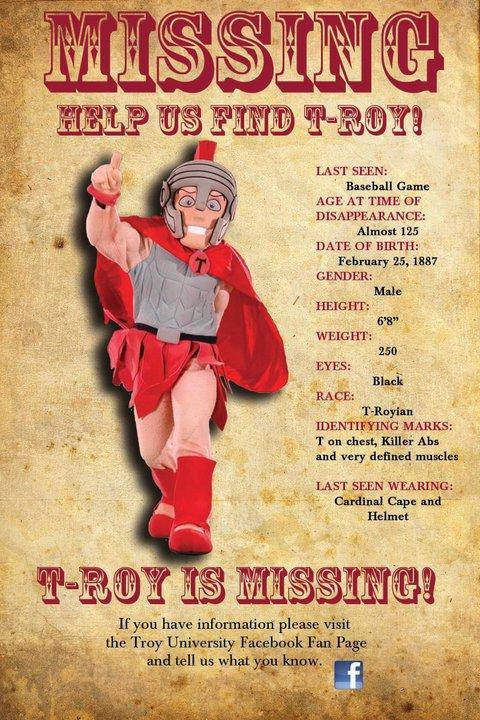 Here's where the story gets weird.  T-Roy is so popular that someone up and stole the actual costume.  As of this writing, the T-Roy costume is still missing.  He was last seen coming home from an event at the Special Olympics.  Apparently the substitute costume wearer couldn't return it because the building was locked so he took it home.  That's when it was lifted.  I've heard of mascots being kidnapped and stolen but this is the first time I've written about a mascot that is currently missing.  The link has a phone number to contact if you know the whereabouts of this foamy fella.
So what started off as an innocent run down of Phil Steele's list is now an episode of MSI (Mascot Scene Investigation).  As for T-Roy himself, when he's returned expect him to shrug it off and continue climbing the ranks of mascotdom.  The football team and the mascot both will be getting better, as evidence by Phil Steele and the National Cheerleading Association of America.  Of course, for T-Roy to continue, he needs to be found.  If you are reading this and know who has him or where he is, let the proper authorities know!