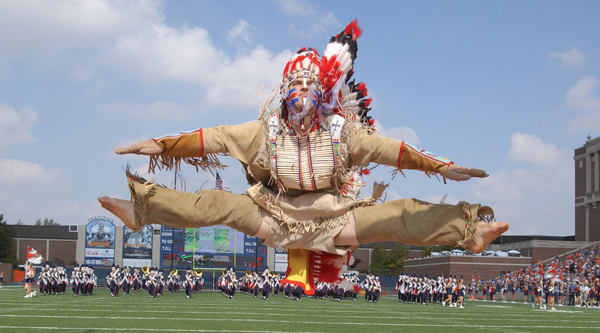 Mascot Monday is back and we are still counting down mascots we've yet to cover that are in Phil Steele's Top 50 preseason poll for 2011.  We're in the middle of media days for the college football and the pro guys finally set down their swords and are getting ready for another season as well.  This week I will skip over that hype and go straight to #39 and Illinois' Chief Illiniwek.  I believe that this is the first time I will cover a mascot that is actually no longer spreading cheer on the sidelines.  Lot's of controversy behind this one folks, let's find out what happened
First off, the University of Illinois at Urbana-Champaign kicked off its educational endeavors in 1868, thanks to the Morrill Act of 1862.  We're really here to see the first kick for Illinois, which happened in 1890.  The football team enjoyed some major success in the 1910s and 1920s under Bob Zuppke, notching a couple of voted national championships.  Ray Elliot also did a bang up job in the 1950s, winning a Rose Bowl and a national championship.  The current head coach, Ron Zook, has been close to being fired a couple of times but looks to make some big strides this year.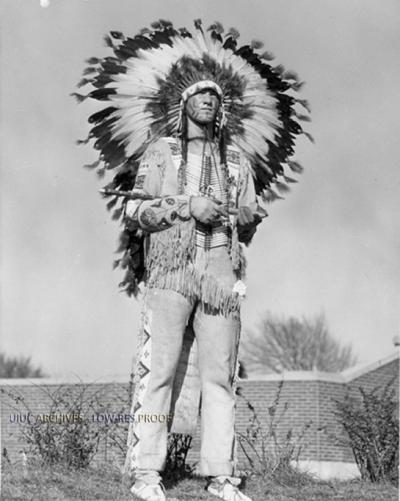 The name of the school mascot falls in line with much of the state of Illinois' history.  The Illiniwek was a group of Algonquin tribes that used to inhabit the region where the state, after some fancy French guy tweaked it, got its name.  It was nothing short of obvious that the school would name itself after indian warriors and hence became the Fighting Illini.  None other than Bob Zuppke was believed to be the guy that came up with Chief Illiniwek for the symbol.  Thanks to Assistant Band Director Ray Dvorak, the idea of an indian mascot using the name Chief Illinek was born in 1926
So how does the Chief stand up in terms of mascotdom?  I have to say, he kinda looks like a badass.  The paint, the garb, the feather hat,  it's all there.  The face paint really puts it over the top.  Now, he doesn't have any major weapons like some other human mascots, but look at that guy.  He can do the splits in the air!  He also shares the same barefooted funkiness that Hawaii's Rainbow Warrior sports.  So, no, you won't see him in the race for Capital One's Mascot of the Year, but he's certainly no Saluki or anything.  I think Capital One is biased toward furry headed mascots anyway as you don't see human or live mascots up there.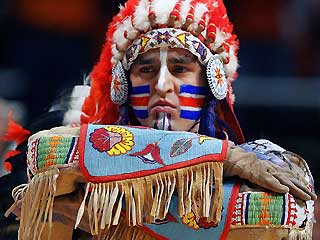 Speaking of bias, the reason you don't see Chief Illiniwek on the field comes a history of controversy and political correctness.  Ever since the 1970s, there has been an air of unrest for the indian mascot.  Some people deemed that the mascot is demeaning to the indian race while others, including other indians, said it represented a proud tradition.  There were protest in 1989 and there were rulings at the United States Department of Education.  Even a ban by the NCAA against harmful and rude images to indians didn't stop Illinois from keeping Chief Illinewek.  Finally in 2007, the Board of Trustees finally voted to retire the Chief, with his last game taking place on February 21, 2007.
You know, I'm not sure how I feel about this.  Alot of people seemed to like Chief Illiniwek and pointed to the tradition as his saving grace.  Tradition is a big part of college football and to wipe something away after 81 years seems pretty harsh.  I couldn't tell you how it would affect me if it was my own race in that situation.  Who's ever heard of the Kicking Krauts anyway?  But I know this, if the NCAA and other rights groups want to see this through for all colleges, then I think the next team to change should be the Notre Dame Fighting Irish.