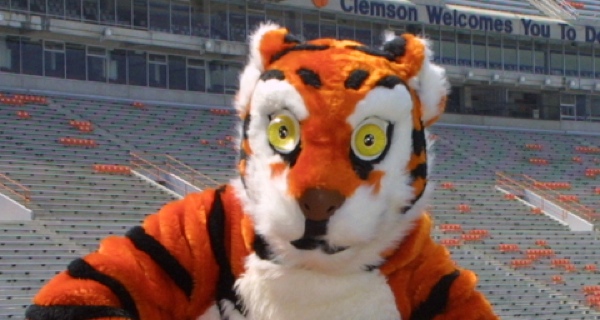 Here we are moving on up the list of mascots not yet covered by KCCGD that are in Phil Steele's Top 50 Preseason for 2011.  This week I'm going to take a look at #39 Clemson and the Clemson Tiger.  I avoided this guy for awhile because the info is kinda weak out there and there seems to be a ton of tiger mascots out there.  Welp, since Phil placed these guys so high it's the perfect time to talk about the Clemson Tiger, well because it's unavoidable at this point.  So follow me along as I spin the tail of the Clemson Tiger and find out if he's not just another pretty pussy cat.
Clemson University first came to life in 1889 thanks to the estate of Thomas Green Clemson, not in the usual way of establishing a university.  The football team  followed shortly in 1896, thanks to Walter Merritt Riggs.  Rigss came from what is known as Auburn University and brought the tradition of football with him.  Aside from a lul in the 1960s and most of the 1970s, Clemson enjoyed great success as a football team,  They even notched a national championship way back in 1981.  This year they are led by Dabo Swinney and look to build on the Meineke Car Care bowl appearance last year.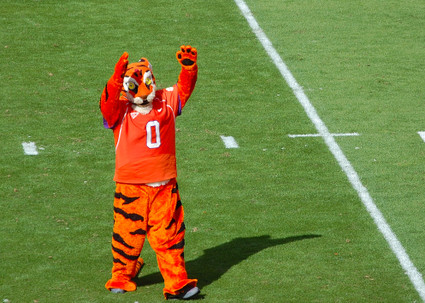 Clemson's namesake came from Walter Merritt Riggs himself.  You see, he was such a fan of the Princeton TIgers and he came from the Auburn Tigers.  When a vote was placed by the students to come up with a mascot, Tigers seemed like a natural fit, more than likely with some influence from Riggs.  It took until 1954 for a costumed mascot to don the field.  Gabby Hayes was the lucky first student to ever wear the Tiger costume.  Clemson also had the Country Gentleman, a purple top hat wearing fella, but they dropped him in 1972.  There's a Tiger Cub hanging around the sidelines now, for the kids of course.
So how does this tiger mascot stack up to the rest?  Well costume wise, he's more of an orange flavor of tiger than a yellow.  Credit goes to Clemson for making sure he's a costume from head to toe.  He kinda looks like Tigger from Winnie the Pooh.  What shakes off that comparison are his large, buggy, and very creepy eyes.  It's like he doused a carafe of coffee before every photo shoot.  Or maybe he's juiced on roids.  The Clemson Tiger, and Zack Mills, is credited with being the first mascot to do push ups equalling the total score for the team in the end zone after every score.  He's yet to rack up any awards but it's cool that he has the push up tradition notched on his tiger belt.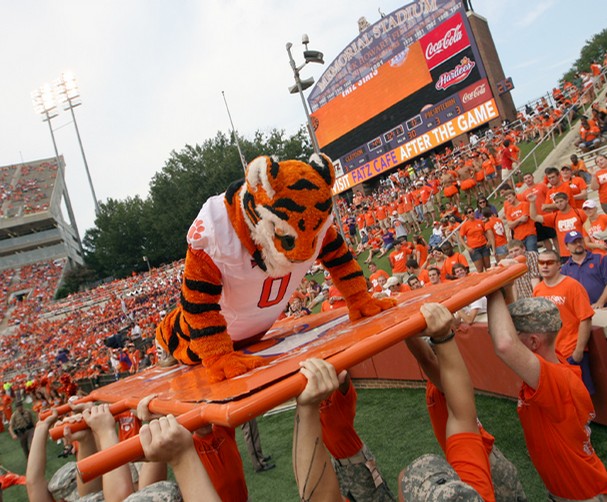 I don't think the Clemson Tiger is the best mascot, the eyes freak me out.  But he can claim, 'First!' for bringing up the push up tradition that we see every mascot copy to this day.  That means the Clemson Tiger is not the worst in my book.  Will the Clemson Tigers football team be better than the average mascot they have this year?  Maybe so, maybe not.  I know this, the football team won't haunt me in my dreams like those damn mascot eyes will tonight.