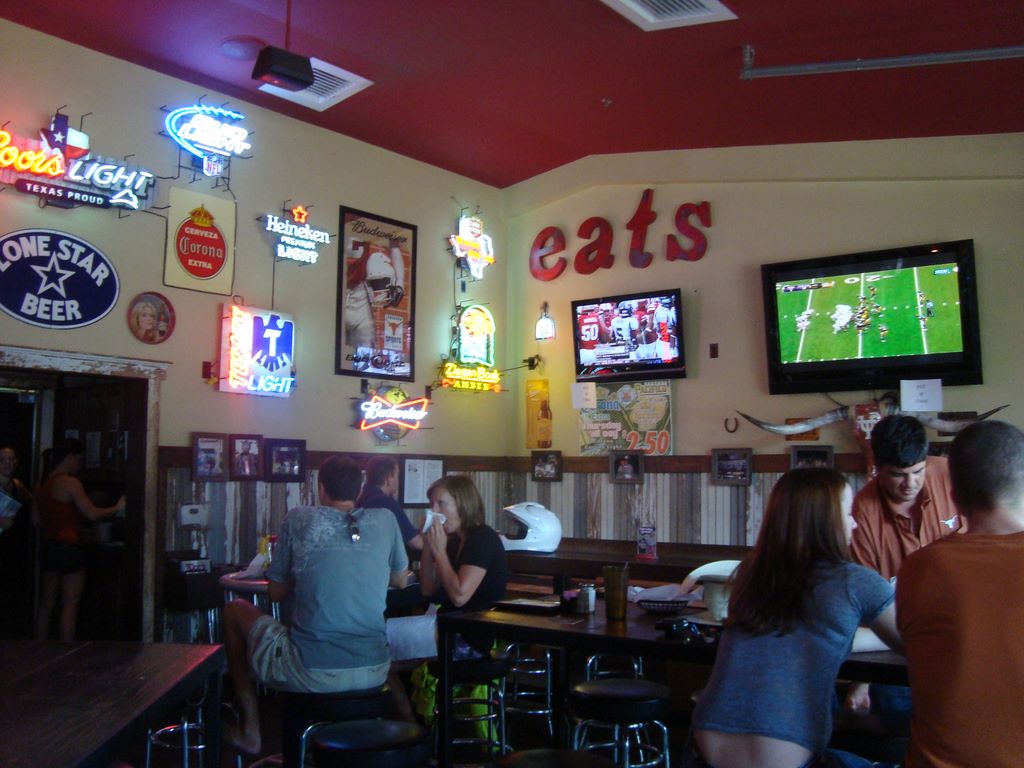 Oh wow let me see how I remember this.  It's a new year of barspotting and the first notch on the Austin belt is Doc's Backyard.  Most of the bars I will be to this season will be the first time that I've been there, except for Doc's.  It's close enough to my new place and has some decent reviews.  So how did it fare Saturday?  The atmosphere reflects back onto the experience.
You wouldn't be able to see the place from where it's located.  Much like alot of Austin, getting to places takes on a more adventurous feeling.  After some u-turn lane action, a quick drop off to an entry point by a barn, we cruised on in to a hidden corner of a strip mall to find Doc's Backyard.  Walking in, you could tell it had a big sports feel combined with a permanent tailgate setup.  It's a unique little joint.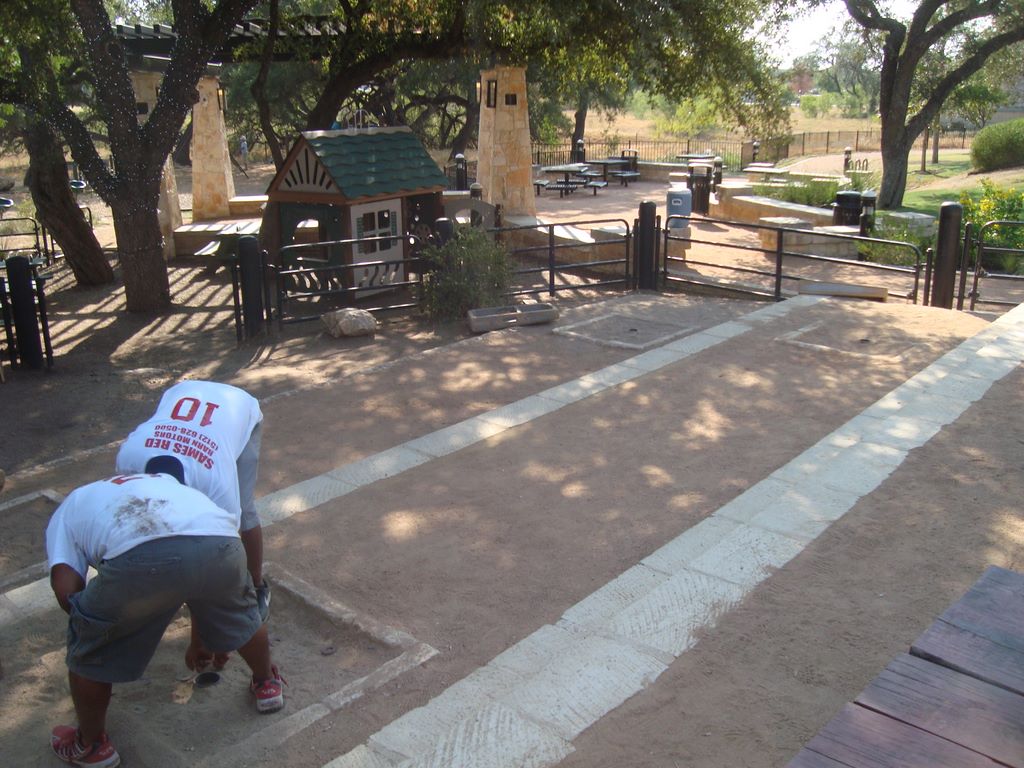 By little I mean the actual indoors, the outdoors sprawls out into a play area for adults and kids.  There's permanent bags court for the adults to play.  I've never in my life seen a bags court setup like the one at Doc's Backyard.  That totally works for me.  Meanwhile there are swings and playthings for the kids right next it. Fun for the whole family!  If that doesn't get your skirt in a twirl, then there Golden Tee, Galaga/Ms. PacMan, and some shuffleboard inside.  All in all, Doc's is a nice place to game it up.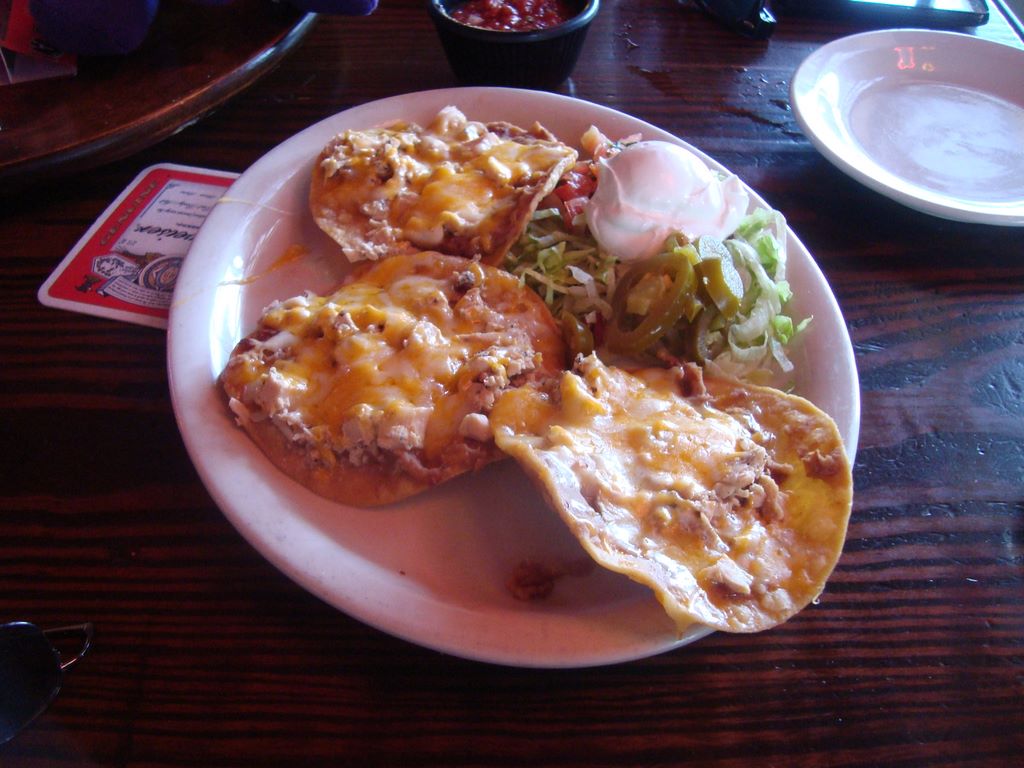 I brought back a feature I introduced last in beer pairings.  The food's great, but a great beer with it makes it so much better.  So on tap for this week, we had the on special Dos Equis with some chicken fajita nachos.  We were expecting a bed of chips with some chicken and toppings, but what we got were individual crisped tortillas that had the chicken, beans, and cheese cooked on top.  The taste was all nacho but the handling was very portable.  Match that with the light feel of Dos Equis and you have a perfect gameday starter.  I was fixing on getting their world famous Fried Chicken Avacado but that will have to wait until next time.
The service was pretty good.  We stayed for the Notre Dame game and fortunately missed out on the start of the Texas game.  The Longhorn Network was piped in but it was coming in all grainy.  At any rate, this is a college town so I expect every sports bar to have some top notch service industry talent.  While we were there, they all flipped to burnt orange tank tops at about 2 hours before game time.  That's okay, the weather outside meant that the orange was very limited.
Let's get to the games.  Now while I'm down here in Austin fighting off droughts and wildfire, I got to watch the rest of the nation enjoy a trove of rain delays.  Let's see if I can remember off the top of my head (I'm not going to look it up): the Iowa game, the Notre Dame game, and the Michigan game were all delayed with some being evacuated.  So that said, both Iowa and Michigan won their battle but Notre Dame eventually fell to South Florida.  The news out of South Bend has the quarterback position in question now.  There goes the Domer hype for the season.  The other non Big 12 action I witnessed was the amazing comeback by Auburn over Utah State.  Okay, I blinked and I missed the touchdown/onside kick/touchdown by Auburn.
Big 12 wise, I really missed Robert Griffin III's snacktion over TCU on Friday night.  He mangled them in a shootout.  I got to watch Missouri struggle a bit against Miami of Ohio on elliptical early in the morning.  They pulled one out but I don't have that much confidence in James Franklin.  The other team I got to watch was Kansas State taking on the mighty Eastern Kentucky.  It was online only and I signed up to watch it at a BBQ Saturday night.  I have to say I'm really worried about the Wildcats.  Right now, Bryce Brown isn't living up to the hype (which I questioned) and K-State's defense just doesn't look to great.  Hopefully, with Bill Snyder 2.0's coaching style, they will get better every week.  They will need it.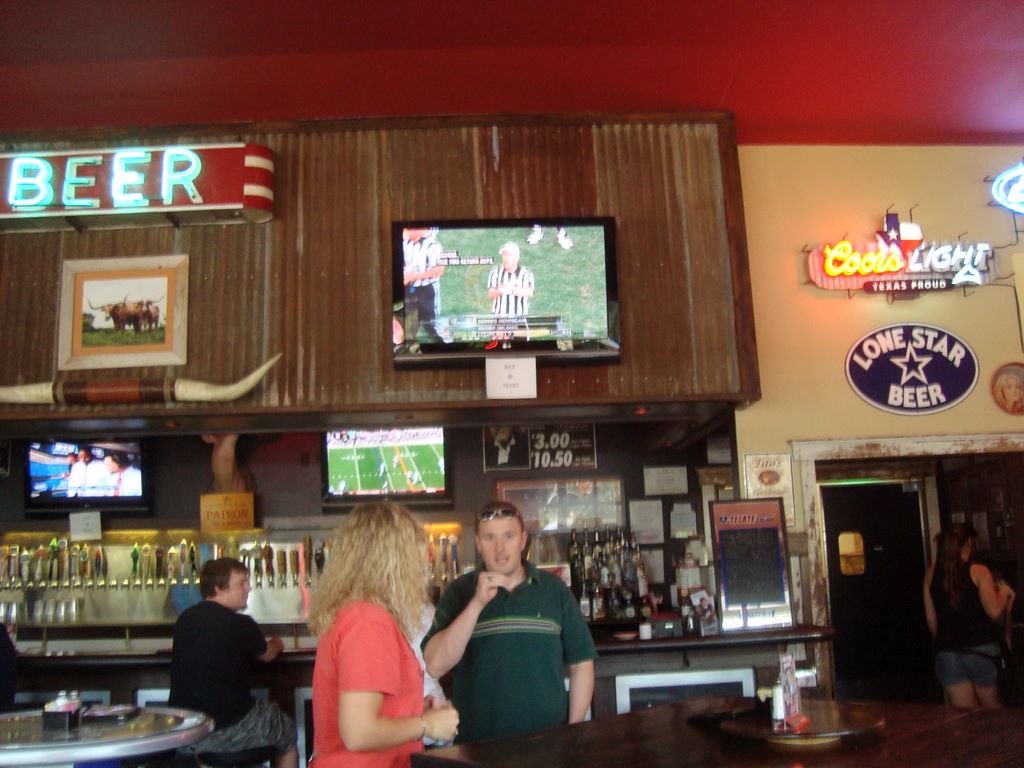 Now I know what you're saying: "You're in Texas country and you didn't watch a shred of the Longhorn Network?"  Welp, I did and it was the replay of a former Texas vs Rice game.  It was grainy and lame.  The real game turned to Texas' fortunes very well, but I think I was yelling dominoes around that time.  So let's get back to Doc's Backyard.   That place is awesome mainly for its uniqueness.  It seems tailgating games are all the rage down here and Doc's Backyard has the perfect combination of outdoor games and indoor fun.  The service was great and the specials were decent.  I'm glad I live so close because it will more than likely be my backup plan.  Now if they could only have one dedicated television for Kansas State.  Yeah it's not gonna happen soon.