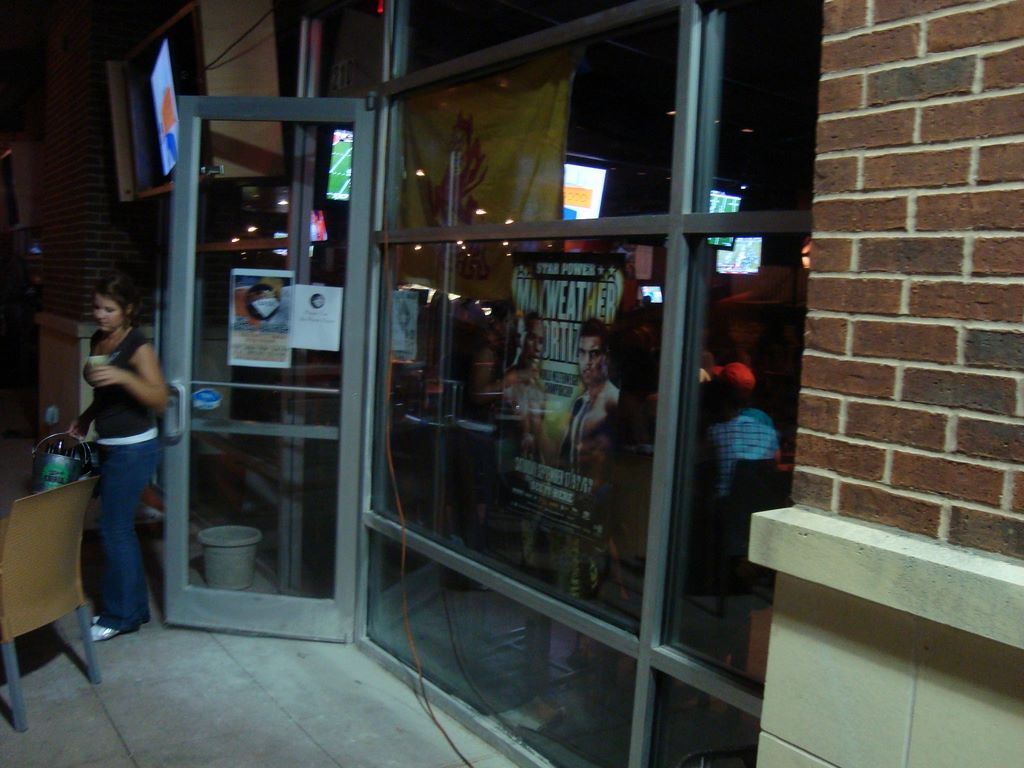 Saturday was a downtown taste of college football watching as well as the first time I needed to watch Kansas State at a bar outside of the Midwest.  Austin City Limits Music Festival was last weekend as well so it was the first time for me to attend Sunday.  My dogs are still barking from the rocking time.  My whole time dodging ACL traffic Saturday and watching some real college football was far from barked.  I was expecting a marginal time and Third Base exceeded my expectations by a country mile.  It was a grand slam time and then some.
Like I said, I dodged ACL traffic on the way to the sports bar.  Third Base is tucked right inside MoPac and 6th street so parking was a premium.  Fortunately for us, Third Base had the garage charging for parking.  What you say?  How is that good?  Well, they charged 10 bucks to park but also gave a 10 buck voucher for anything in the bar.  Not only does it help drive customers to the bar, but it also saves me from going in the hole a little than I did Saturday night.
Walking up to the place, I could already tell it was alive and kicking.  It helped that the full on patio set was ablaze with burnt orange and Florida Gators fans.  Inside, just about every table was taken.  Yes, Texas was playing but there were clumps of alumni groups from as far north as Illinois staking claim to a piece of land in the bar to watch their team.  I knew very well that we might be out of luck to find a seat but we lucked out and nabbed some seats right on the bar.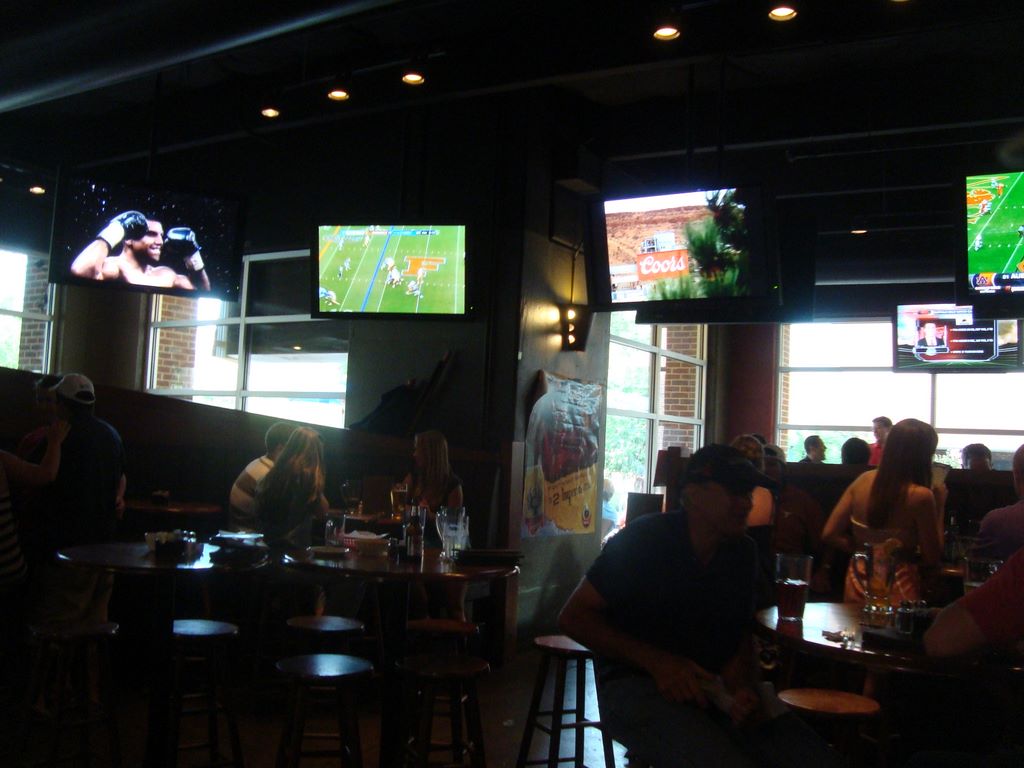 The bar itself had plenty of room.  There were flat screen HD televisions complete with all of the channels everywhere including outside on the patio.  I even spied some projection screens.  With that kind of space, there was room for a couple of games.  Third Base sports darts, Golden Tee, Mega Touch, and Buck Hunter Pro.  If that doesn't float your boat, then you can surf the web on your favorite smartphone using their free wireless.  No pun intended but they had their bases covered when it comes to having a great sports bar setup.
The service wasn't too shabby.  Talent wise, it's a college town so you should expect college aged waiting staff working there.  That means not mega model attractive, but not hole in the wall forgotten widow attractive (if that exists).  The dudes working there also reigned over the satellite channels and they responded very to well to every request we had.  Life is alot easier when you don't have to ask more than twice to get your team on one of the smaller televisions.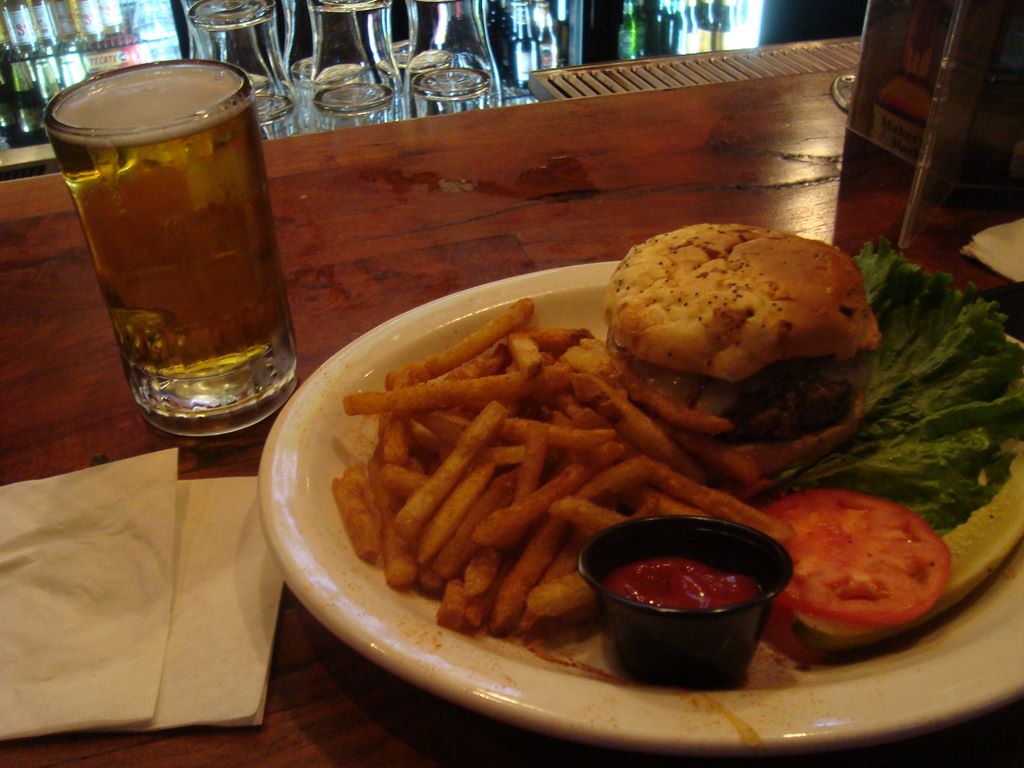 It's beer pairing time but first let me go over a couple of other things.  The special for the day included a $14 bucket of domestic beer, or 5 for $14.  That wasn't that bad.  Before I tore into the main meal, I nommed on their Jalapeno Corn Poppers.  They were super spicy and super tasty.  That led me to the main course, The Third Base Burger with a glass of Rahr & Sons Amber Beer.  The somewhat fruity flavor the of the amber helped offset not only the carmelized onion taste of the burger, but it also helped cope with the tangy cajun fries on the side.  What put the burger over for me was the stuffed garlic inside.  The Third Base Burger is what I will get next time there and the Rahr & Sons Amber sufficiently cooled me down.
One of things I took into coming into Third Base for the evening of games was the fact that Mayweather was taking on Ortiz in a sport called boxing.  I expected that they would charge the door rate for people in the bar and they fully followed through with that.  What I foolishly did not expect was how crowded it would be for the fight.  When most of the bar consisted of Latinos by the time I left, it made more sense.  Boxing is way more popular for that culture and being here in Austin makes it a 2+2 = 4 deal.  Duh.  I'm not complaining, I just saying that if you go out looking for football, pay attention to covers for boxing and mixed martial art fighting.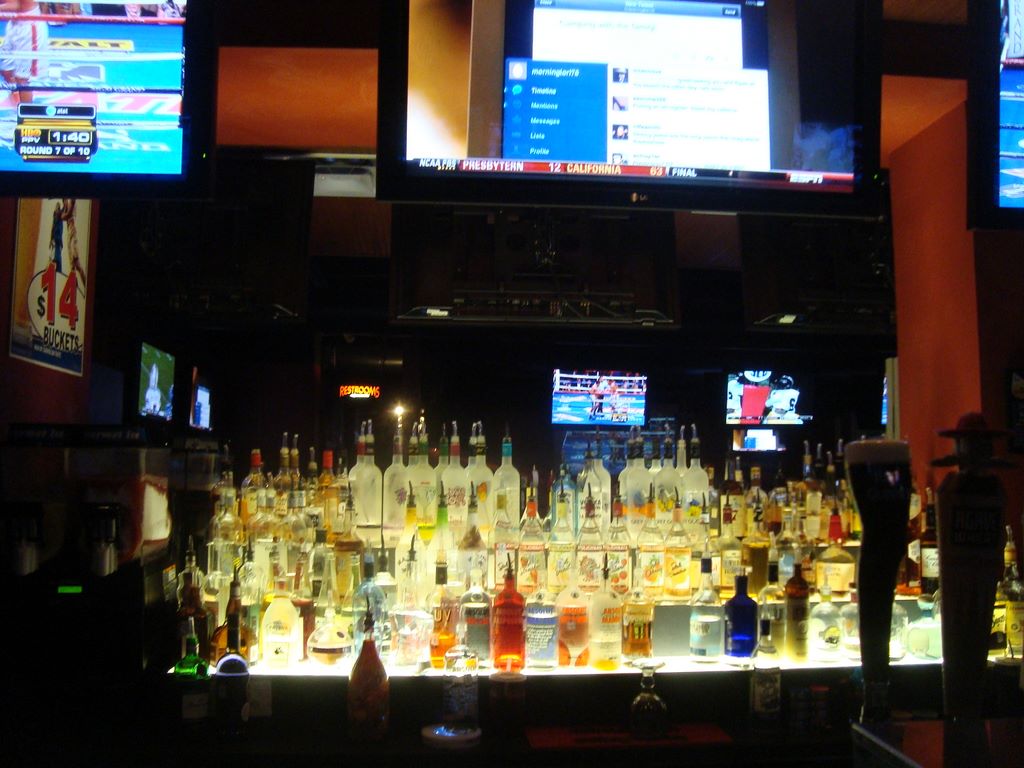 Now on to the real games.  I had to run around and do some shopping the mid afternoon, but I did get a chance to watch not only the start of the Texas vs UCLA game at home, but I also got to watch that great game by Clemson vs Auburn.  It was a marquee win for Clemson and they finally vindicated all of the sports media pundits saying that Auburn is going to be much weaker this year.  I also listened on the radio the last bit of pounding that Georgia Tech put on Kansas.  Man, talk about a lack of defense.  768 yards with 604 rushing given up?  Good lord, I can't wait until Kansas State plays them.
Speaking of Kansas State, that was the game I wanted to watch at Third Base against Kent State.  But first, I enjoyed the end of the Texas vs UCLA game.  The Longhorns look like they got their strut back against the Bruins and I can say that they will be tougher in the coming weeks.  No, I'm not drinking burnt orange juice, they passed my 'eyeball' test.  Kansas State, on the other hand, had alot of questions going into their game and answered them all with a 37-0 shutout.  I still think the offense needs some help but I'm beginning to be sold on the defense.  Granted, it's against two terrible teams, but pitching a shutout and giving up a touchdown when your offense fumbled on their one yard line is pretty impressive.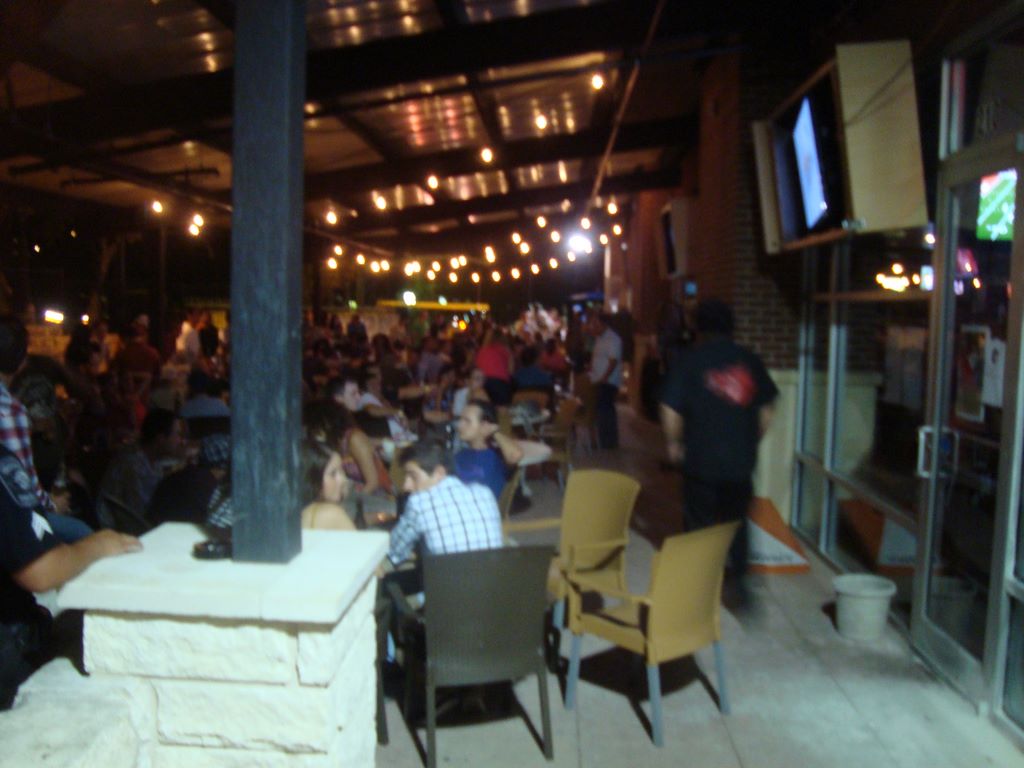 You know the whole time I was there at Third Base, I expected to get some flack for my purple flag waiving.  What I got was a bunch of college football fans talking teams and numbers.  It was all in good spirit.  With all of the conference realignment stuff bubbling over, it's nice to see that the fans just want to enjoy some good football.  It was even more apparent when the Texas fan sitting next to me wanted to see at the Kansas State game in November.  Well that and us cheering on Miami over Ohio State while breaking down the Oklahoma game against Florida State.
All in all Third Base was an eye opening experience for me.  The plan was to hide in the corner and try to watch my team on a tiny little television.  What I got was an open arm welcome and a nice television to watch my team on.  The food was great but the boxing cover soured things a bit.   It's a good thing the football made up for that.  Now this may be just Third Base.  I'm not totally sold on all of the sports bars in the area being that college football friendly, but I can say that my expectations of college football watching have grown considerably.