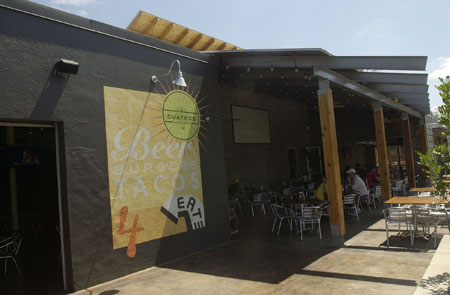 I buzzed by Cuatros last week while I was on the way to the Mellow Mushroom with my favorite lady.  I almost missed it, but the 16 stacked television screens forming a massive screen jumped right out at me.  I wanted to go north of downtown Austin and this place just makes the cut.  It's Red River Rivalry weekend so we'll hope to get a spot there when we show up for the Kansas State game.  There's other games going on, though, so check out the spot and hopefully we'll check you out there.  Ole!
When: Saturday, October 5, 2011
Time: 2:00 PM
Where: Cuatros, 1004 w. 24th  Austin, TX 78705  (512) 243-6361
Games:
Notes:  The Red River Rivalry is the biggest thing going on down here in this part of the country.  I'm not so stoked for it.  It's a good thing that there's nothing else going on first thing Saturday morning.  It's also good for me that the newly ranked Kansas State Wildcats follow that little ditty and host Missouri at 2:30.  Florida vs LSU might eat up some television screens but I'm hoping to get the Wildcats on the big daddy.  Later in the evening sees a couple of interesting bouts but I'll be home by then and will only be able to get Ohio State and Nebraska.  No thank you, I'll probably be napping by then.