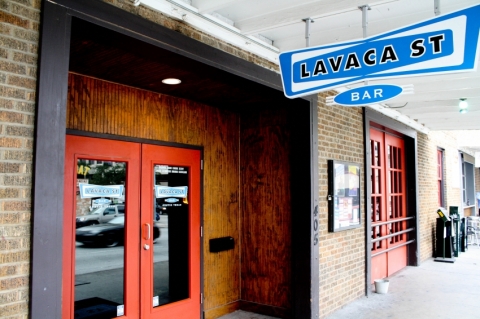 It's all downhill from here.  We are halfway through the season and I've had some sweat bars to check out around the Austin area already.  Now, I was real close to the big hoopla that is sixth street downtown, but I managed to stay just far away enough not to be in the heart of it.  Well, this week I'm taking one step closer to some of the bars around the much hyped street way.  Saturday, I'll be heading to the Lavaca Street Bar.  Now, I've been there before waiting for a band to got started across the way at Antone's so I know what it's like.  I haven't seen it on a college football Saturday, however.
When: Saturday, October, 22nd
Time: 11:00 AM
Where: Lavaca Street Bar, 405 Lavaca Street, Austin, TX (512) 469-0106
Games:
Notes:  Fat at the ends and skinny in the middle.  That's what it's looking like to me.  The day opens up with the Sunflower Showdown and hopefully Kansas State takes this game seriously and not let Kansas sneak up in there.  We also have an upset special brewing when Oklahoma State heads to Missouri.  The Tigers are better than their rank and the Cowboys best not be overlooking them.  Later in the evening, we have Wisconsin taking on Michigan State and Washington taking on Stanford.  Oh, we also have a tasty rivalry game in USC vs Notre Dame.  Sure I said it was thin in the middle, but for college football LSU vs Auburn in the Tiger Bowl only going on makes it pretty thin.  You gotta have two great games lined up in case one of them is a blowout.