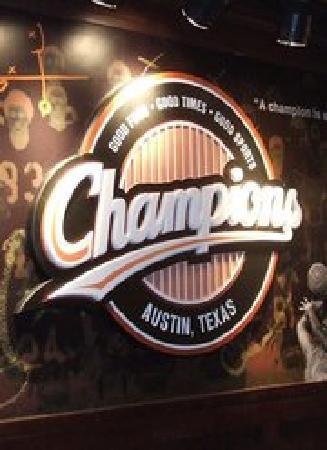 I've been going back and forth trying to figure out which place to go for this week's barspot.  It's not that big of a weekend in terms of college football as #1 and #2 isn't playing.  My team is however and it's kind of a championship weekend for them.  So what better place to watch the game than Champions!  They are smack dab downtown and offer up a tight little joint for some football watching.  I was actually there 2 years ago for SXSW and stopped by there for lunch during the conference.  It was my first stop at a sports bar in Austin.  So I'm bringing out all the stops for this weekend's games.
When: Saturday, October, 29 2011
Time: 2:00 PM
Where: Champions, 300 East 4th Street, Austin, TX 78701-3612, (512) 473-0450
Games:
Notes: It's kind of a lull in college football this week.  The main action is left with the Big 12.  Kansas State is the underdog again as they host Oklahoma.  I think you know who I'm rooting for. Floyd of Rosedale is up for grabs this week as Iowa takes on Minnesota.  But we have a top 25 matchup in Big 20 land as well with Michigan State looking for another hail mary against Nebraska.  Later on in the evening, it's all Big 12 again as Texas looks to bat around Kansas exclusively on the Longhorn Network.  Snoozarama.