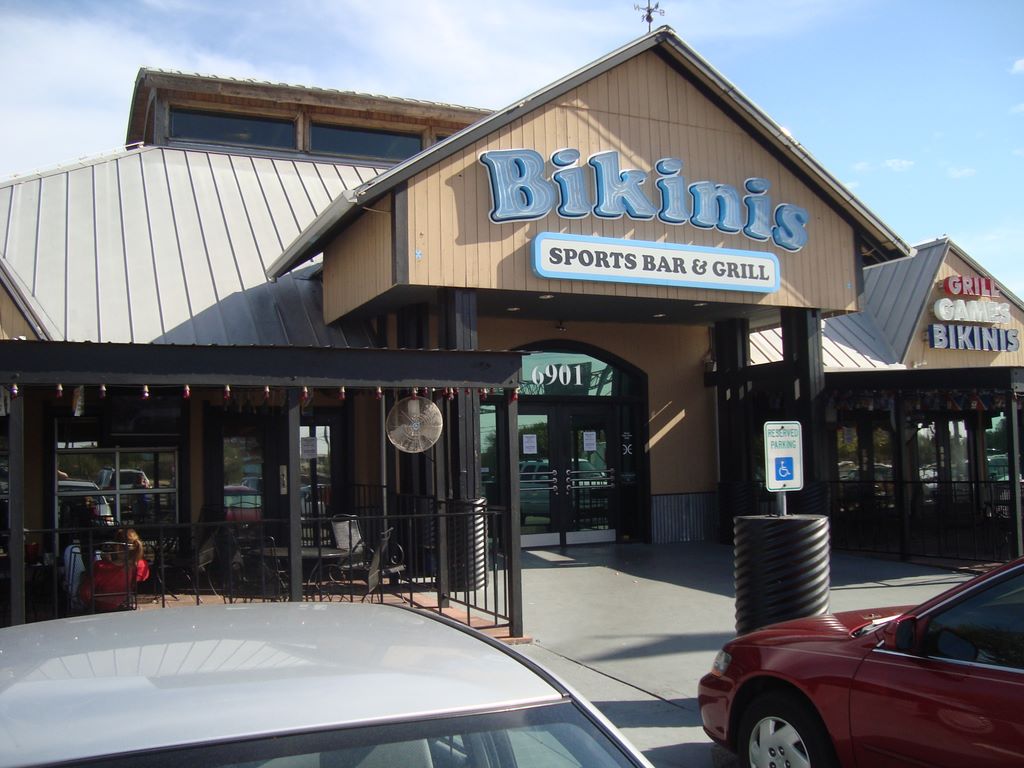 Oh man after a rough week, it was nice to get back to some simple pleasures.  Beer, football, greasy food, and great looking service.  Bikinis Sports Bar & Grill had it all and it was the perfect medicine.  The games were bunched together nicely but the outcomes didn't really matter with me so much.  I was there just to get away from the week and enjoy some time away from the real world.  Ah yes, barspotting has returned.
The noise walking into Bikinis was so loud, I could barely hear the server direct us to where we could sit.  From the garbled muffles of server they suggested we wait out on the patio. She also offered to get us a beer.  So I grabbed one and waited outside.  After a couple of minutes waiting anxiously, I decided to go back inside and catch some games.  The server found us a spot and we plopped right down for a couple of great games on the televisions.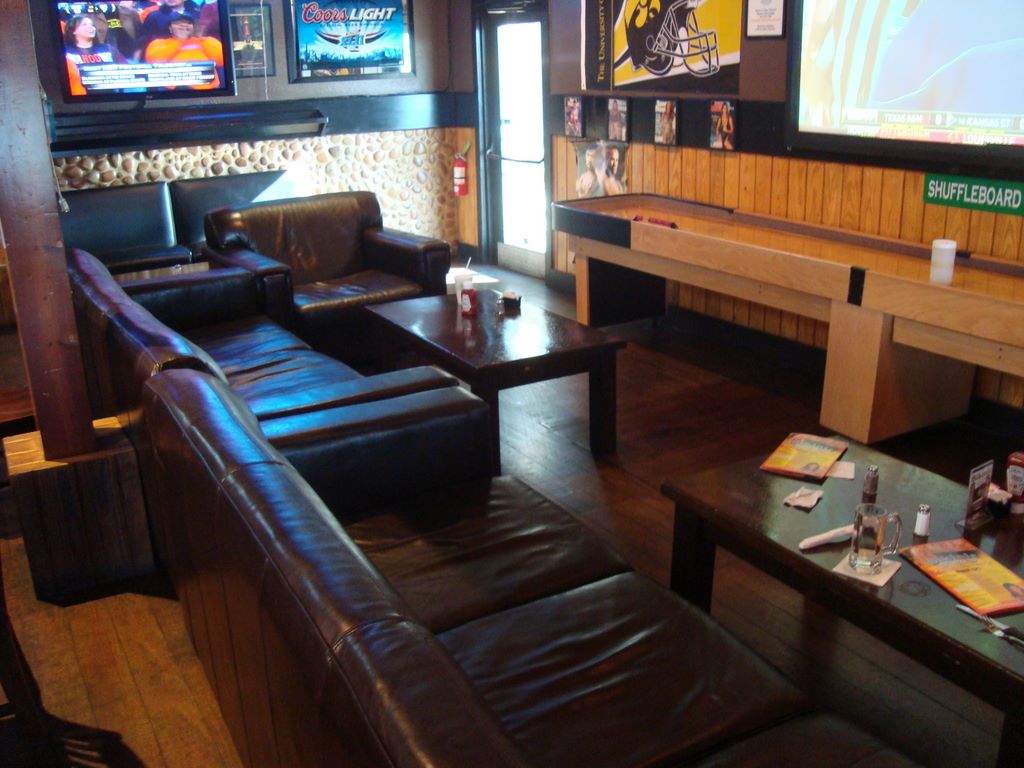 Speaking of televisions, the best setup for them were right near the bar.  I felt boxed in by all of televisions, but it was a warm box.  They had some big screens sprinkled out across the bar as well.  The wireless internet kept me up to date on the scores.  Games wise, they had Silverstrike Bowling, Golden Tee, and shuffle board.  What was really impressive was the setup of leather couches in front of one of the big screens.  Seriously, every sports bar needs to have that.  It's like what wireless internet was 4 or5 years ago.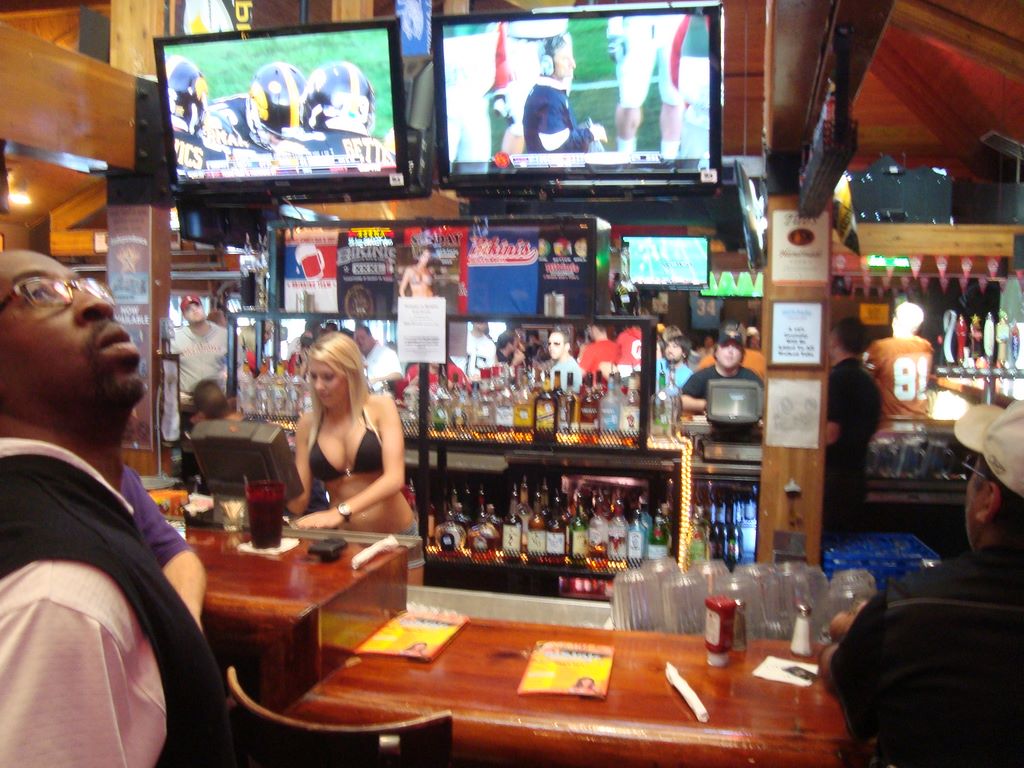 So I mentioned the service and I have to say it was almost perfect.  The hostess up front did a great job and the bartender and waitress followed through swimmingly.  I mean, your name has 'bikini' in it, you need to look the part but do so much more.  So when the hostess went out of her way to help us out, it was a nice touch.  The server was on top of things for our table but she really didn't know about the beer selection.  That's okay, they were all really attractive.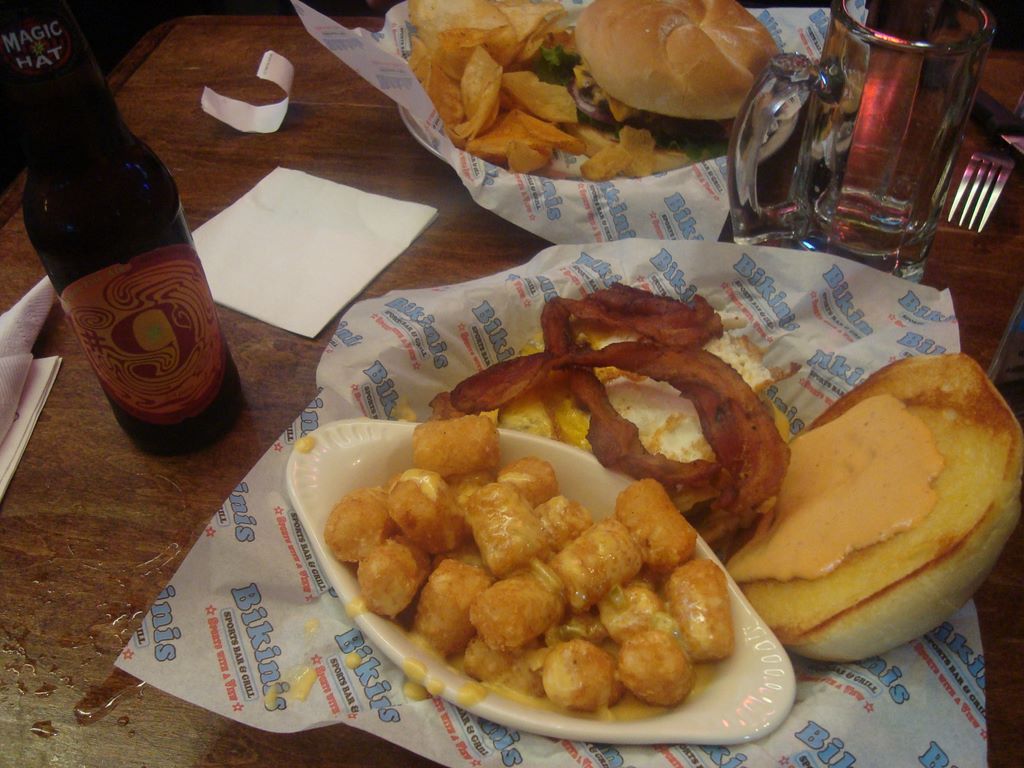 Speaking of beer, it was a bring on home type of weekend for the food pairing.  I lit up the start of the barspot by chucking down some Widmer Brothers IPA and zucchini fries, but the main course was so much more.  For this barspot I opted for the Double Team with Magic Hat #9 Not Quite Pale Ale.  Take two burger patties, a fried egg, bacon, some cheese, weird dressing, and a kaiser roll and wash it down with a pale ale that has a fruit tinge to it.  That was a very hefty and manly burger.  The only fruit I'll get from the day was that of the pale ale.  I'm not sure it complements the big ass burger completely, but it does make me feel like I'm being somewhat healthy.
Now i was there to watch games, too.  The first group of games I got to watch was some of Ohio State and Purdue.  The end specifically.  Purdue pulled it out.  Good job to those guys.  Speaking of good job, way to go Georgia for the whooping you put on Auburn.  You guys are in the fast track for the SEC Championship Game.  Finally, kudos to new Big 12 brethren TCU.  The Mountain West moved the game between Boise State and TCU to Boise State's home blue turf as a punishment for TCU then leaving for the Big East.  Well, it tooka  gutsy two point call and a shanked kick, but TCU upset Boise State and sent their BCS dreams down the toiled.  Good job indeed.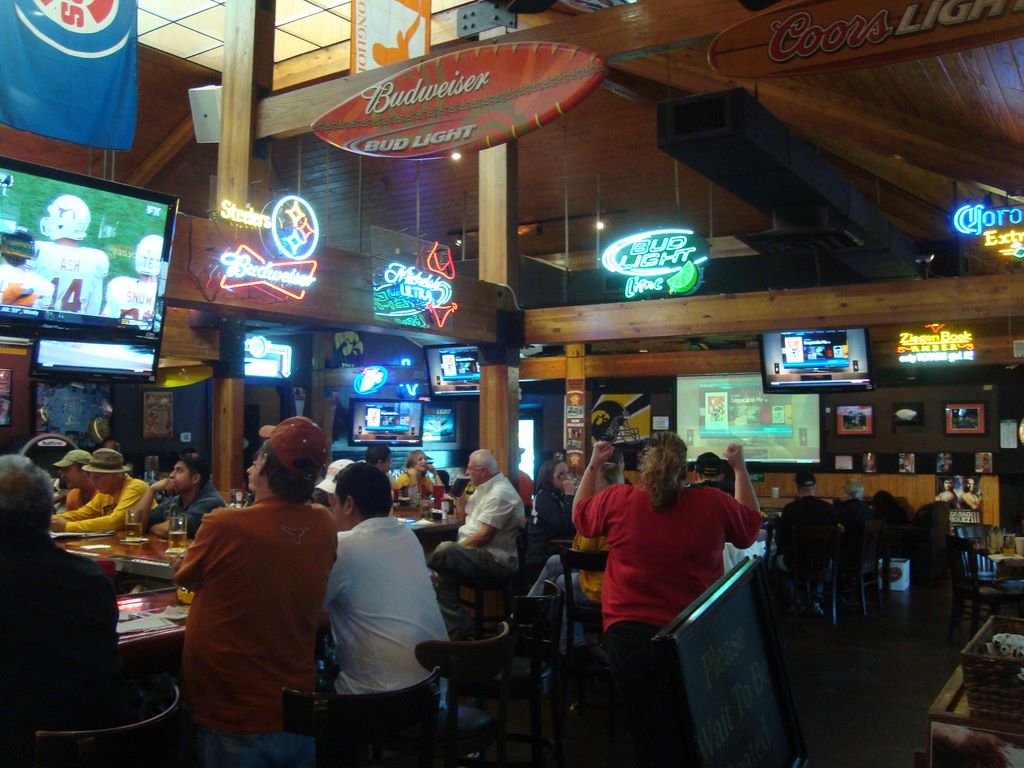 The Big 12 only had four games that day.  The first one I kinda watched was Missouri holding on to beat Texas for the first time.  That's a nice feather in their cap on their way out of the Big 12 and into the SEC.  It also helps Kansas State's chances for getting into a Cotton Bowl with a 3rd place finish in the conference.  I heard something about Oklahoma State killing Texas Tech but it was overshadowed by a two fold surprise.  First, Kansas was up big on Baylor going into the 4th quarter and then the other was Baylor coming back and winning the game in overtime.  Talk about a major collapse.  I was glad I didn't watch it.
But what I did watch was Kansas State hosting Texas A&M.  So I figured that last week was the Game of Century but now I'm conflicted between that and this game.  It was a marathon of a game and reached the finish line at the 4 over time mark.  Texas A&M went up big first with a 14 point lead, but Kansas State, more specifically Collin Klein, climbed back into the game and even took the lead late.  That's when it got real crazy.  The 4 over time mark was the first time it's ever happened in a Big 12 conference game.  Texas A&M and Kansas State had chances to put the nail in the coffin, but it was a decent defensive stand and a smart playaction pass that led to an interference call which was the difference in this one.  The rest was up to Klein drilling into the endzone.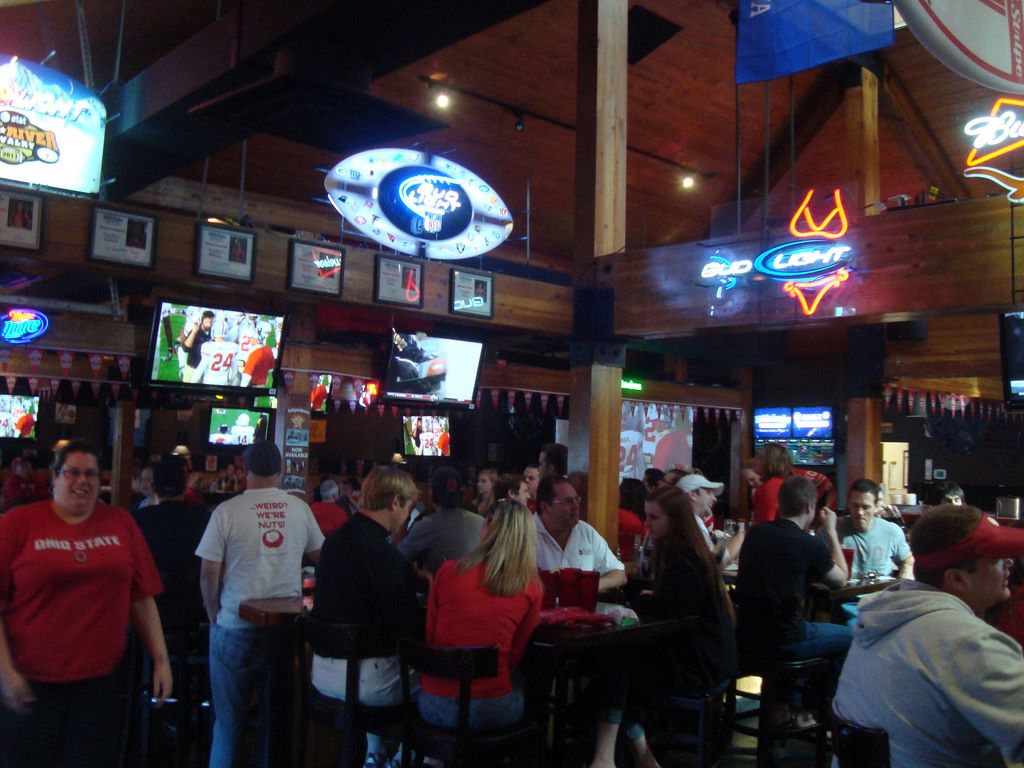 The Wildcats come here to Austin next week and I will have my first Stadiumspotting of there for it.  I'm hoping for another instant classic.  Thanks to Bikinis Sports Bar and Grill to get the momentum going again.  If you want the best of the obvious, go there.  Televisions all over, internet, decent beer selection, great food, and hot waitresses with almost no clothes on.  Really, it's all you could ask for and more.  Maybe next time I find myself there, I'll plop into the leather couch and chill while my teams drills to another victory.  Plus, being couch height has its other visual benefits.