We did our best to avoid the blast impact of Farmegeddon 2009 and with your help we landed in the bunker that is Scoreboards Bar vs Grille. Scoreboards tucked us away very quietly while we watched the action exploding on the screens. In times of catastrophe, one can't be concerned of amenities. They must be concerned for survival. Well, we survived Scoreboards. From patching together tvs, to working with outdated accommodations, we walked out of disaster with no scratches and sore backs. Hey at least the food exceeded our expectations of canned beans and cracker jacks.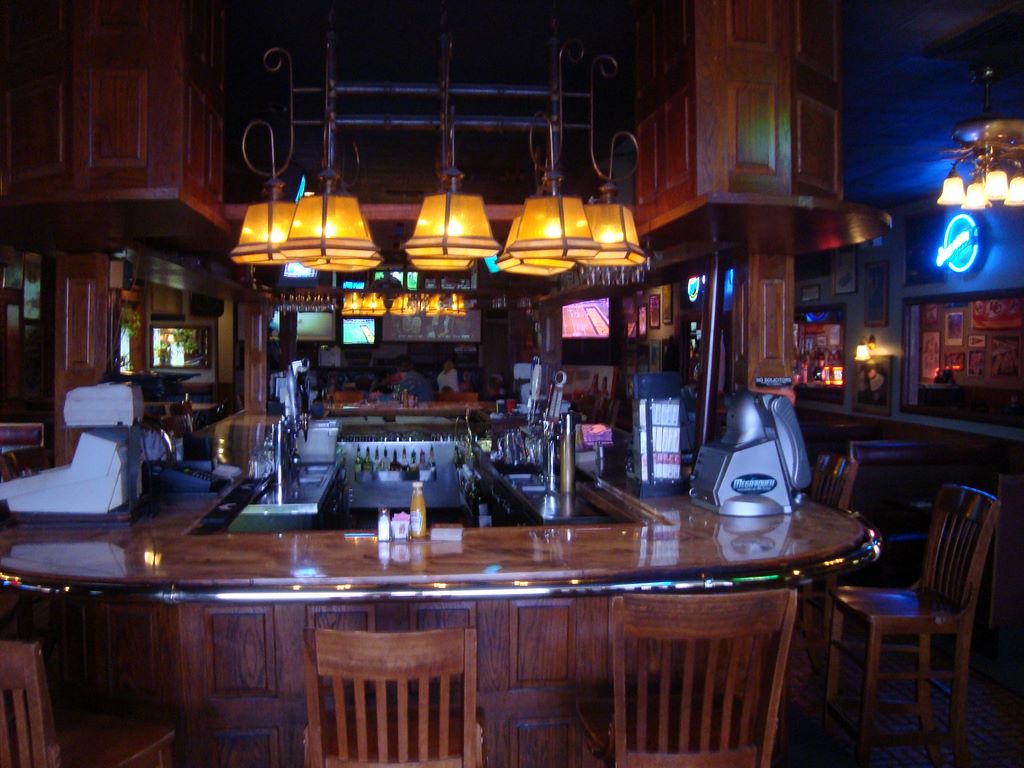 First thing we noticed walking into Scoreboards was how dark it was. Conserving energy makes sens in times of disaster. They have two big rooms with regular tube type televisions mounted all over. The closest thing they have to high definition are the 2 1/2 projector screens. Scoreboards utilizes satellite communication for broadcasting their games, but the signal is very shaky. What's even shakier is their sound. We sat in the perfect position where every sound of the game echoed in our ears. Now they aren't all drab and dreary. Scoreboards surprisingly had wireless internet. We also enjoyed the old school sports memorabilia.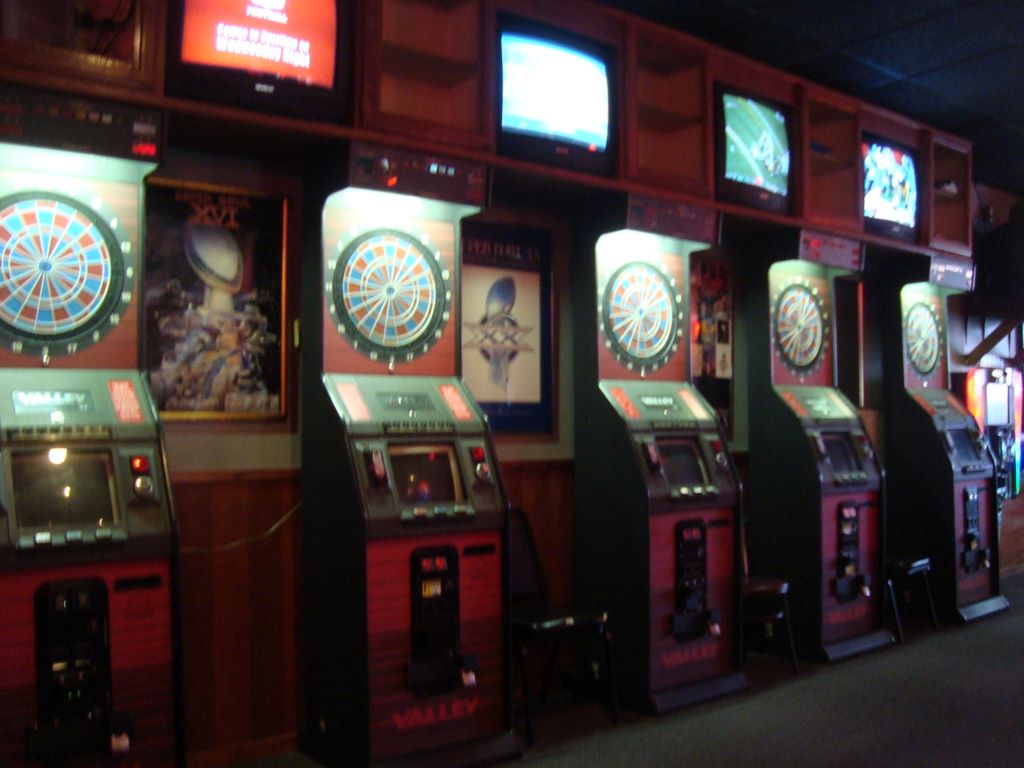 We also enjoyed some old school gaming at Scoreboards. They sported the standard in bar games. It took us some time to find the SilverStrike Bowling and Golden Tee. More prominently, they have a row of dart boards and a weekly tournament if you ever fancy yourself a dartist. The bar had MultiTouch gaming and we worked out some trivia on the NTN machines. If that doesn't get you going, you can drop some coin into the jukebox and then drop some more into one of the two pool tables they had. We opted of some billiards and alas, did not take any video of it.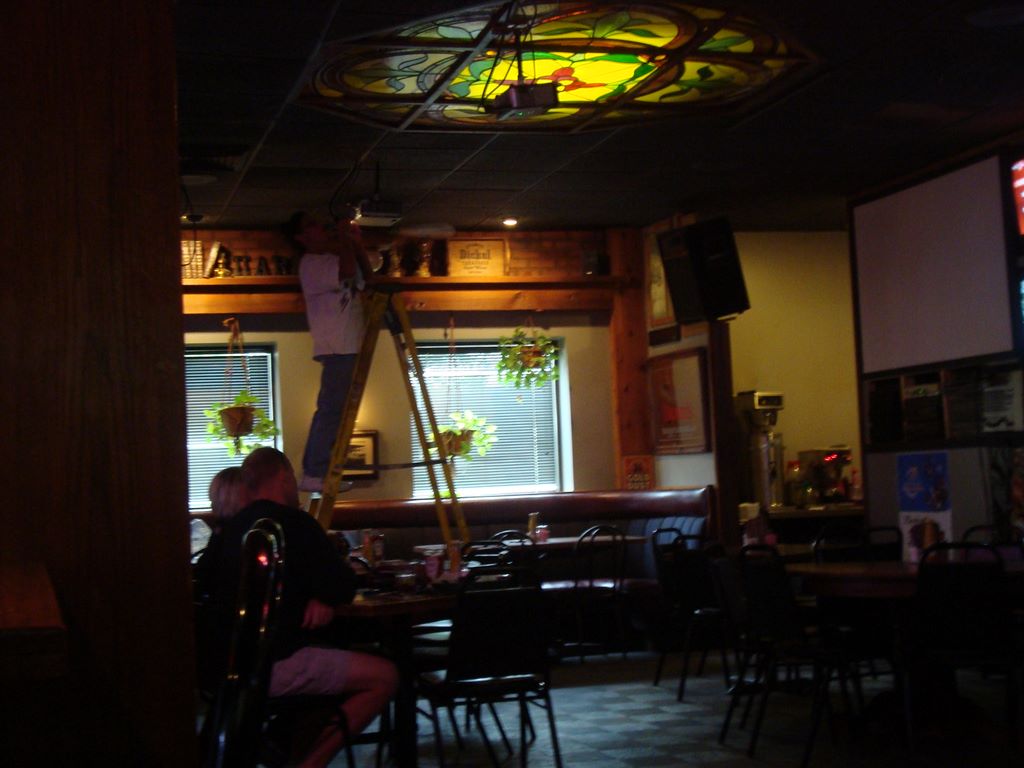 We will remember how hard of a time it was for Scoreboards to setup the 3rd projector screen. When we first got there, it was off and there was not projector hooked up. We're not sure if they removed those for karaoke singing. So when we asked them to change the channel on a tv to the Michigan vs Michigan State game, they opted to set up the 3rd screen. The owner of the bar showed up, grabbed a ladder, hooked up the projector, and then struggled to get the game on. Once it was on, everything was kosher. But if you are advertising being a sports bar, then you need to have all of your biggest screens up and going on Saturdays in the fall.
Now part of the struggle for setting up the game came with the fact that the waitress didn't have a clue how to work the televisions or really change any channels. In what's becoming more of a common theme, the help was no help on actual channel changing. On top of another common theme, the service wasn't much on the attractiveness front. That said, the lady we had was polite and hooked us up when we needed food and drinks. Maybe the emptiness of the bar had something to do with it. There were no specials that day except for $3.75 domestic big beers.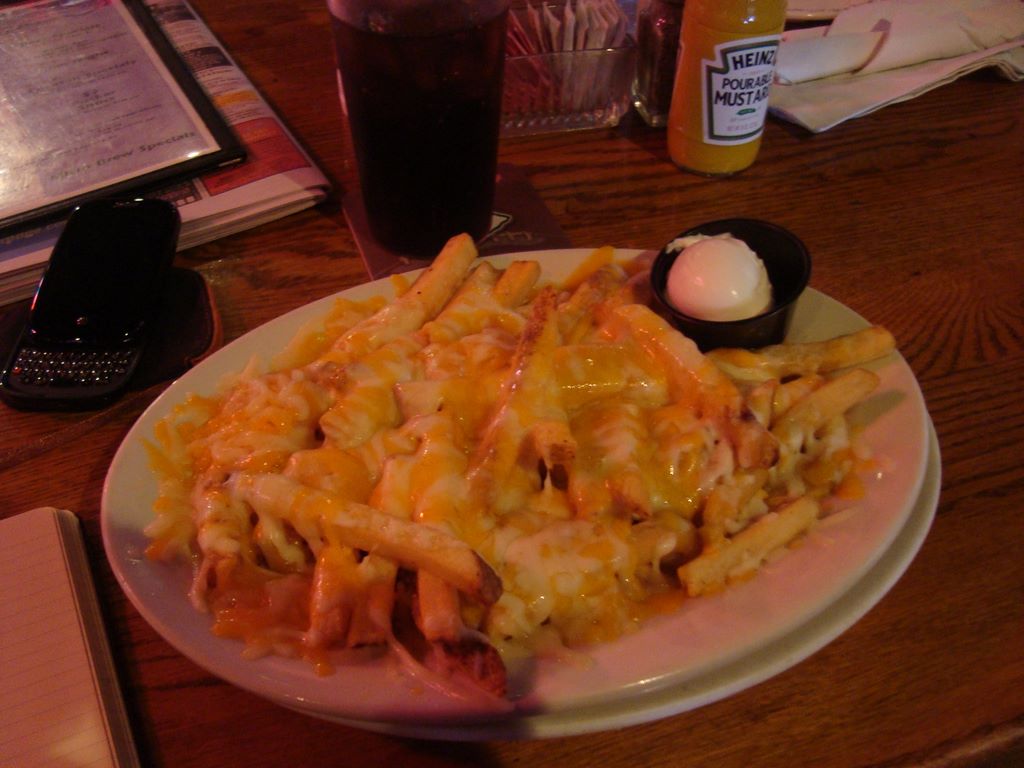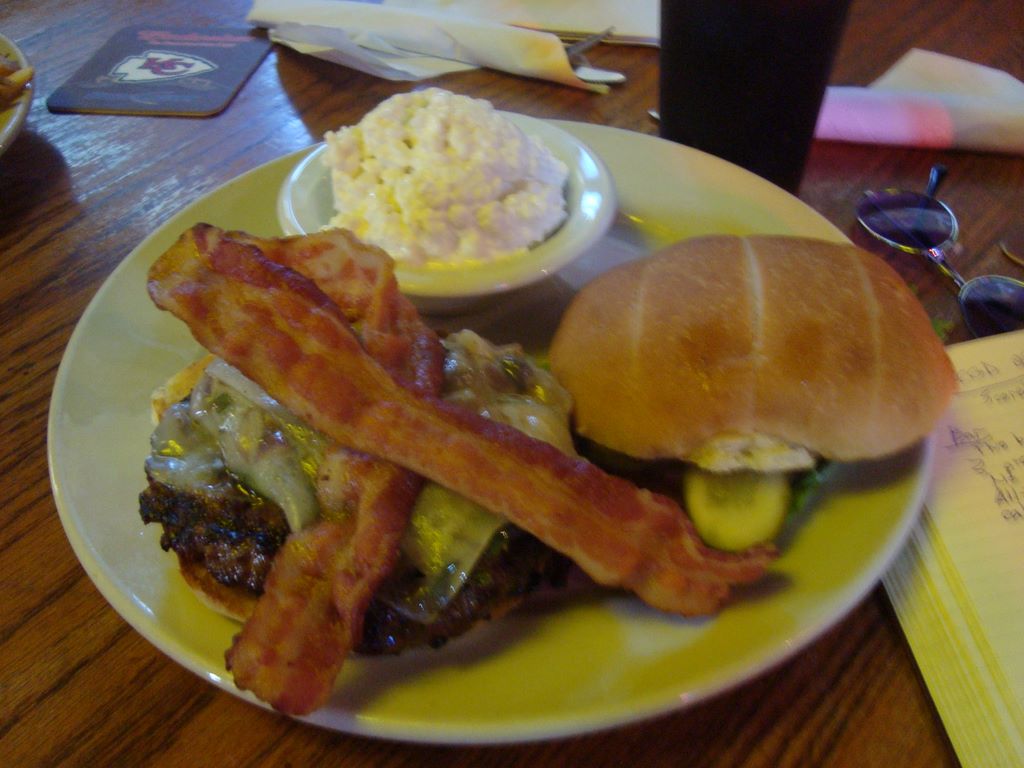 The most special part of our foxholing at Scoreboards was the food. First up the cheese fries app really knocked us out. The cheese looked and tasted real. Plus, it actually covered all of the fries. Later on, the Scoreboard's Burger put us away and we even had room for the cottage cheese. The burger itself was built with a cooked to order patty, bacon, fried onions, mushrooms, and our choice of cheese. Let's say that later on there were aftershocks of Farmageddon emanating from both ends of the Purple Yeti. Good stuff indeed.
We mentioned Michigan taking on Michigan state. Saturday was the day for Big 10 rivalries as those two teams fought it out for the Paul Bunyan Trophy. Michigan State took down Tate Forcier and brought home the prize. Meanwhile, Minnesota almost beat out Wisconsin as the Badgers held onto Paul Bunyan's axe for another year. In the corner we spied Iowa almost giving it up to Arkansas State but they held on late. That's about all we say in other national games at Scoreboards. We wanted to see more but we were not sure Scoreboards could handle it.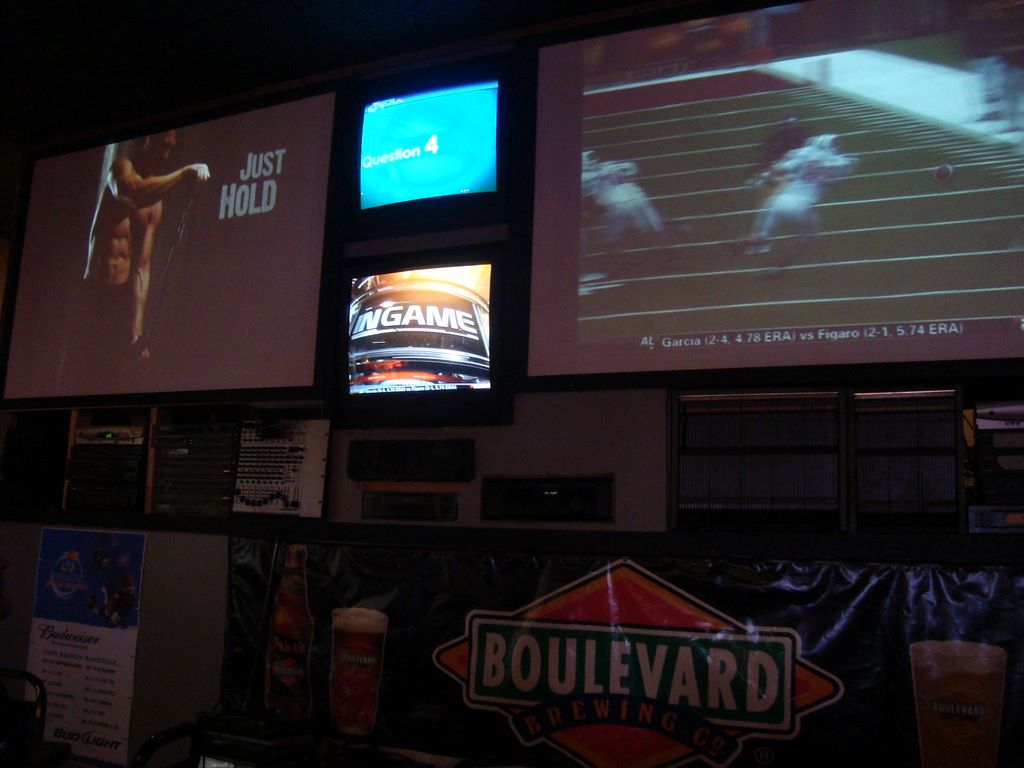 We almost couldn't handle Farmageddon. Many of the other Big 12 teams were off this week and we had the treat of seeing Kansas State taking on Iowa State at Arrowhead stadium. Kansas State ran up and scored first in the game. Iowa State swung back around and took a 10-7 lead before Josh Cherry tied up at 10 at halftime. Iowa State scored first in the 2nd half but Kansas State scored two passing touchdowns from Grant Gregory to take the lead late. In what was probably one of the most exciting finishes of the year, Iowa State drove late and scored only to have the extra point blocked with seconds left to go. Brandon Banks looked great in the game as well as Iowa State's Jake Williams.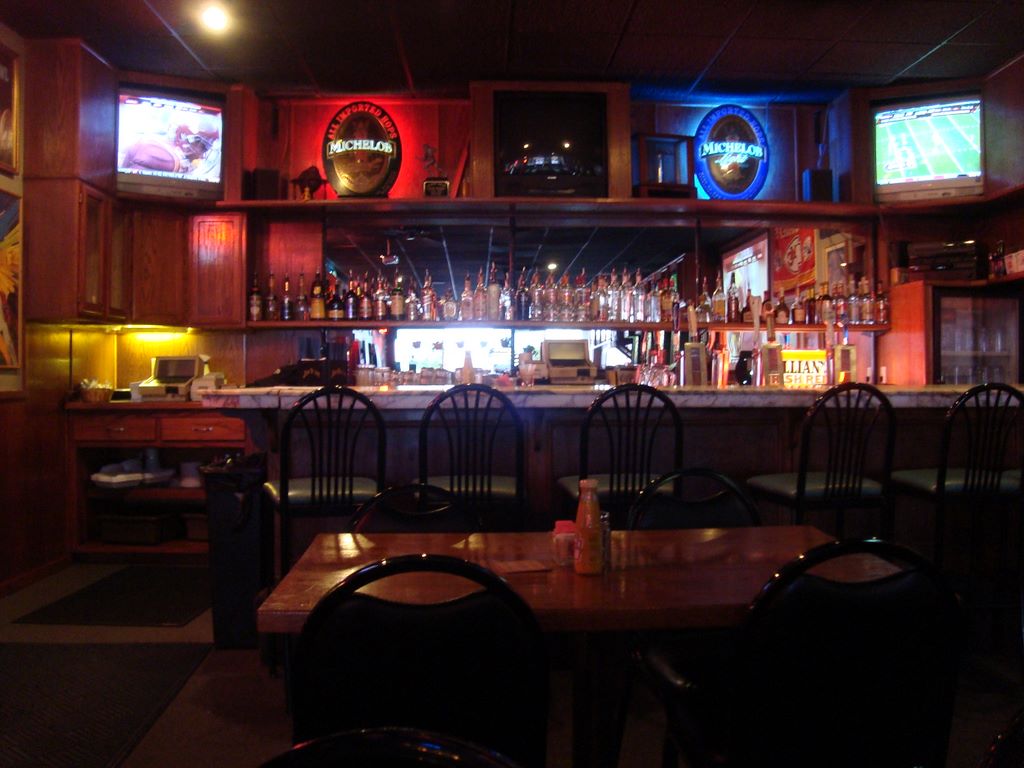 Scoreboards didn't have great game. The best part of the joint was their food, hands down. The televisions suffer from being built into places and could not expand out to high definition flat screens. The projections screens needed alot of work as well as their satellite signal. Even more so, the chairs we sat in started hurting everyone's back. Scoreboard's has a bomb shelter mentality and while we suffered through the watchings, we were glad to spectate the first edition of Farmageddon. It made everything worth it.