Finally, the KCCGD has come BACK to Leewood, Kansas!  Okay, we're not too much into old school wrestling references, but we had to set the tone on how we felt within the walls of the 810 Zone.  We all aren't wrestling fans and we don't live in trailers.  In fact we're pretty normal.  But compared the crowd out there, we certainly felt that way.  Even so, we ended up having a pretty good time.   Our wallets felt the pain however.  So did the Kansas State Wildcats as they tried to win the Big 12 North against Nebraska.  Oh the times we had.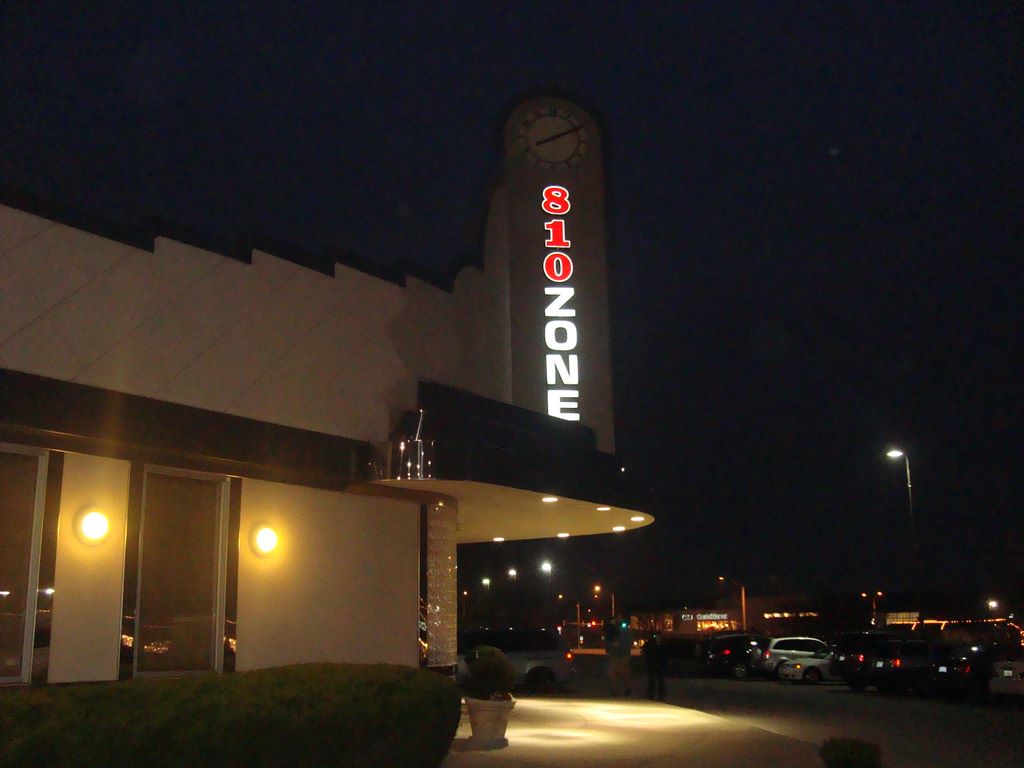 Walking in, we adjusted our eyes quickly to the darkness of the 810 Zone.  After we got our bearings, we realized that it's dark to handle the massive amount of television space the walls take up.  There's flat screens everywhere.  There's also some very big and crisp looking projector screens to keep us locked into the games.  If that doesn't tickle your fancy, then you can hop online with your shmancy fancy iPhone and check scores with the wireless connection.  Whatever space was open, we saw loads of memorabilia screwed into the walls.  There were all types of seating available from booths to bars and stool seating.  All the while you can place your drinks miles of wood ledges built into there.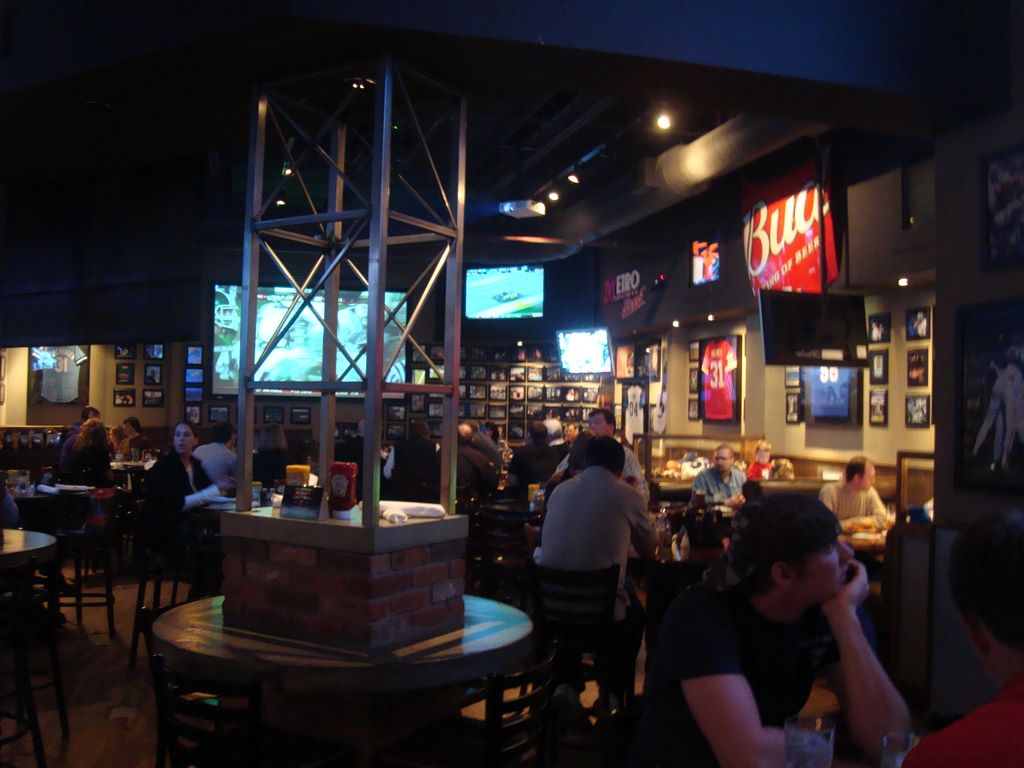 The plank of wood we plopped down to had a waitress waiting in the wings to serve us some drinks.  She was fast, even though there was a hiccup in between the massive crowd that showed up.  She was on the cute side but as a whole the staff was not knockout.  Somehow we think we were jipped in terms of young, cute, joco servers.  It was easy to overlook as our waitress brought extra soda out to us even when we weren't halfway finished with our first one.  Unfortunately for them, the specials on drinks and food were weak.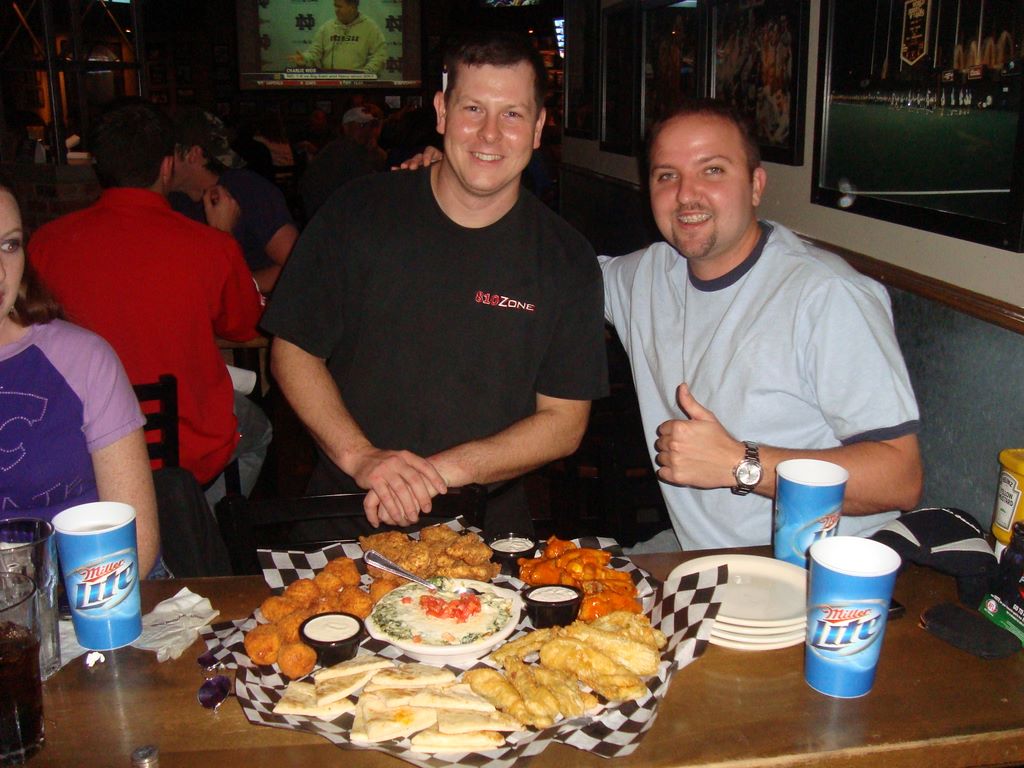 The 810 Zone had just one drink special:  $5 22 oz domestic beer and somehow Budweiser didn't fit in.  No food specials.  Just big steaks for 2o bucks or so.  So we decided to drop the cash on a $30 combo platter the size of a truck tire.  It had fried pickles, chicken tenders, spin dip, pita bread, buffalo wings, and some cordon bleu balls.  Each item was very tasty and we scarfed them down.  It would have been perfect if the sting of the prices didn't sour our flavor.  Did they really bring down Plaza prices to south Overland Park?  Yep.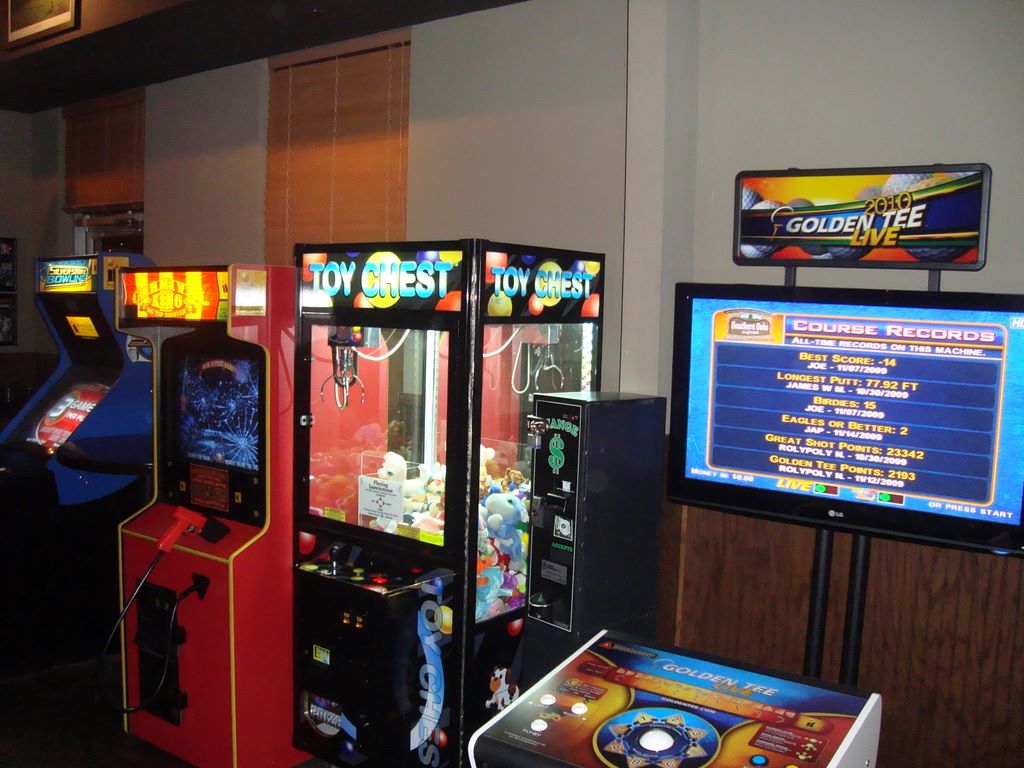 While we let the food settle, we caught up with some games.  The 810 Zone had a sectioned off area with Golden Tee, SilverStrike Bowling, Carnival Big Shot, and some stuffed animal game.  We jumped on the carney game big time and got our money's worth.  Shooting games of old seem so much simpler to the massive big screen shoot 'em ups of today.  Compare this to Big Buck Hunter and you'll be itching for more action even after beating the whole game.  The satisfy his itch, the Purple Yeti scored a stuffed giraffe now named Snyder for his special dame.
Purple and special explains the Kansas State Wildcat football season.  No one expected them to make it as far as they did and last Saturday they were up for the Big 12 North title against Nebraska.  Unfortunately fate was not on their side.  Missed opportunities and some costly turnovers ended their miracle run short by losing 3-17.  No one scored in the 2nd half but Kansas State moved the mall way better.  A fumble at the one yard line of Nebraska sealed the deal.  Yes there were questionable penalties, but they also committed some costly ones.  Because of the loss, they will not get invited to a bowl game.  That's okay, as they had a great year and finished way better than what everyone expected.  Congratulations Bill Snyder 2.0 and K-State.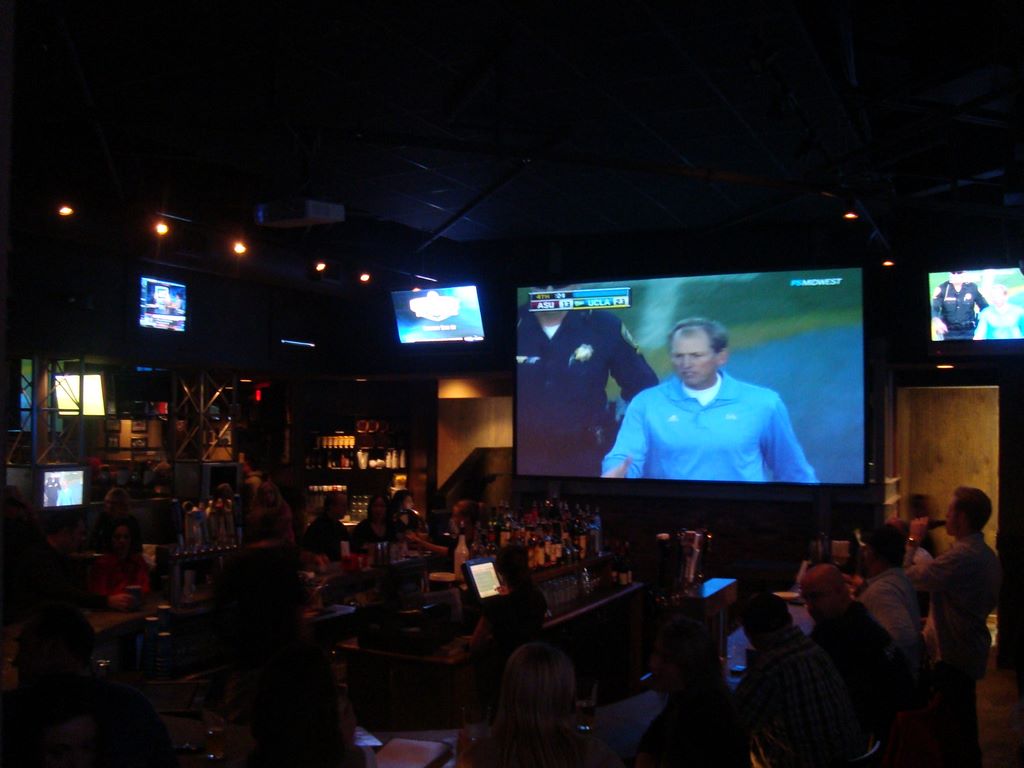 The other games of the day were almost as strange as the 810 Zone darkness.  We strolled into there to witness some upsets.  Not only did Northwestern top Wisconsin in the Big 10, but Ole Miss upset LSU in the SEC.  Crazy times indeed.  We wished we would've stayed to see Oregon come form behind and win in 2 overtimes against upset-minded Arizona.  That's alright though, as we enjoyed the rout that Texas had over Kansas in front of what we could only suspect were Kansas fans.  Middle aged guys with slicked back hair and huge scarfs.  Definitely Kansas.  All in all the games that book ended the Big 12 North game kept our juices flowing.
The juice was flowing at the 810 Zone.  Some of the KCCGD grew were tailgating before the game in the parking lot.  All fans represented and chants between them made the atmosphere almost game like.  The service was better than most, but the food and drinks were just way to damn expensive.  If you're out and about in that area, go to the 810 Zone if you want guaranteed gaming.  Paddy O'Quigley's will be more fun and cost effective, but the technical dominance of the 810 Zone ensures you that you will get top notch football watching.  Just please remember to bring some plastic and even some rocks you were saving for Cash 4 Gold.