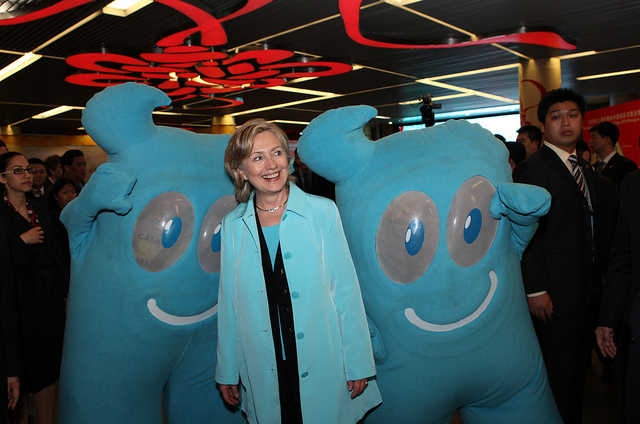 As some of you may know, I do a Mascot Monday post ever week in the offseason.  What I do is an introspective into the many mascots that parade the sidelines during the games.  Some of them are live animals.  Some of them are costumed.  And even some of them are real people.  There isn't a massive ranking list like the football teams, but I do tell you if the mascot is worth watching and if the school really cares about its spirit.  Welp I saw something yesterday that made me think about the state of mascots.
FLOtv came out with an advert sporting college football games on its device.  In the ad, people banter about their day doing normal things.  Except they have the FLOtv device and a mascot tied on a string with them.  I guess the point is that most people carry their college with them and because of that they need to carry FLOtv to watch their college play sports.  That's cute and all, but it makes the mascots seem more goofy.  Yeah, they're big and goofy but it gives me a sense of the attitude about mascots nowadays.
Most mainstream commercials will place the non-threatening type of mascot front and center when they talk about college mascots.  We don't see Ralphie the Buffalo or Bevo in ads talking about FLOtv.  We certainly don't see Chief Osceola lobbing a spear through some turf on the field in support of a weed killer.  I think today everyone's perceptions about mascots evolved from advertisers using the non threatening (and not truly representative) college mascots.  This needs to change.
Yes there are cute and cuddly mascots, but there are mascots of all types.  From the research I knocked out, there also is a great tradition and history behind each and every mascot.  For advertisers to move product more, especially if they are looking to attract college sports fans, they need to take a chance and feature all mascots.  For fans like me I would appreciate it more than just watching cute and cuddly guys bounce around.  Heck, even the Capital One Mascot of the Year will have the scarier looking fluffy mascots.
Those of us in the know realize the many different mascots.  But with the cute ones getting all the attention, there is a fear that the more menacing ones may go away in favor of some cute and cuddly version.  This is a bad thing.  All it takes is the right college administrator and the wrong advertising jockey.  Tradition is huge in college football and to blow it away for some weak and limp version of your school's history is just the wrong way to go.
So please take a moment and consider what your college mascot would be like if they changed it to a politically correct non-threatening mass of fur.  Now, some of you may have it already.  That's okay.  There is more than likely a decade long or longer of tradition and history behind the mascot.  I'm talking to those of you with mascots that are menacing and have been around for long time.  If your school is thinking about changing the mascot to a cuddly version, take action.  The state of mascots depends on it.