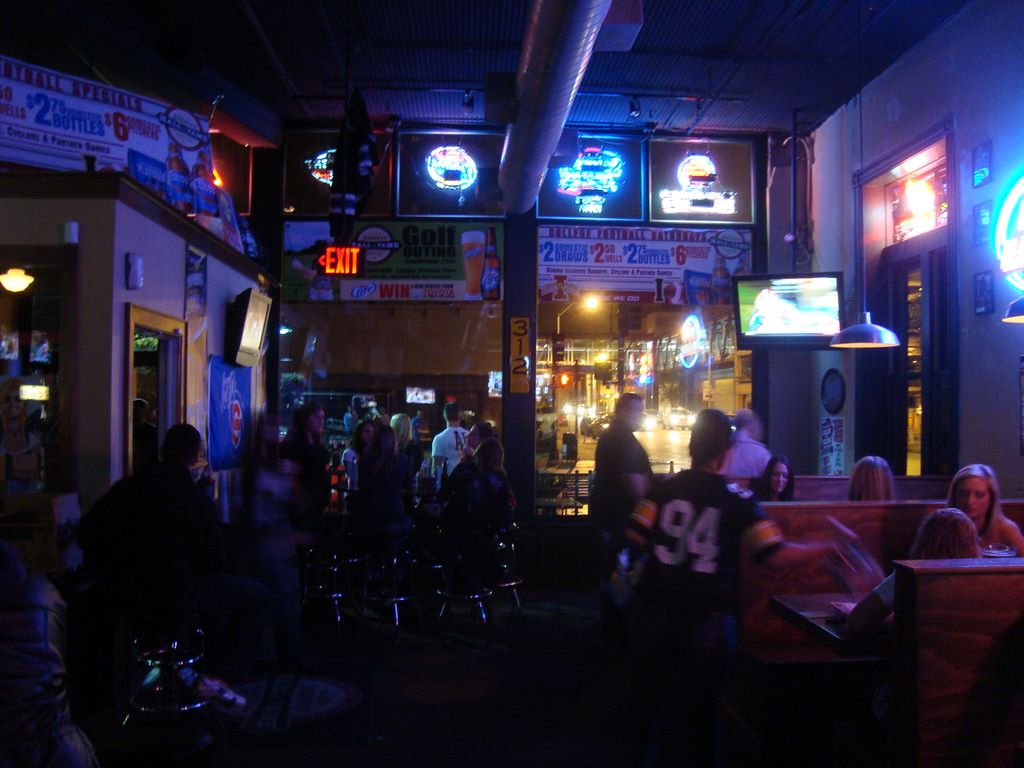 Even thought the weekend at hand had more than just college football at play, we managed to make it out to a hot spot of sports for Des Moines, Iowa.  Granted it was in the downtown district and amazingly enough we got the same type of people out there that we see in downtown Kansas City.  Yeah, lots of Ed Hardy shirts. But even though the efforts of the douche bag army tried to stamp out our fun, we managed to kick it pretty well up there in God's Country.  Recovery mode on.
There was no choice that we thought we had when we rolled into Des Moines Friday.  No, we're not talking about other debaucherous places, we were talking a place to watch some football.  The choice was Johnny's Hall of Fame right in the heart of downtown.  Walking up to Johnny's we saw a nice un-pictured patio covering all the smokers and outside patrons.  Though it was mega chilly, there were people enjoying some smokes and trying to avoid the Oktoberfest celebration going on a couple of blocks away.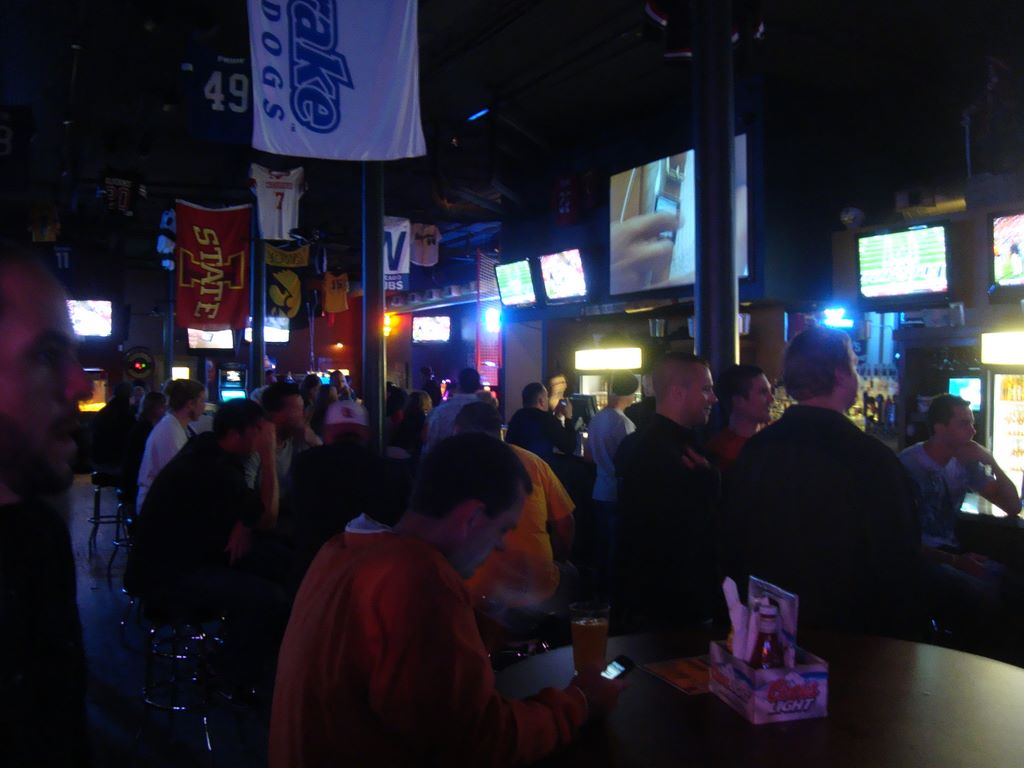 Walking in to Johnny's Hall of Fame, we notice just how dark it was.  Part of that was that we hung out at a bud's place all day and decided to hit the bar at 8pm.  Don't worry, the house had satellite television and all the football games.  Okay, back to the bar.  There were a ton of flat screens and some great projector screens.  The wireless internet allowed us to check in using Foursquare while the coat check check our coats.
We've caught wind at how attractive the women in Iowa were and we somewhat impressed.  The moonlighting roller derby queen that helped us out was about average but we dug the nice black hair.  Part of the medium grade was due to the fact that she messed up returning some change back to some friends at the table.  Waitresses need to have math on the lock down.  The bartender girls and the rest of the stall all were hot or above average.  They just need some focus.
The back of the bar is where most of the activity type stuff happens.  They sported a couple of pool table as well as shuffle board and darts.  If live action isn't your thing, then perhaps some Golden Tee, SilverStrike Bowling, Power Putt, or Big Buck Hunter Safari could fill your time.  The real nice touch to the place was the free popcorn machine.  What better way to whet your thirst than to stuff free salty popcorn down your gullet?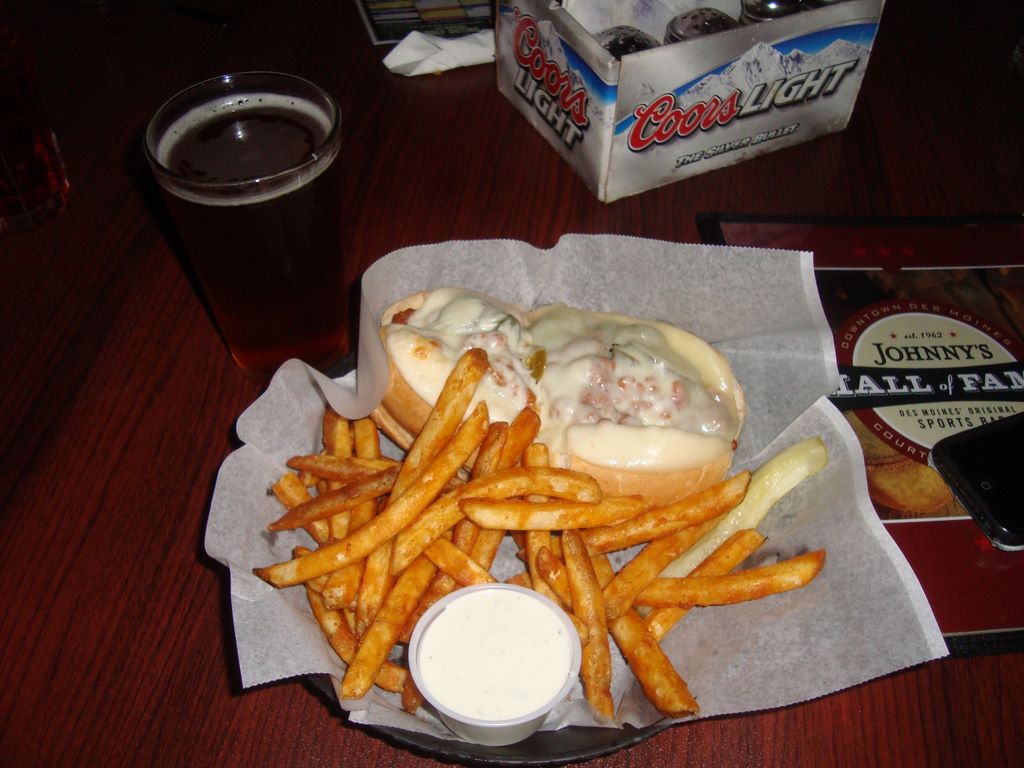 We didn't take the chance but we did on the pairing.  This week we opted for Johnny's world famous Graziano's Italian Grinder and some tasty Goose Island Honker's Ale.  We really couldn't figure out what the pair with grinders so we opted for a beer we were pretty sure we never bad.  The Honker's Ale quacked us nicely as the ice cold and crisp flavor opened up the door to a rich taste as it went down the mouth bay.  The world famous grinder wasn't exaclty a world beater.  The meat was great and we enjoyed the option of cheese and jalapenos but the hoagie bread was crumbly and dry.  If you head out the Johnny's be sure to get a side of ranch dip for the fries and the sandwich.
On to the games.  We noted that we watched football all day Saturday and it started at our friend's house.  With satellite television in hand we watched Iowa beat down Ball State.  On paper, this was going to be a snooze fest and it came through.  The Hawkeyes needed to come out angry after losing last week and took care of business. They only have one loss but need to get sharp quick heading into conference play.  Good luck to them.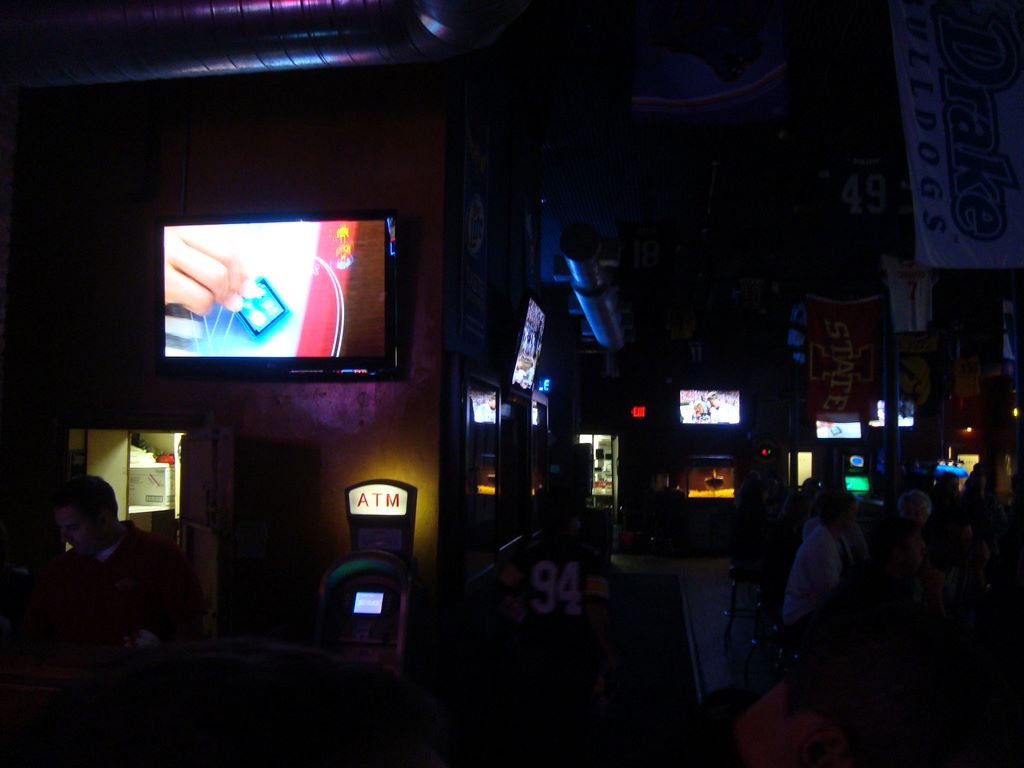 Now on to the Big 12.  The first game of the day bumped up against the Iowa game so we couldn't watch it.  That is until a weather delay caused the contest between Kansas State and Central Florida to hold up for an hour and half.  We watched the best part too.  Kansas State looked flat as UCF shut down Daniel Thomas for the game.  The Golden Knights had a quick true freshman that cut through and gave them a 7-0 lead at halftime.  Carson Coffman had to come through and he did, on the last drive of the game.  Kansas State ended up winning 17-13 and will take their 4-0 record at Manhattan again after the bye week and facing the undefeated Nebraska Cornhuskers.
Back at the bar, we watched Oregon State try to knock down Boise State.  First hand, we can verify that the Broncos have legitimate talent.  The Beavers kept coming back against Boise State but the Broncos always answered.  Some special teams play from Oregon State kept them in the game.  At the end, there were too many Beaver mistakes and Boise State made the game looks easy.  Now all they need to do is ride the cake schedule, sans Nevada, and pray that crazy things  happen.
Hey, crazy things did happen.  UCLA went to Austin and whupped up on Texas.  We saw some of it but the main story was that the Longhorns offense turned to ball over 5 or 6 times and pretty much handed the game to UCLA.  Mack Brown wanted to focus on a struggling running game and it backfired.  The Longhorns are in Iowa's shoes as they must try to recover and get back in sync for conference play.  It's a good thing that they beat Big 12 South compadre Texas Tech last weekend.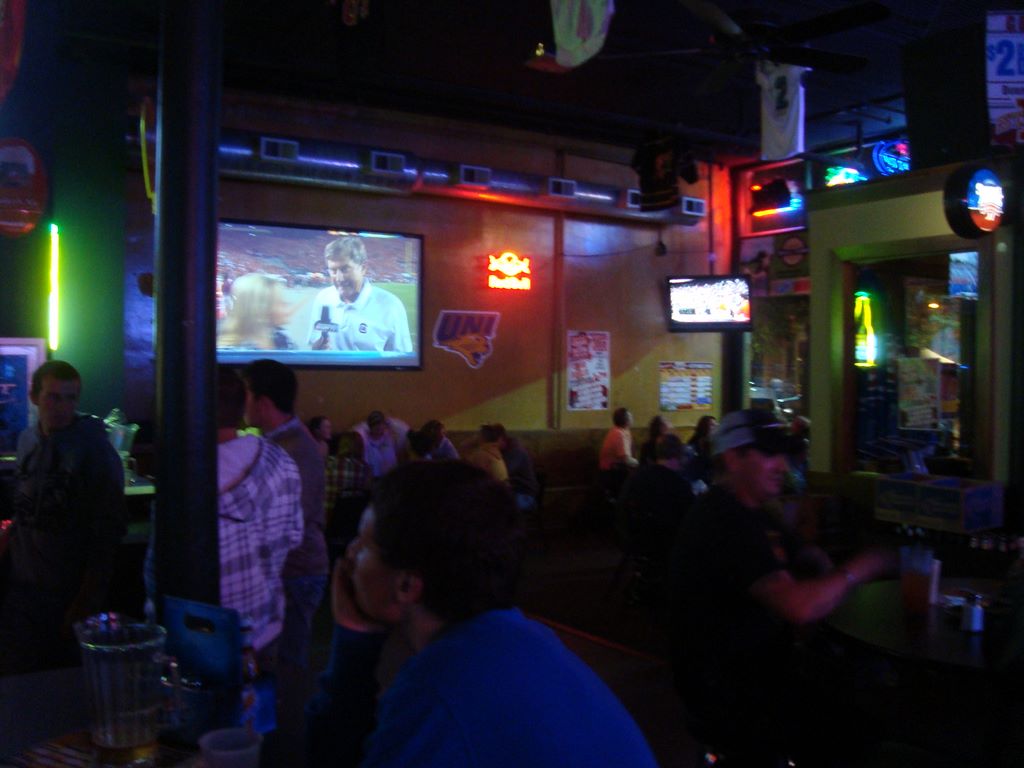 So that was our Johnny's Hall of Fame experience.  The Iowa experience entailed so many other things unfit for this blog that we will just ignore it.  The barspotting part was quite fine.  Now as the night went on, the mass population of Ed Hardy shirt wearing, UFC wannabes started to pile into the place as the Oktoberfest shut down.  Good thing for us the Boise State beat down was over and we were heading to another party.  We're still aching from the weekend but are glad that we spent some time downtown at Johnny's.