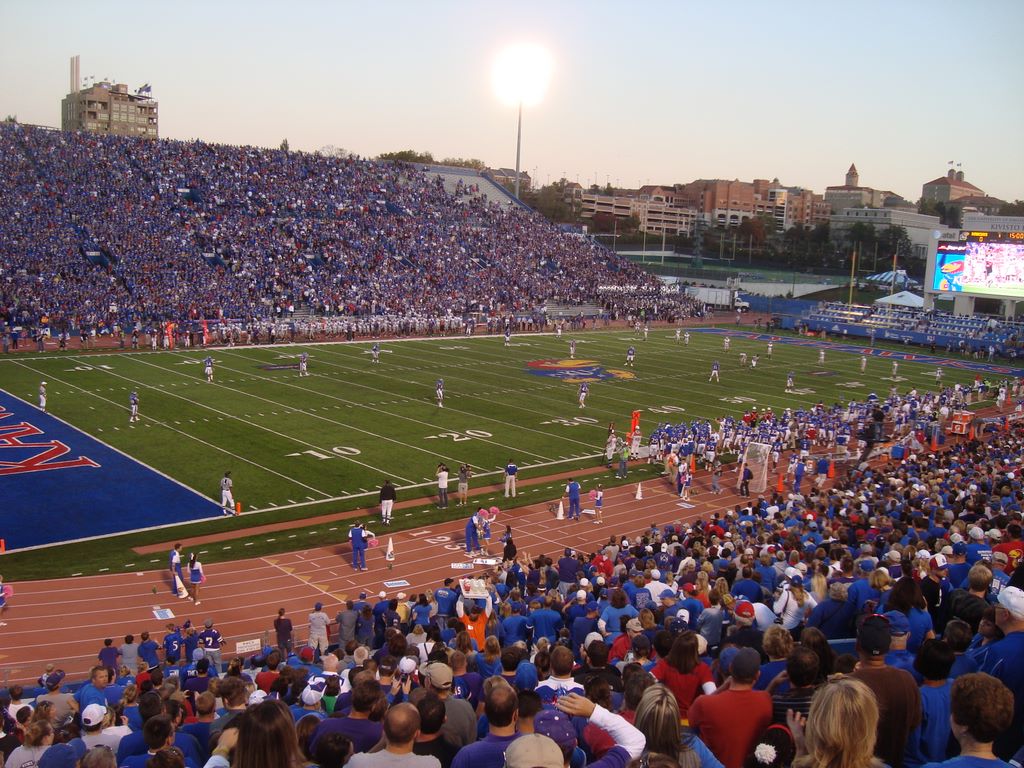 This is another Monday where I get to talk about a game I saw on Thursday night.  Last time was in Manhattan and this time it was in Lawrence.  Things could not have turned around on a hard 180 degree twist for the Kansas State Wildcats.  For the Kansas Jayhawks, unfortunately, things remained the same.  I didn't get a chance to take in the Lawrence like I did Manhattan, but the town and the game was great none the less.  For a quick road trip in and out of Memorial Stadium, I can say that the memories will last a long time.
I didn't get to jet out of work at noon last Thursday but I was able to leave an hour early.  The Lawrence trip is a lot shorter so I hooked up with my crew and made way to the stadium fairly quickly.  The traffic wasn't too terrible on the highway, given that it was rush hour, but once we got in it slowed to a crawl.  The caravan we had going tumbled through some back roads and we found our way parked in some student's back yard.  We walked around for a bit and through all of the smack talking found this tiny bar.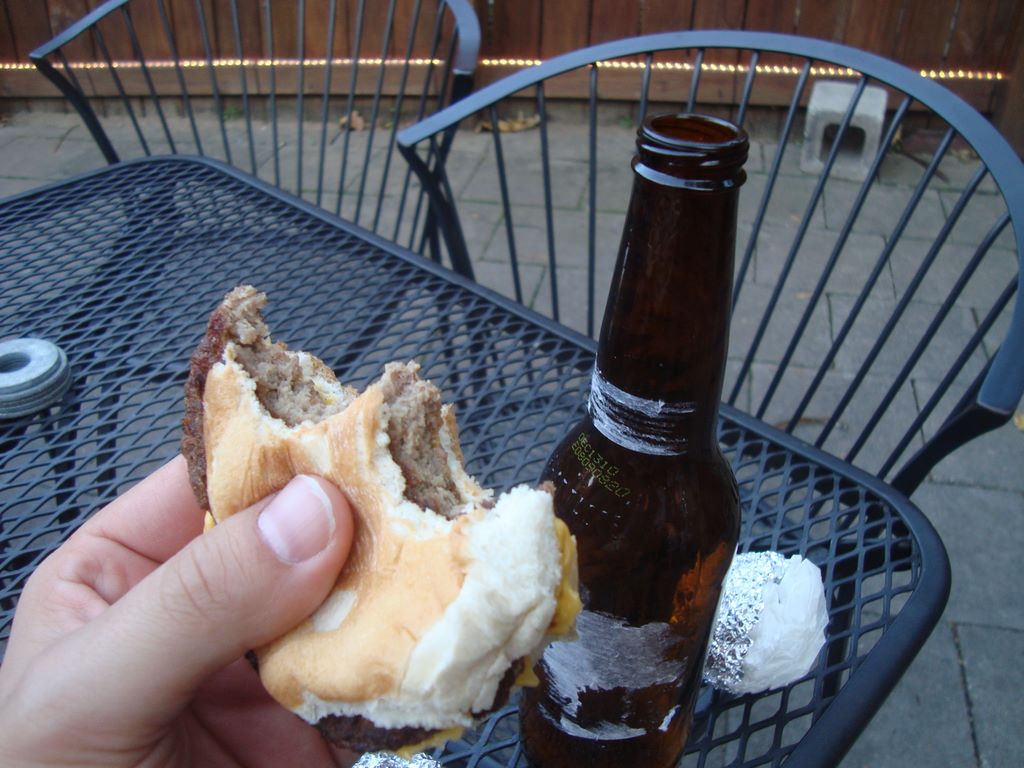 No, we weren't watching the game in this tiny bar, but we met up with some of the crew's friends and had a cold one before the game.  This was a perfect opportunity for a pairing.  I ordered one of those Miller Lite Vortex bottles and proceeded to check out the menu.  I didn't really see anything quick and it was at that moment that the back patio door swung open from a house.  There before us was a table full of cheeseburgers for free.  That's right.  For free.  Of course they accepted tips and we drunkenly donated more than what the burgers were worth but it's kudos to them on the timing.  So, if you are looking a generic and no though type meal, grab a cheeseburger and a Miller Lite.
We scarfed down our burgers on the way to the stadium and found our way in just in time for the game.  The stadium was packed as far as I could tell.  Interestingly more, though, was the fact that an even amount of purple and blue colored the stands.  Maybe the beat down Kansas suffered from Baylor of all schools scared many fans away.  My lovely lady hooked us all up with tickets from her work and she said that there was more waiting today.  It's a shame when you think about a school giving up on its program so early, especially when they need the support against its rival.
Kansas needed more than just fan support, however.  The game started off great as the action went back and forth and the 1st Quarter ended with Kansas State up 3-0.  Then the flood gates open.  Kansas State scored 28 points, 7 of which came off a fumble return for a touchdown.  It seemed like after the first touchdown the Jayhawk players kind of gave up.  Maybe it was the fact that Carson Coffman was running on them.  Yes, Coffman had a career day with 3 rushing touchdowns and 2 passing ones.  The guy that looked so terrible against Nebraska the week before just put one down Kansas's throat.  I'd feel bad too.  But then again, they let his backup Collin Klein scamper for a 51 yard touchdown the 4th Quarter.  Kansas State wins 59-7.
The players just gave up.  This hurts Turner Gill pretty bad.  The shock of a loss early on in the year washed away with a Georgia Tech victory but now he's losing bad.  First Baylor and now rival Kansas State.  Granted, Gill had to eat a team gifted to him from Mark Mangino.  The kids last year gave up on that guy and then revolted against him, all the while dropping 7 straight games.  This program blew up last year and Gill's just started putting the pieces back together.  It's going to take a couple of years but this kind of loss to a rival will set you back big time.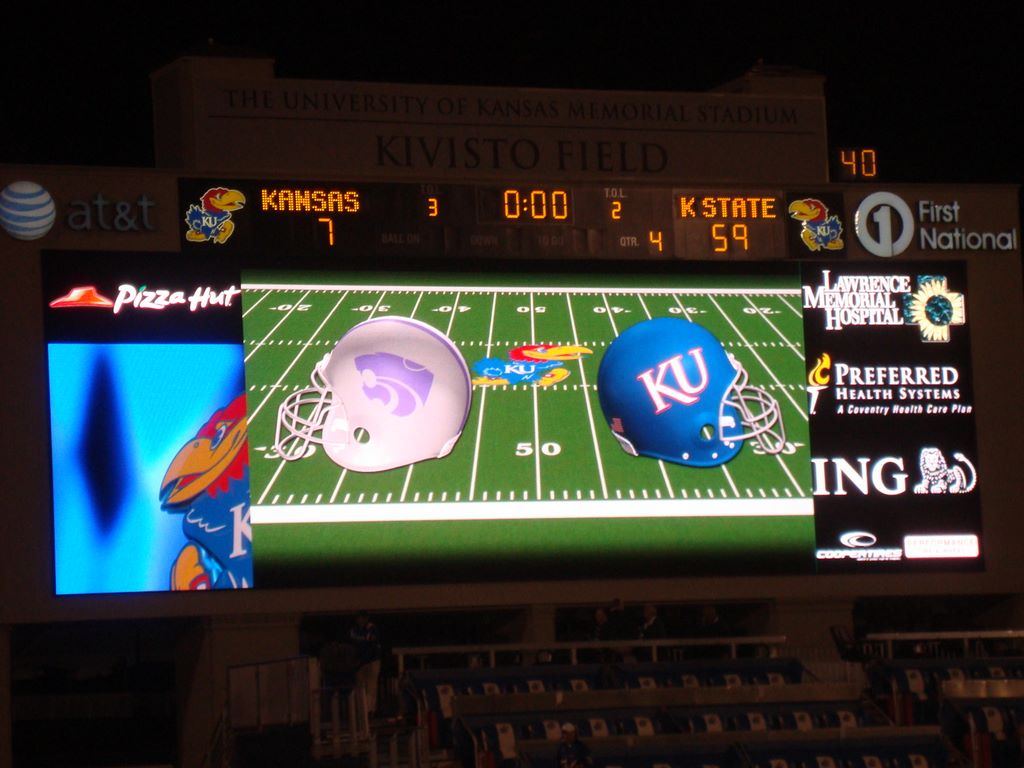 Speaking of pieces, at halftime, I enjoyed a tasty funnel cake and washed it down with a Diet Coke.  I was able to resist all year but last Thursday I couldn't.  After the game was over, I stayed around for a bit to watch the celebration on the sidelines for Kansas State.  After that was all said and done, those of us that had to work in the next morning piled back into the car and headed home.  The last time I was in Lawrence for the Sunflower Showdown, it was a mess of game for Ron Prince and Josh Freeman.  This time around, they weren't around to slow down the Wildcats.