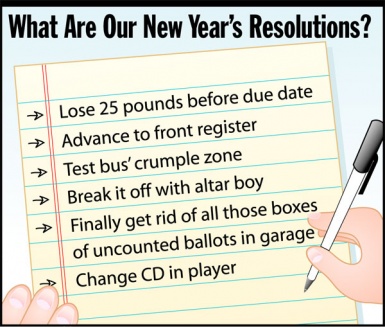 It's the last week of college football and we've had enough drama to fill up the entire bowl season. Happy 2011 to everyone out there and I hope you survived any New Year's Party you decided to attend. New Year's day saw my annual tradition of going over to Jolly's parents house and planting myself in one spot for 12 hours of college football. It was a good day for me as the overrated Big 10 went 0-5 that day and the Big 12 went 2-0. That and the left over ham from the New Year's Party served us well in between meats, cheeses, and crackers. Beefy indeed. Here's this week's standings going into the last week:
There's a log jam up top with 3 teams tied for first. It was meant to be, seeing as I removed the confidence points for the Pick It and Stick It Bowl season edition. KSU IS Bowl Bound is in the first place spot in name only, with the help of picking all of the Big 10 losses Saturday. If you haven't guessed yet, that's my team. It's gonna come down to championship week to see who stays on top. Let's see what the last week looks like.
Tuesday, January 4
TIME (ET)
MATCHUP
8:30 PM ET
No. 6 Ohio State vs. No. 8 Arkansas*
ALLSTATE SUGAR BOWL
The Sugar Bowl sees Ohio State and it's tattooed five playing for the pride of the Big 10 against the Arkansas Razorbacks. My gut ultimately goes with Arkansas on this but of alll of the Big 10 teams that play up in big games, it's Jim Tressel and Ohio State. This should be a close one.
The GoDaddy.com Bowl pits the juggernaut of Middle Tennessee against Miami of Ohio. Really? This is like a Divas match at a WWE Pay Per View. How do I mean? In between big matches, you gotta have a cool down match so the crowd can rest and get up for the next big match. In this case, we are resting for the Cotton Bowl. Um, Miami of Ohio wins because of the mascot and please don't check out the racy commercials online.
Friday, January 7
TIME (ET)
MATCHUP
8:00 PM ET
No. 11 LSU vs. No. 17 Texas A&M*
AT&T COTTON BOWL
The Cotton Bowl is where Texas A&M will announce that they are back. They are on a hot streak and they have a chance to take out the Mad Hatter in Les Miles' LSU Tigers. This one is in the Aggies back yard. Combine that with that fact the six players are sitting out from LSU and you have an obvious Big 12 victory.
Saturday, January 8
TIME (ET)
MATCHUP
12:00 PM ET
Pittsburgh vs. Kentucky*
BBVA COMPASS BOWL
The Compass Bowl exists and it must be played. Mike Haywood most certainly will not be at this one. The Pitt players will be, however. Kentucky is one school I have not heard of at all this year. Because of that, Pitt wins.
Sunday, January 9
TIME (ET)
MATCHUP
9:00 PM ET
No. 15 Nevada vs. Boston College*
KRAFT FIGHT HUNGER BOWL
The Kraft Fight Hunger Bowl has a somewhat cinderella in Nevada, with its crazy offense, taking on Boston College. This is another cooler game. Um, I'm going with Nevada because I like their offense and I used them as a Dynasty League on EA Sports NCAA College Football.
Monday, January 10
TIME (ET)
MATCHUP
8:30 PM ET
No. 2 Oregon vs. No. 1 Auburn*
TOSTITOS BCS NATIONAL CHAMPIONSHIP GAME
The Big Daddy of them all with the BCS National Championship Game. It's Oregon and LaMichael James versus Auburn and Heismen winner Cam Netwon. Two potent offenses with as light nod of defense to Auburn. That nod would lead me to pick Auburn for the title game. Except, my gut is telling me Oregon. I'm not sure if it's the wacky uniforms, the break neck offense, or the fact the their mascot is actually Donald Duck. At any rate, I think Oregon will be too much for Auburn and we see the BCS title go back to the Pac-10 er 12.