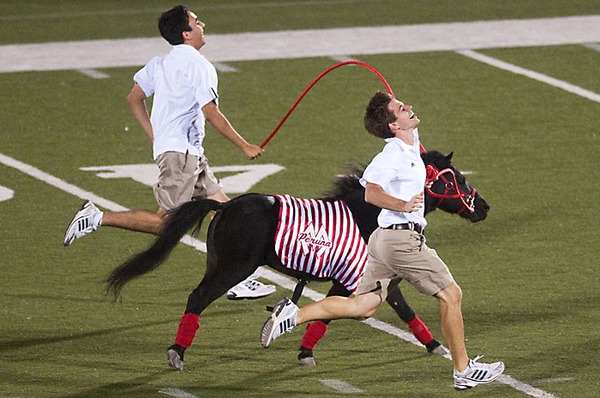 Back again this week for another Mascot Monday and we are slowly but surely counting down our list of mascots not yet covered that are in Phil Steele's 2001 Top 50 list.  This week we'll look at both versions of Southern Methodist University's Peruna.  Most people know SMU as that one football team that had so many NCAA violations in the 80s that they got what was coined 'The Death Penalty.'  Some people today may connect the dots between ESPN analyst Craig James and SMU as well.  But where we'll be drawing on is the past and present day Mustangs mascot.
The Methodist Episcopal Church decided way back in 1911 to start their own university and they called it Southern Methodist University.  Straight out of a suburb in Dallas, Texas, SMU started their football tradition shortly thereafter in 1915.  The football team has some serious success sprinkled throughout their history, with a couple of selected national championships and a good deal of conference championships.  For any college football historian, the big time in SMU's history was when they got "The Death Penalty."  Long story short:  the NCAA suspended their program for a determined amount of time because of the huge and time spanded violations of rules for paying players.  The struggled for a good 2o years or so to get back on their feet and just recently have started to enjoy some more success.
Southern Methodist University started out as the Parsons, but a change was needed.  The community voted between Bison, Greyhounds, Pioneers, and Mustangs in 1917.  There are two stories that tell of the origin of the winning entrant, Mustangs.  One story talked about Miss Dorothy Amann suggesting Mustangs because she said the team looked like the animals kicking up dust during practice.  The other story mentions a patent medicine by the name of Peruna Tonic that promised a special 'kick.'   Thus, Peruna the Mustang mascot kicked its way onto the scene.
The live version of Peruna made his first appearance at a Texas A&M game in 1932.  T.E. Jones donated the Shetland pony and he's been a fixture at football games ever since.  There have been 8 versions of Peruna with Peruna VIII starting his tenure in 1997.  Peruna VIII's highlights include leading the inauguration parade for George W. Bush.  Talk about the high life there.  Now for the human mascot, I'll be damned if I can't find much about the history of that fella.  All I know is that the cuddly costume one works the field at the same time and he gets a $1000 book stipend per year.
The live mascot gets treated like a king.  There's not much to improve on the Shetland pony version.  He gets to enjoy a snazzy uniform and plenty of handlers to keep him clean and fed.  What a life he leads. The costumed version of Peruna, however suffers from neglect.  The costumed version sports the usual jersey with a fuzzy head to toe outfit.  His head is ginormous as well and he gets to look just enough like the live version of Peruna.
I kinda wish that SMU would spend more time refining the costume version of Peruna.  The live Peruna gets all of the spotlight, but the costume version can help build an audience way quicker, especially for the kids.  The football program itself suffered through a long period of sanctions and rebuilding with having success just recently.  With that kind fo newfound success, SMU should beef up their tradition story.  Sure, Bob Hope hanging out with the live Peruna is great, but round out the mascot story and include more on the costume version.  It will help complete the rebuilding of the football program.