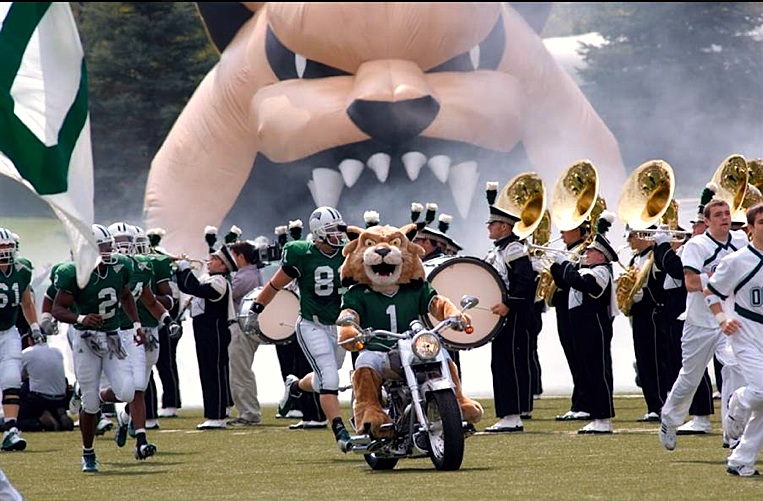 It's so amazingly close to the start of a new football season.  We're not there yet, so we have another installment of Mascot Monday to chew through.  I don't think I'll be able to hit all of the mascots that we have not covered in Phil Steele's Top 50 preseason poll for 2011.  This week it's number 34 and the Ohio Bobcats' Rufus the Bobcat.  The team that stands in shadows in the Buckeye State looks to be contentious coming into the season.  We'll learn about how they got there as well as discover what fans will go through to jam a rival's mascot.
The Northwest Ordinance of 1787 mandated an educational establishment as part of the Ohio Territory.  That mandate led to the beginning of Ohio University's existence on February 18, 1804.  Many years and many graduates later, the football played its first game in 1894.  The story goes that Ohio joined the Athletic League of Ohio Colleges to play but it soon dissolved because no one could schedule anything.  It led to an eventual contest between Marietta College in 1894.  Being in the shadow of Ohio State produced little success on the football field for the Bobcats.  It wasn't until recently that they were consistently making bowl games, with the last one being their loss to Troy in the New Orleans Bowl earlier this year.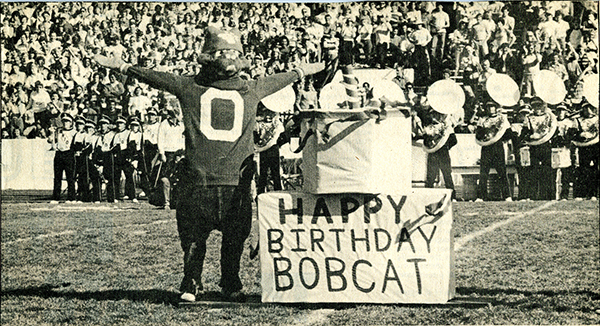 In the early 1900s, Ohio struggled to find a proper name for the team.  They bounced between 'Ohio', the 'Green and White', and even 'The Nameless Wonders.'  It took a contest in 1925 to produce the Bobcat winning entry by alumni Hal H. Rowland.  From what I can tell from their website, Ohio has a live mascot, but it didn't show up until 1983. They didn't really talk about it but they posted some pictures of the little live tyke.  It was in 1960 that commotion for a costumed mascot bubbled up.  Since then, the mascot has gone under numerous changes, with the most recent being given the 'Rufus' moniker.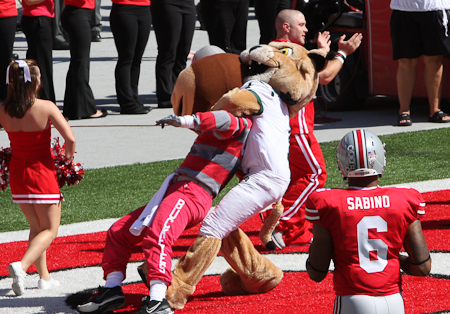 Rufus kind of looks like a badass.  For alot of colleges in this day and age, mascots are sculpted to look cute and kid friendly.  Rufus doesn't suffer from this, although he used to look like it.  The fearsome growl and that roar of the motorcycle puts out a very intimidating look.  He's got the standard football uniform with the fur cover from top to bottom.  The head looks just scary enough to not fall into the cartoony category.  Maybe that's what inspired the student to plot and tackle rival Ohio State's Brutus Buckeye last year.  In one of the more memorable moments of mascot history, Brandon Hanning plotted to take down Brutus way before the start of last year's season.
That was awesome.  But it's not gonna get Rufus any awards anytime soon.  That's where Rufus falls with me.  He's tough looking and tough acting, but he still stands in the shadow of Brutus and Ohio State.  That's fine.  The way all of the off season fodder lobbed to Ohio State this offseason has left them decimated, it's now Ohio's opportunity to become the best team in the state.  Will they do it?  We'll find out this year.  The team is rising but they could use a couple of more suplexes to put them on top.