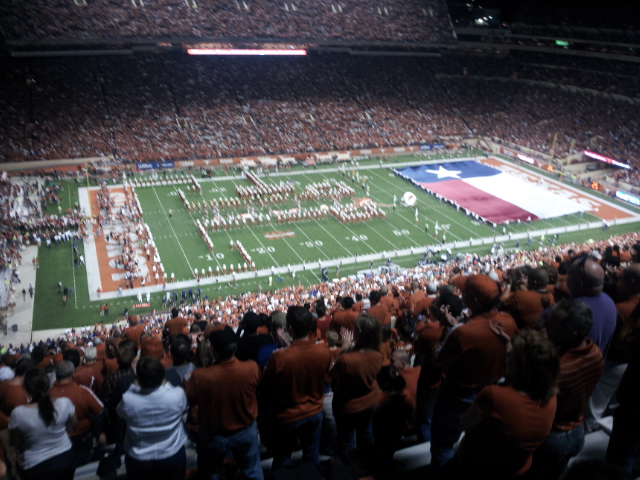 Oh to be the Kansas State fan I was last weekend.  I had friends in town, good times down on 6th street, and a Wildcat style game that I bore witness to at Darrell K Royal-Texas Memorial Stadium.  The tailgating experience was a unique one as most of the tents sprinkled up and down the streets near the capital building.  The fans were mostly welcoming and I enjoyed the cordiality and and concert of celebrating college football.  Most importantly, however, I enjoyed the victory Kansas State had over the Texas Longhorns.  Is a Cotton Bowl at play?
My friends and I parked really early to find a lot and we busted out the cooler to enjoy some refreshments well before the game.  We ended up in a lot close to the stadium and already setup for a private party.  The tent had fold out chairs and a couple of flat screen televisions ready to go on some satellite reception.   This was the first of a starting trend.  Anywho, the music pumped out and kids were tossing footballs in the lot.  We also saw Bevo, Texas' mascot, get a police escort to the stadium.  All in all a cozy pot and not too expensive to park.  Next up was hanging out with fans.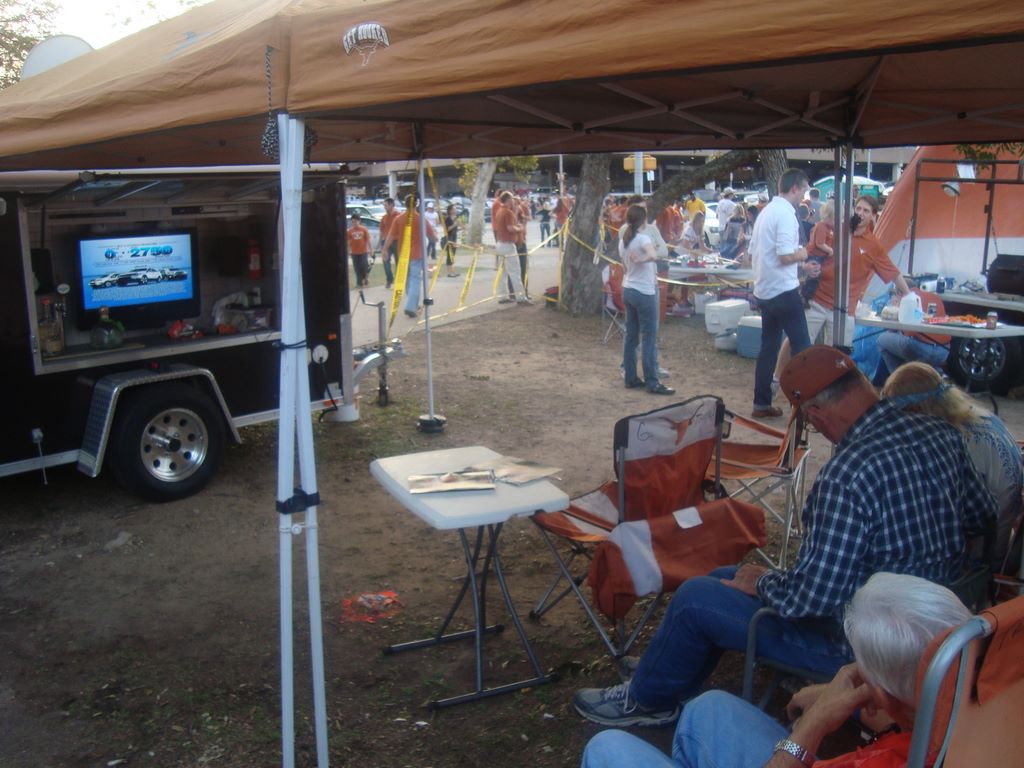 Across the street from where we parked, there were tents pitched up all over the place.  We walked around and talked with some fans.  Every where we turned, there were televisions with satellite receivers hooked up.  Everybody could watch any game they wanted.  I was in awe.  After sightseeing for a bit, we were beckoned over by an especially happy Texas fan.  He had a trailer with a television and a wet bar built into.  He offered all of his food and drink and we promptly reciprocated.  It was a great time and I half wish that I stuck around there for the whole game.
But we had our tickets so we went inside.  The only realy complaint I had was that it took forever to walk to the seats.  It didn't help that it was in the nosebleeders.  Boy was the sight sweet.  We had a view of the Austin downtown skyline that was just spectacular.  Back in the stadium, I watched Kansas State play an even more typical style of Bill Snyder 2.0 ball.  Collin Klein didn't go off yardage wise but it was enough for a 17-13 win over the Longhorns.  Most Longhorns fans will complain about the running into the kicker call in the second quarter.  As a matter of fact, I heard them boo well into the 3rd quarter over that call.  But the late surge couldn't the Longhorns on top.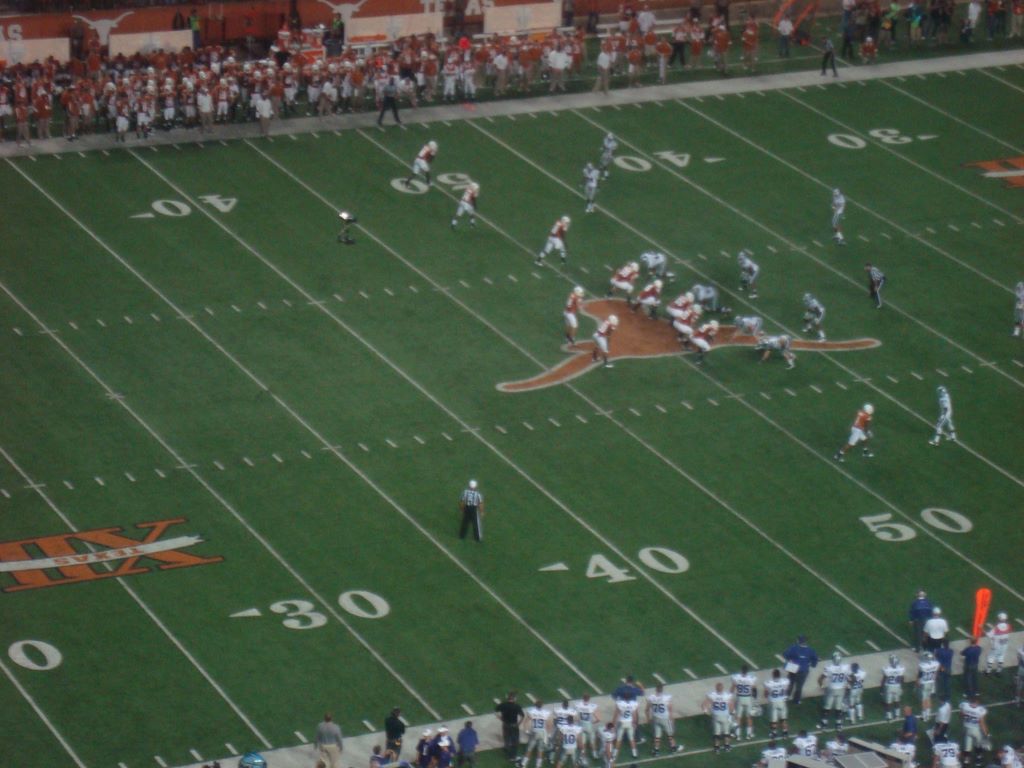 I always revel in the chance to watch college football live.  I usually get to do that once a year.  This year, things were different and in a very surprising way.  It proves to me that no matter where you go, you can get together with people and celebrate college football by tailgating and spectating.  Was it the best tailgating experience I've ever had?  Nope.  It has to be in the Top 5, however.  I'm still amazed the by the almost sports bar like atmosphere enjoyed outside of the stadium.  For it to be number one, it needed to be more purple and in Manhattan, Kansas.