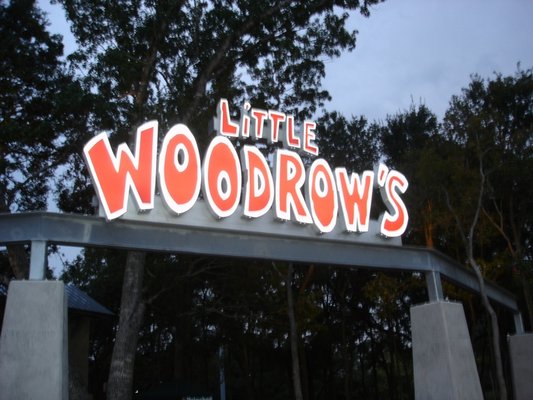 It's the final week of Barspotting for the 2011 year!  Yeah, I could go to some bowl games, but the way the BCS National Championship Game is turning out, I may just skip the whole shebang.  But who knows, I may be doing a little Bowlspotting with the Kansas State Wildcats if they find their way down here in Texas again.  In the meantime, Little Woodrow's is on the list.  I'm not doing the 6th Street variety, but the one out in south Austin.  I'm ending the year the way I started it:  Doing a family friendly sports bar and playing some backyard games.  It should be fantastic.
When: Saturday, December 3rd 2011
Time: 11:00 AM
Where: Little Woodrow's Southpark Meadows, 9500 S IH-35 Austin, TX 78748 512.282.2336
Games:
Notes:  It's mostly conference championship games and we have two new (with one less) this weekend.  The first new one is the Pac 12 title game and I have a hunkering that UCLA will get rolled by Oregon.  They backed in but got a bowl waiver for being a potential 6-7.  Good for those guys.  The next one is the Big 10 title game and we get the rematch between Michigan State and Wisconsin.  The last game saw the Spartans win by Hail Mary so this one should be a doozy.  The games that have national title implications are the SEC title game and Bedlam.  The argument is that even if LSU loses they should get a spot in the national championship game.  Meanwhile Oklahoma State needs a strong showing against to get their foot in the BCS National Championship Game.  I hope they do it.  I'll be watching Farmageddon as my Kansas State Wildcats look to go to 10 wins on the season and potentially share the Big 12 Championship.  Or go to the the Cotton Bowl.  I'm smitten.