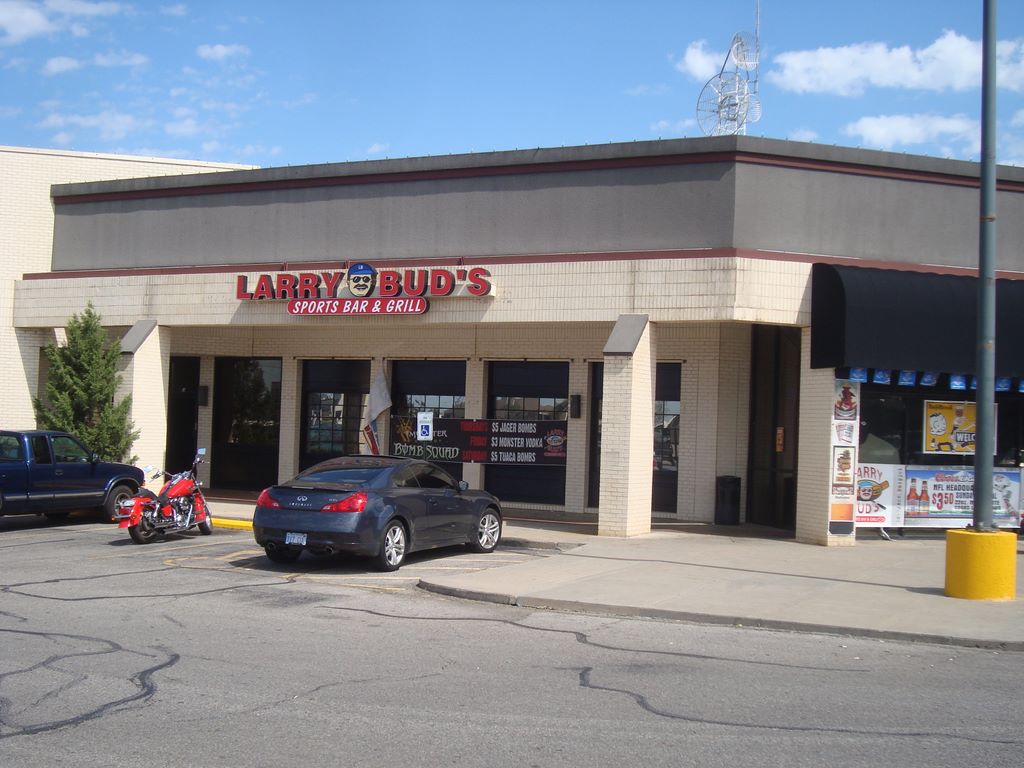 Deep in the wheat fields of Kansas sits a town by the name of Wichita.  We find ourselves smack dab in the middle of the city doing a remote barspot.  Larry Bud's Sports Bar & Grill claims to be the best in the city so we stopped on in to check it out.  We'll find out just how dark dark can get.  We'll also find out how to do a pretty decent television configuration.  Oh yea, we'll also check out some great games all on at the same time.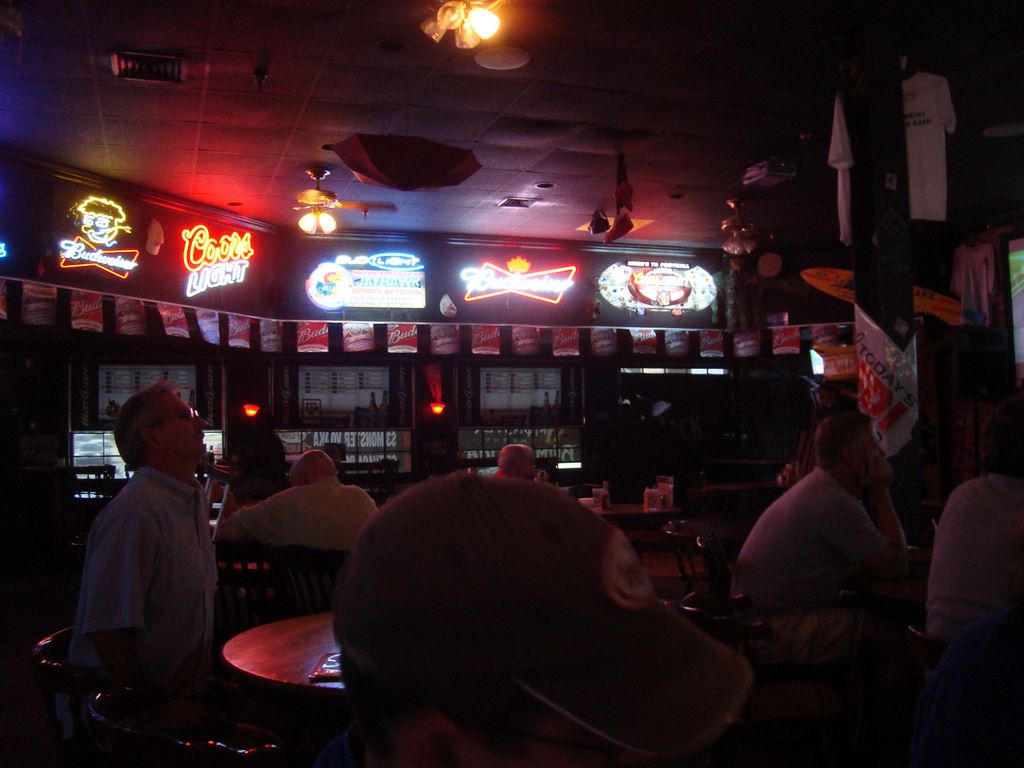 Walking up to Larry Bud's it looked like any other strip mall establishment.  That was, until we came upon the giant castle like doors in the front.  Once we pried that bad boy open, the inside of Larry Bud's showered us with darkness.  We've been to dark places before, but this was like my old basement.  At any rate, the radiant glow of the numerous HD television screens helped point our way to the table.
As for other ammenities, the place sports a Shuffleboard table, boxing tester, NTN Trivia, and a juke box.   Not much else.  We kinda hoped that there would be a Golden Tee or something like that.  It's a good thing they blew their game budget on wireless internet instead, however.  The lack of games didn't bother us that much because there was enough action of the television screens.
Or so we thought.  After pounding a couple of soda and beers, this PurpleYeti had too take a quick leak.  After using the little yeti's room and a wrong turn, I found myself staring at some sort of back-game room.  Larry Bud's had two dart boards, two pool tables, two Golden Tee games, a broke Buck Hunter game, some Pac Man Namco game, and a couple of portable game pads.  It kind of blew us away.  So we started out a little disappointed and came away quite impressed.
The service at Larry Bud's was atrractive and attentive.  The ladies we had wore KU blue and were nice and blonde.  The server lady that brought our food out had a nice contrast of raven black hair.  They all did a great job.  We also appreciate when a server ends her shift and lets us know.  Yeah, she's fishing for tips but she should get the credit for the work she did.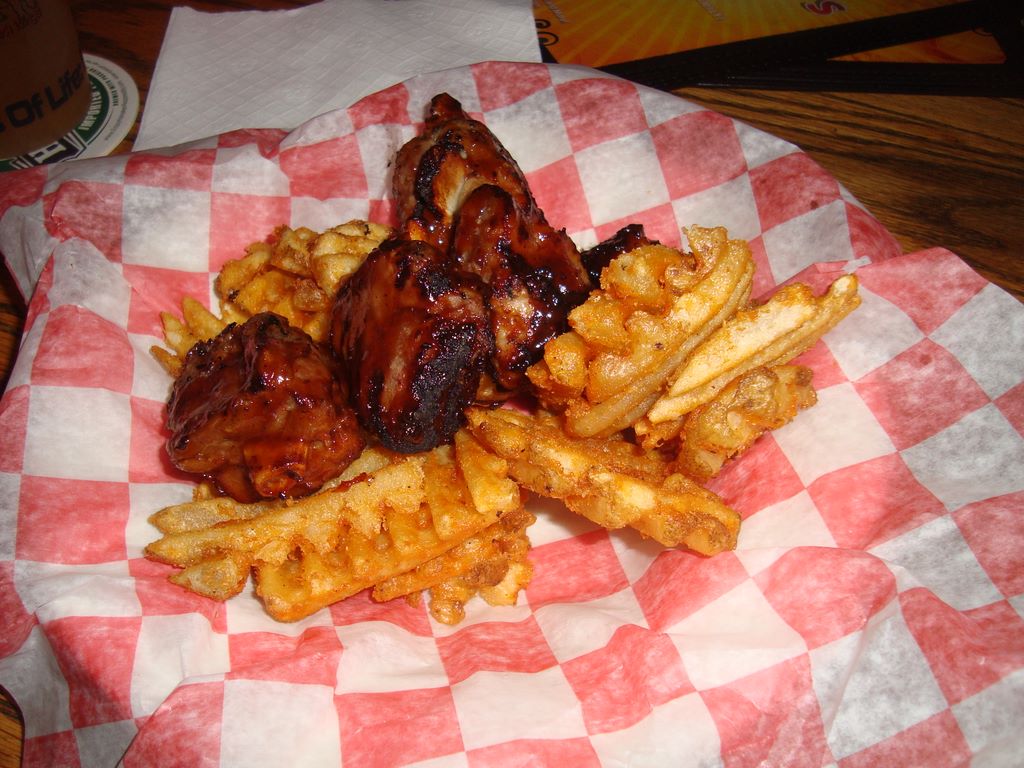 Part of the work was the food.  First up, was the whistle wetter that is the When Pigs Fly Pork Wings.  The sauce tasted like KC Masterpiece but the pork on the rib made it all good.  We opted for the the waffle fries and we're glad we did.  They were crispy and juicy and tasted great all the way down.  Next time your around Larry Bud's, clip yourself some wings.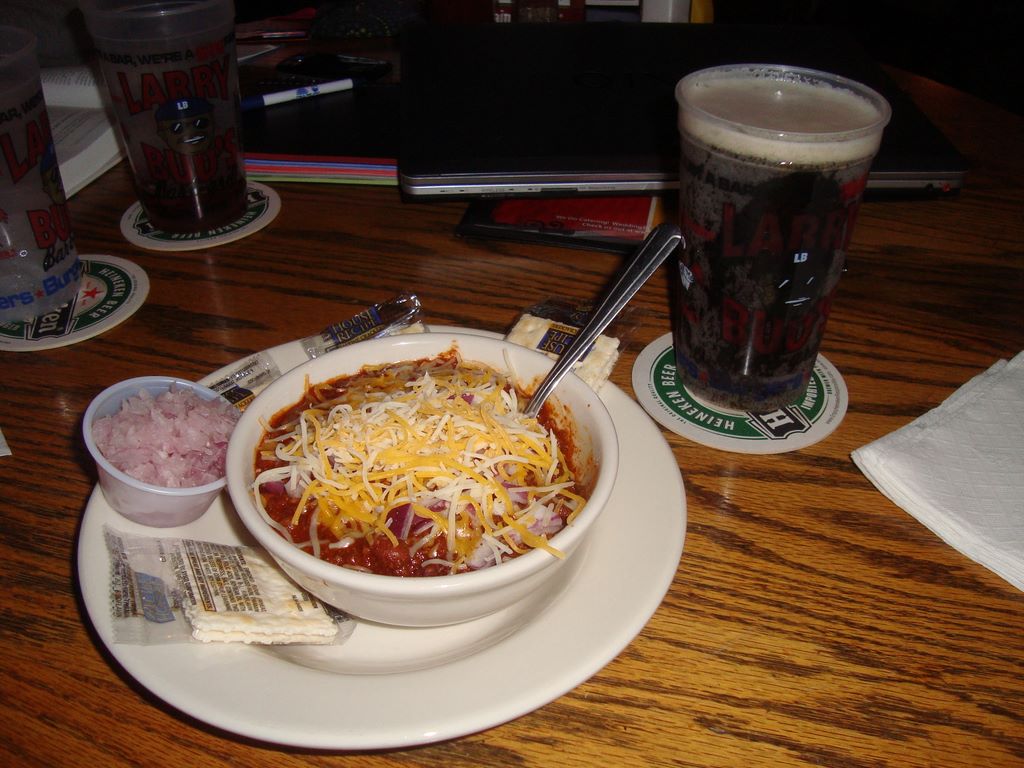 Next up is the pairing.  Saturday we opted with Chili Cocineros paired with some Amber Bock beer.  The Chili came with the works and it got worked over.  After dousing it with the cup of diced onions, we tore into it and instantly noticed a sweet flavor.  Great chili in our books come off very spicy and this one seemed sweet with a hint of spicy.  The Amber Bock from Michelob helped wash down the concoction, but we couldn't help but feel like it wasn't real chili we were eating.  The beer was very tasty and chili was kind of so so.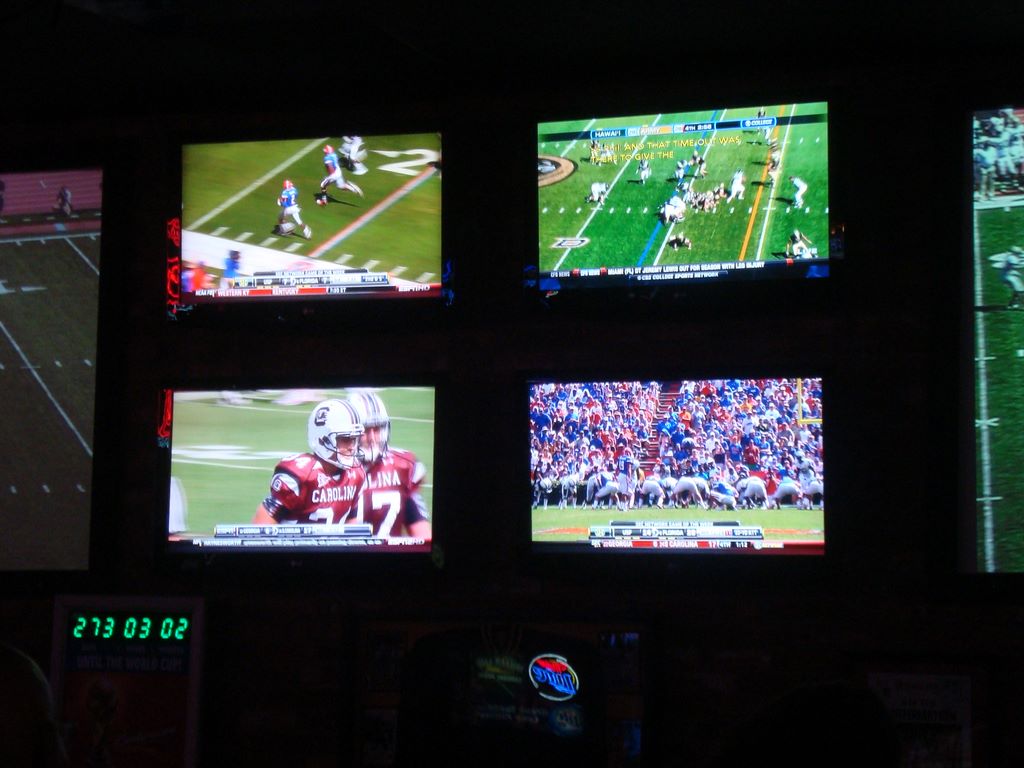 Now we have the games.  The big match ups of the day in non Big 12 land came in the form of Michigan heading to Nortre Dame and Miami heading to Ohio State.  A rivalry renewed and a replay of a former BCS National Championship game.  The Buckeyes took over in the second half as Miami tried to keep it close with its excellent special teams play.  Looks like Ohio State is the team to beat in the Big 10.  It also looks like that it may come down to the classic Michigan vs Ohio State match up for the Big 10 title.  Yup, in another classic, Denard Robinson and company held off a battered Dayne Crist and Notre Dame.  Early Heisman favorite goes to Shoelace Robinson.
We waited around a bit in the morning before we headed to Larry Bud's and we're glad we did.  We watched the beat down Kansas man up against #17 ranked Georgia Tech.  Most Kansas fans I talked to wrote off this game, including the season.  But nobody told the players.  Turner Gill lead his team to a great upset as Georgia Tech looked like the uninspired and unprepared.  We're wondering how many bandwagon fans jumped back on after the game this week.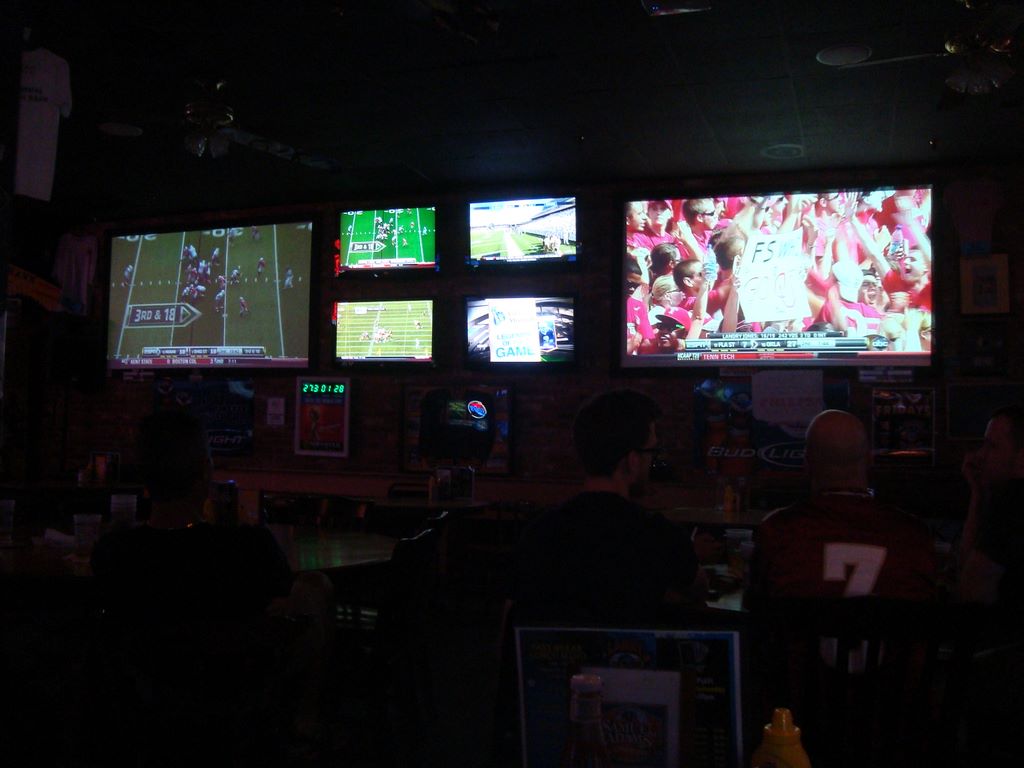 For the bigger games, we had Oklahoma hosting Florida State as well as the battle for the Cy-Hawk Trophy.  And both were blow outs.  The Sooners gave up and opening 7 to the Seminoles and that was it.  They piled on the points from there.  The Iowa Hawkeyes didn't even give up a point.  We thought that the Iowa State Cyclones we improved from last year but as we learned in week 2, it can be a big difference between weeks for some teams.  We didn't watch the rest of the Big 12 games, but heard good things all around.  Except Colorado being crushed by California.
Larry Bud's is the best that Wichita has to offer for sports bars.  Of the bars we've seen there.  In all seriousness, even though it was a little too dark and chilly, Larry Bud's had all that we require in a sports bar and more.  If you ever travel down I-35 (and that god awful stretch right before El Dorado) and stop off in Wichita, make the extra trip out to Larry Bud's.  You'll get some decent food and nice place to watch some sports.  Or take a nap.