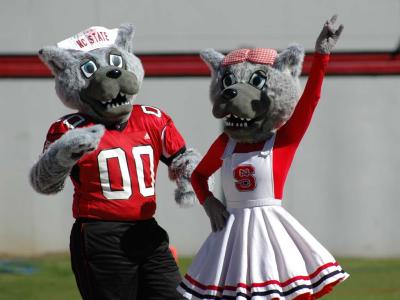 Yes, I know what you are saying, "That was my favorite TV show from the 50s!"  Alas, you are incorrect.  It's this week's Mascot Monday!  Big news is right around the corner for the website in general, but before I drop the bomb on y'all I took a little bit of time to doctor up this week's mascot.  The magic finger poked its away around Wikipedia and it landed on North Carolina State's Mr. and Mrs. Wuf with the recently introduced Tuffy.  Hold on to your vows, we'll be learning about married life and live wolves.
The year 1887 was a good one for North Carolina as the General Assembly founded what was then called the North Carolina College of Agriculture and Mechanical Arts.  We know that today as NC State.  The name 'Wolfpack' showed up around 1922 thanks to a fan and it was way better than the previous names of Aggies, Techs, and Red Terrors.  The football team is in a slump right now, but they did enjoy some success in 1960s.  Speaking of the 1960s that when we first saw the lovely couple of Mr. and Mrs. Wuf.
Okay I'm getting ahead of myself.  First off, in 1946 Ira Helms created a gigantic robotic wolf and took to the field, intimidating the fans.  That same year, the chancellor J.W. Harrelson lobbied to get rid of the Wolfpack name due to its use as a formation for Nazi U-Boats.  The name survived that and went on to see a live incarnation of it with Lobo III, even though it was later discovered to be a coyote.  That didn't stop the cheerleaders who dressed up as a wolf, which itself began in the 1950s.
So that brings us to Ms. Wuf.  She debuted in 1975 to help usher in women's athletics.  It was only a matter of time, 6 years exactly, that Mr. Wuf would pursue the lovely lady and make her his own.  In a ceremony presided over Wake Forest's Demon Deacon, the two were married in 1981.  Ever since then, they been enjoying the married life.  Just take a look a them.  It's human body with wolf heads.  With that said,  Mrs. Wuf seems to be the most attractive mascot I've ever laid eyes on.  Good call on getting a female to portray a female mascot, NC State.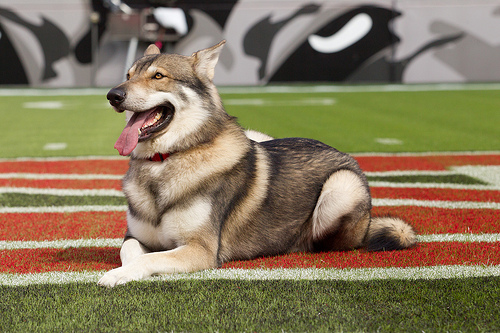 As with life and its major progressions, it was time last year for the Wufs to add another member of the family.  No, it was a Wuf Jr or anything like that.  It was the reintroduction of a live mascot.  Tuffy is a Tamaskan dog that debuted last year as a response to fans requests to bring back a live animal on the field.  He's still got to work up his courage, but he will prowl the sidelines for most of NC State's athletic events.
Naturally, Mr. and Mrs. Wuf, with their pet Tuffy form an honest to goodness Wolfpack.  They've yet to win awards, but because this family opted for a pet instead of a weird, oblong, and inflated kid, they get high marks in my book.  Plus, I can't stop wondering how Mrs. Wuf can stay so attra….. er fit after all these years.  Good job, North Carolina State, you have a great mascot tradition.  Just please don't invite me to any baby showers in the future.