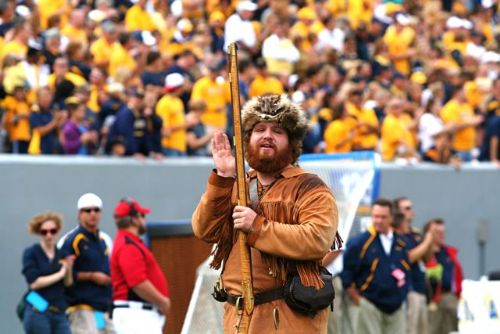 Another week of Mascot Monday and I'm getting into the groove of going over mascots from schools that have been in the news recently.  It's admittedly hard to come up with wacky mascots when you've been eyeballing costumed characters for as long as I have.  So this week's big news is the buyout of West Viriginia's Bill Stewart so coach in waiting Dana Holgorsen can take over.  If you remember, Holgorsen was in trouble for some casino incident but it was later found out that Stewart or a Stewart supporter started a smear campaign against him.  This week we'll let the story of The Mountaineer teach us something about competitive respect.
The good ole Morrill Land-Grant Colleges Act helped West Virginia create the Agricultural College of West Virginia in 1867, which was renamed to West Virginia University a year later.  The football team has the unfortunate status of being the winningest team to not win a national championship.  Their battle for that somewhat bittersweet moniker started in 1891, even though there was no season for them in 1892 and 1918.  Their run in the Big East has been impressive since they joined the conference in 1991.  Most of it came from former head coach Rich Rodriguez, with the closest to BCS Championship Game being in 2005.
Although I'm not sure why the school became known as The Mountaineers, I can tell you that they were unofficially called that in the 1920s and later adopted. The process of selecting a mascot was scattered throughout most of the of the 1930s, but then it finally locked up with Boyd "Slim" Arnold becoming the first official mascot in 1937.  There have been many mascots over West Virginia's history but what's unusual is they've had female versions of the mascot only twice.  The second to most recent mascot was a female and judging from the picture below, I can understand why.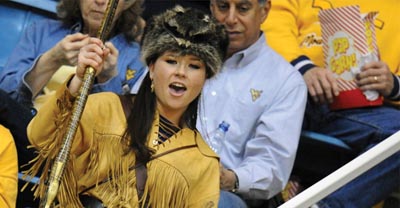 The current Mountaineer is a burly dude by the name of Brock Burwell.  But I want to focus more on Rebecca Durst.  Traditions for the Mountaineer include the standard coonskin cap, bucksking uniform, and rifle, which gets fired at the beginning of football games.  Tradition also states that the Mountaineer must grow a beard during the current mascot's tenure.  Now, Rebecca obviously can't do that and frankly I'm glad that she cannot.  The uniform fits well on her and that mega smile inspires me in more ways than one.  Maybe that's something that Bill Stewart could learn.
Sometimes you need to break or at least bend tradition when a talent comes along and cannot be refused.  That's part of why West Virginia's athletic director hired Dana Holgorson.  The former Oklahoma State offensive coordinator filled the same role in the hopes of firing up the once proud offensive juggernaut that was the Mountaineers.  Granted, the terms for Holgorson to take over no matter what after this year was a little weird, but it's something that had to be done to make both parties happy.   Well, I guess we found out that one party was not ulitmately happy.  But much like Rebecca Durst, they had to make a call like that to do what's best for the university.
Now I'm not intentionally connecting the dots between Dana Holgorson and Rebecca Durst just so I can put up a picture of a hottie.  Far be it from me to be that shallow for a college football blog, there's plenty of other sites out there like that.  For me, I wanted to draw the parallel to illustrate that sometimes you need to think outside of the box to make improvements.  The mascot tenure for Rebecca Durst was well served and I'm sure Brock Burwell will do an excellent job as well.  Maybe Bill Stewart could learn a little about passing the torch, or in this case the rifle, when it's time to move on.