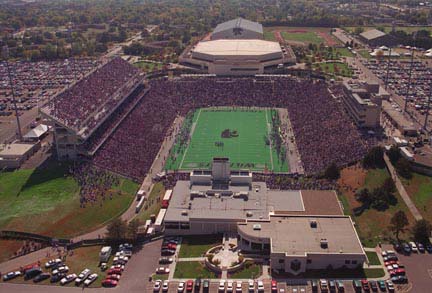 This will be the first off day stadiumspotting for us and we're super excited.  Kansas State hosts Nebraska for probably the last time ever and they are both undefeated.  The electricity will be huge in the Little Apple and we will be there to cover it.  Chances are we will make our way back to a bar Saturday but we'll go ahead and tweet the location when we decided where.  Until then, it's half day action at work then a split time of driving and football watching.  This Purple Yeti is more than pumped for the biggest game of the year for the Wildcats.
When:  Thursday, October 7, 2010
Time: 6:30 pm
Where: Bill Snyder Family Stadium, Manhattan, Kansas
Games:
Notes:  There's a surprising bit of rivalry action going on this week.  Paul Bunyan gets some props when both his Axe and his Trophy are up for grabs with Minnesota vs Wisconsin and Michigan State and Michigan.  The best one of the week goes to the Golden Screwdriver and Hawaii vs Fresno State.  It sounds like a tasty beach beverage.  Top 25 wise we got ourselves a big one with Alabama taking on South Carolina.  Steve Spurrier's been preparing for two weeks on this game, hopefully it will be close.  The Florida State and Miami rivalry kicks in with both teams being ranked.  LSU looks to fix its clock management skills against Florida as well.
Big 12 wise the first game is the one we are going to.  Nebraska heads to Manhattan to take on Kansas State.  It's going to be an offensive snoozer but we should see some great defense.  The Cotton Bowl has Baylor and Texas Tech as the Bears look to become bowl eligible with just two more wins.  The 5th Down gets an anniversary date while Colorado and Missouri play again.  Iowa State's looking for an upset as they host Utah.  Oh and in the other non Saturday game for the Big 12, we get Oklahoma State heading to Louisana-Lafayette.  They should show off in front of everyone in that game.