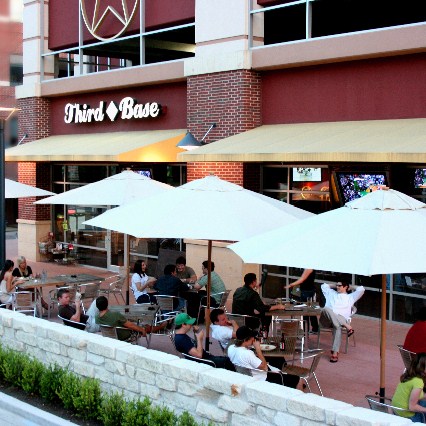 Alrighty welp I'm back for another week of actual Barspotting.  Kansas City was nice and all but I've been to all the good bars up there and now I'm ready to hit (or find) the good bars down here in Austin.  This week I'm going to try to get to Third Base.  Hopefully, I can play my cards right and get there to brag about it all to you on Monday morning.  From the looks of things it's a hot spot to be at so I know it'll be crowded with others when I get there.  Come on and join me!
When: Saturday, September 17, 2011
Time: 5:00 PM
Where: Third Base Sports Bar, West 6th Street, Austin, TX 78703 512-476-2273

Games:
Notes: I'll be fighting some Austin City Limits Music Festival traffic while I make my way downtown.  There's a decent number of games on the slate for this weekend so it's worth it.  Ealry morning wise, we have Kansas heading to Georgia Tech to hopefully repeat the upset.  Mid-afternoon time we see the Megaphone Trophy up for grabs when Michigan State heads to Notre Dame.  Later in the evening it's Oklahoma going to Florida State for what would surely be the number 1 spot up for grabs.  It should be enough to keep my eyes locked in most of the day.