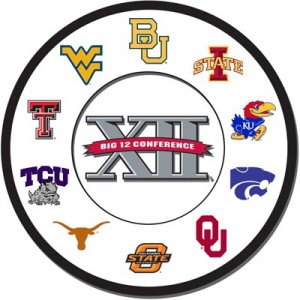 Ah yeah, the Big 12 is back baby!  Oh well, it didn't really go anywhere.  Compared to last year, this offseason was a walk in the park.  Why is that?  Well, we have some new faces in the mix and some old faces hit the road.  I think truly for the first time in the last 3 years, there is some stability here.  That makes me happy.  What makes me happier is the new season so let's see how this conference shakes out.
First and foremost, I want to take some time and give a grand farewell to the departed teams, Texas A&M and Missouri:
Bye (Nebraska leaving hurt more than you two combined).
Okay, now that I'm done with that, let's welcome the new members to conference, West Virginia and TCU!  Yes, that's right it's two teams who have actually won their conference championship.  What a fantastic upgrade it has become.  West Virginia's slashing offense led by quarterback Geno Smith and head coach Dana Holgorson and TCU led by quarterback Casey Pachall and head coach Gary Patterson.  They bring alot to the table and just made the conference WAY harder.  So how do I think it will shake out?  Here's how I think they will finish: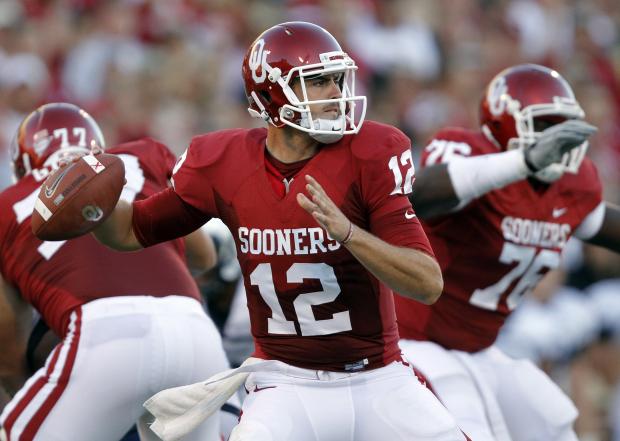 Oklahoma – Okay so I copped out here.  Yeah, they just injured more than half their offensive line, but I'm having a hard time seeing anyone go down to Norman and beating them (even Texas Tech).  They look down and when they do, it's when they usually play up.
Kansas State – Total homer pick here.  This is more in reaction for the 'vaunted' sports media picking the Wildcats to finish 6th of all places.  I've seen this dance before.  Everyone is knocking K-State's luck on winning close games, but everyone seems to think they their game is ball control and no turnovers.  It's Kansas City Chiefs ex head coach Marty Schottenheimer's Martyball with a Bill Snyder twist.
Texas – This is the second homer pick.  I'm not sold at all on the Longhorns offense, but I'll believe that their defense is way tougher this year.  The only issue really lies on Mack Brown.  I don't think he can keep the kids focused enough again after they trip up (which they will do).  That said, they have way more experience in the league than some other top new teams and return more talent than others.
West Virginia –  The Mountaineers are the n00bs with the best shot at the title.  Even though they won the Big East last year, the competition will be way tougher for them.  They fit well, shoot out wise but shell shock in new road games will hurt them more than teams coming to Morgantown.
Oklahoma State – You know, I've heard nothing about them in the offseason.  The only thing I remember is that Brandon Weeden and Justin Blackmon leaving.  That's it.  That doesn't bode well for the Cowpokes but I don't think Mike Gundy will slow down one bit.  They will falter but they won't fall of the planet just yet.
TCU – When they aren't busy getting stoned, they're busy winning conference championships.  The natural rivalry between Baylor is awesome and they do a good job of replacing Texas A&M.  This year, though, they have a tougher time to compete than the BCS Conference ex West Virginia.  I'm rooting on ex K-State alum and TCU head coach Gary Patterson.
Baylor – Baylor is more apt to fall off the wagon than Oklahoma State.  They hype around that team has been with RG3 and the Heisman winner is gone.  Baylor's steady rise started with him and I'm not sold that Art Briles can keep the team on the steady rise.  In fact, they will falter a little bit.  That's okay, though RG3 is bringing in more talent and they will bounce back next year.
Texas Tech – Okay here is where we start to fall off.  Tommy Tubberville has the coaching skills, but he just doesn't have the moxie here in the Big 12.  They will somehow fall off due to the defense at some point in this season.
Iowa State – Oh Paul Roads, you're my favorite head coach next to Bill Snyder.  You've got an awesome quarterback in name only in Steele Jantz.  Your linebacker in A.J. Klein will win awards at the end of the year.  But you just don't have the consistent talent to pull into your school.  You'll upset somebody but I don't know who or when.
Kansas –  On the complete flip side, we have Charlie Weiss.  No one has the kind of boast he does and the lack of gold to show for it.  You know what's funny, though?  It's the best thing for Kansas.  They had a flake in Turner Gill and now at least Charlie Weiss is pulling in some talent.  Sure Dayne Crist was a Notre Dame reject but they now have some who may be able to manage a game in Lawrence.  They just won't manage much yet.
For jumping jimminies, you can switch out the top 6 in any order, although Oklahoma State has the best chance of dropping out.  3 conference champions, one Bill Snyder special, and a Texas team over promised at quarterback but with a stout defense.  This will be the toughest call for me ever Big 12 wise.  It was easier when we had a title game because then the cream usually rose to the top.  But now we have a round robin and we have tougher competition.  There's just no way anyone will finish undefeated in this conference and if there is a one loss team, they should be pegged for a BCS National Championship appearance (FU SEC).
So there you have it.  It's a tough call but I made.  It's a good thing I haven't put any money on it or else I'd be sweating the whole year.  There's some great games coming our way, too. Pretty much all of the ones where West Virginia plays a perennial power.  TCU has some good ones in there too.  Also, there's Red River Shootout.  Kansas State and Texas will be ultra close.  Can't forget about Farmageddon.  Bedlam.  Baylor and TCU have a huge rivalry.  The list just keeps going and going.  Let's hope we see some good new rivalries with the conference n00bs too.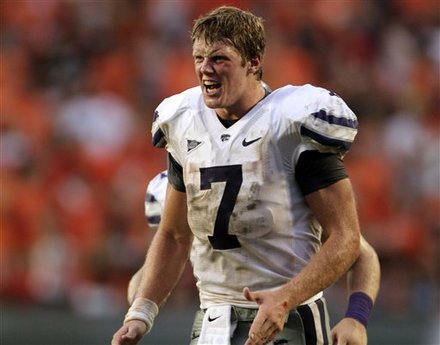 As for players, I'm not sure who will shine this year.  I have a hunch Landry Jones will fall off big time this year.  The offensive line broke in camp for him.  Collin Klein will do well, but I don't see his arm getting better.  Geno Smith might be the guy this year, quarterback wise.  Defensively, Arthur Brown is my homer pick to the best.  There's alot of smack coming from down here in Austin about Texas' defensive ends, but there's always a lopsided smack/reality ratio when dealing with Texas.  A.J Klein from Iowa State will be a hoss too.  As for anybody else, I can't really think about so those are my picks for top players.
Don't ask me how they'll do in bowls.  That will come in my Dart Predictions.  For now, let's bask in the glory that is Big 12 football.  Cue the Friedrich Neitzsche:  Whatever doesn't kill you, makes you stronger.  We lost 2 zeros and got 2 heroes.  It's a new, way more competitive day here in the Big 12.  And we get to watch them strap it in and bust helmets (although by no means am I advocating concussions).