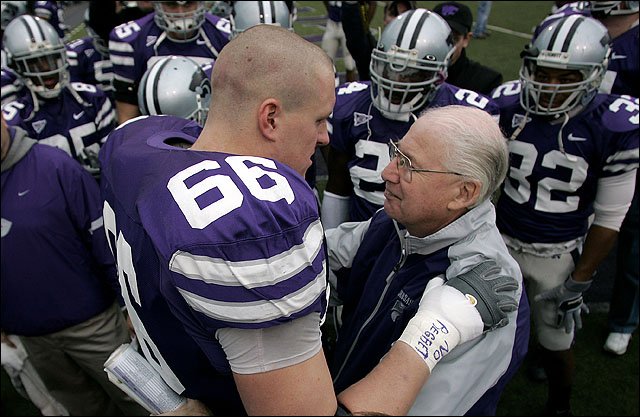 So it's getting amazingly close to the first whistle of the year and it's time now that I take a moment and peer into the crystal punch bowl to predict Kansas State's football season.  I've learned alot down here in Austin after living here for a little more than 3 years.  One of the things happens to be pride.   So I'm taking my pride in Kansas State and leaning on that hard coming into this year.  Everyone else says they will fall back down below the middle of the pack.  Is that the case?
Okay so yeah, they lose Heisman runner Collin Klein and a bunch of starters from last year, mostly on defense.  That makes it easy for the naysayers of last year to come back even louder this year and say that the Wildcats will be down.  Why are we even listening to this naysayers, er, sports media types?  Welp, they have the bullhorn by the horn and won't let go.  They say that no one knows anything about the kids coming in to replace the starters.   Is it that bad?
Well typically when you lose starters, you lose a ton of experience which does count way more college football than in the pros.  So the argument might be pretty tight.  But this is a Bill Snyder coached football team.  He will find a way to get the best out of his youngsters at whatever position he plunks them down at.  How come we've never heard of Collin Klein, Darren Sproles, or Michael Bishop before they played Kansas State?  Because they get their name wearing the purple.  The naysayers never predict that.
Yet I couldn't predict what is happening at the quarterback position.   Going into this year, I thought it was all Daniel Sams.  But then all of the sudden, this Jake Waters kid comes into the picture.  He had a career in the JUCO area not unlike a one Michael Bishop and his name was being talked about amongst the naysayers.  Ruh roh.  Do I smell trouble with this?  Maybe a little.  Coach Snyder announced him as the starter coming into this weekend.  That could mean it's his all the way or it's Sams to catch up and take.  I'll be there at DKR to see who won.
Looking at the schedule, that big conference opening game will tell us alot.  It will tell us just how good the fresh new defense is.  It will tell us who the solid quarterback is.  It will tell us if Kansas State has a shot to repeat.  Thank goodness it's against Texas.  That bottle is almost empty and the magic is about to run out.  I'm hoping for one more huge squeeze to give a go in my new-ish hometown of Austin.  Before I run down the rest of the schedule, let me talk a bit about the defense.
Yes, they lost a ton of kids.  But they also have some experience coming back, most notably Ty Zimmerman.  I'm not entirely dumb enough to think that the defense will actually be weaker this year, but for some reason I'm thinking it will be enough.  The two quarterback race tells me almost instantly that Kansas State may actually produce as much or even more than last year.  Especially if Waters can really throw.  So, yeah, they can be down on defense but the offense is already in motion to catch up.
No need to talk about the special teams.  It's the best in the Big 12 period.  Thanks Tyler Lockett.
Now on to the schedule:  The first two games are actually tough.  They get North Dakota State and UL-Lafayette, both fairly tough tiny schools.  If they can come out of that alive, they can take out Umass.  I'm smelling a very heart attack inducing 3-0 start.  Next up is Texas.  They will beat Texas.  I will say that until it stops.  Oklahoma State will be tough and so will Baylor.  Kansas State gets Baylor at home.  Revenge for that one but I think they lose to the Pokes, it's just too much.  West Virginia will want revenge but I think we take them.  Iowa State will be close as usual and seeing as its at home, I gotta give it to the Wildcats.  Texas Tech has a new coach so I don't know what to expect.  I will go with Kansas State.  TCU and Oklahoma will beat Kansas State.  There's too much defense and talent.  Finally, Kansas State beats up on Kansas again.
Final Prediction: 9-3 with a bowl spot again and win to be 10-3
The ones I'm not entirely sure of are Texas and Iowa State.  Those could go either way.  I'm sure I'll eat crow on one of those.  But for the time being, it looks like the champ will fall back.  Just not as far back as others are claiming.  It's time for another football season so let's strap it up, EMAW Nation!