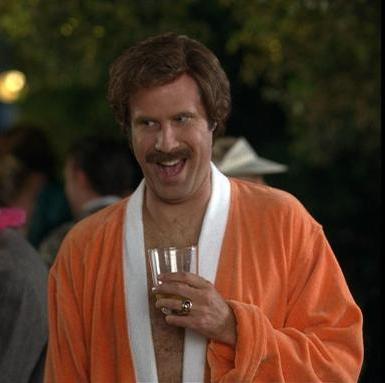 Alrighty, I'm about halfway through my scotch and water, I blasted out another Crib Sheet, and I'm jacked up for some football tomorrow night.  It's prediction time!  The offseason sucked.  Period.  Being in Big 12 land was not easy on this college football lovin' Yeti and especially not easy on Kansas City.  We weathered the storm and now we are here ready for some pigskin play.  What will we see in this year's volume of football?  Let's take a look in our crystal ball shaped glass full of scotch and water.
Mike Leach will lose his CBS announcing job for making Gus Johnson stand in the bathroom with no light.
Mark Ingram will not be a finalist for the Heisman Trophy, thanks to the fresh knee injury.
The Oregon Ducks will win the Pac 10, both for best dressed and actual gold.
Colorado loses a bunch of games and Dan Hawkins stays on because the school is too broke to fire him out of his contract.
Caoch Brian Kelly will talk NBC into going into commerical breaks for opposing teams' offensive drives only.  Oh and the Fighting Irish will make a bowl.
Missouri will win the North, only because Nebraska's ego and farewell tour will fall flat.
Daniel Thomas will be a Heisman finalist, thanks to a solid offensive line and the fact that he will get his yards with the whole defense keying on him.  Thanks, Carson Coffman.
Boise State will go undefeated and not make the dance.  People are saying its the weak schedule, but it will be because of an undefeated team in the Big 10 and one other conference.  Look for Orrin Hatch to have an aneurism over this one.
This will be Lee  Corso's last season for ESPN College GameDay.  It's been a hell of a ride, Lee, just please don't put on the Grim Reaper's head when it's your time to go.
This will be the fastest season ever for the Kansas Jayhawks.  By fast, we mean the fans will be ready for basketball season about 2 games in.  Turner Gill's rebuilding starts this year, he's got at least 3 before some magic happens.
Iowa State will be in the bottom of the league again, but they will get an upset some big team because of a massive rain storm.  Hey their practice field flooded over the summer, they should be ready.
Texas just missed the mark in the Big 12 South.  Not because of the competition, but for the cliffhanger they want to leave for next season's Longhorns Network debut.  Stay Tuned!  Same horn time!  Same horn channel!
Big Game Bob goes to a BCS game but will not be game as the Sooners bob and weave from some other big team beaming game time bashings.  Probably against Virginia Tech and Frank BEAMER.
The Big East has a seasson.  No one really cares.
RichRod makes a valiant effort and gets the Wolverines into a bowl game.  It will be the weakest one from the Big 10 and it will be enough to get him fired.  He will then go on and make real estate deals with everyone in the Ann Arbor region.
USC doesn't get close to a Pac 10 championship and Lane Kiffin leaves after just one season.  The Kiffin world tour moves on!
Florida misses Tim Tebow and will miss being in the running for the SEC.  Urban Meyer gets sick and dies from the piss poor play on the field.
Kansas City sports bars will stay the same this year.  No one will get 3D TVs because the mixture of 3D and beer will make everyone puke.  Some new bars will crop up and the KCCGD crew will eventually puke in those anyway.
We're going back to our 2008 prediction about Joe Paterno dieing on the field.  Now that Bobby Bowden is out, this one should get much easier.  Or will he be in the booth this year?
Okay, we called the BCS National Championship game two years ago with Florida and Oklahoma,  we were halfway right with Texas last year in the big game.  What will happen this year?  Well, the trend says we will get it all wrong so there's nothing to lose.  I'm thinking the offseason hype for the Big 10 will lead a team to a title contention.  Since the only team that's worth a damn up there is Ohio State, then that's our pick.  Chances are the SEC will be mega tough again this year and barring any late push by an Oregon or a Big 12 team, we are going the easy route and picking SEC.  Whose turn is it?  Let's go LSU.  Why not. Can you say 2007 rematch?